_________________________________________________________
Path to the 2022 SCSCS Championship Begins at Dominion Raceway on Saturday, April 30th
Statesville, North Carolina (April 27, 2022) – The initial two races toward a total journey of 18 scheduled checkered flags commences this coming Saturday at a favorite venue among many – the 4/10-mile oval located on the Thornburg, Virginia multipurpose property known as Dominion Raceway and Entertainment.
Several Super Cup Stock Car Series drivers and teams will be looking to kick off 2022 on a high note as they traverse the various tracks and states that follow. Others plan on taking it one race at a time and perhaps turning in a successful performance close to home once the first green flag flies.
JJ Pack is a past SCSCS champion and has achieved victory on six occasions. However, only one of those wins took place in the Midland, Virginia resident's home state and that was back in 2011 at the former Old Dominion Speedway in Manassas. Now he will be giving it all he can to etch his name in the record books at the track that first opened in 2016 and has been hosting series events since late 2017, in which he holds a trio of third place finishes.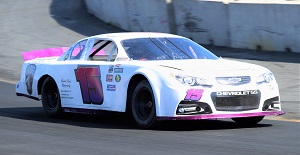 Jeff Thomas relocated in recent years from Pennsylvania to Gloucester, Virginia. Since then, the past Street Stock and dirt racer acquired a car from Pack and made his debut midway through 2021. At the final race of the season, he recorded hard charger honors and a career best sixth place result with hopes to use off-season preparation to build upon that conclusion toward the new year.
At least a half dozen contenders from the previous season's top 10 in points are expected back for this weekend's festivities. Hickory, North Carolina's Ben Ebeling looks to pick up where he left off last season with two more Dominion trophies as he begins his title defense, trying to become the first driver in a decade to repeat as champion. His closest challengers from last year (including Maysville, West Virginia's Jason Kitzmiller, Petersburg, West Virginia's Brent Nelson, Walnutport, Pennsylvania's Kevin Kromer, West Mifflin, Pennsylvania's Lauren Butler, and Elizabethton, Tennessee's Dusty Silvers) have all achieved finishes somewhere within the top five previously at Dominion.
In addition, multiple competitors will be ones to watch during the season opening twin 60-lap main events, which will be the 14th and 15th SCSCS feature races held at the facility. That list includes past lap leader and Dominion first-time winners exhibition champion Ron Langdon from Freeport, New York, York, Pennsylvania twins Hayden and Landon

Brothers who both had strong showings at last October's event, Warrington, Pennsylvania's Mike Senica and Haymarket, Virginia's Rob Jones each making their track debut but driving for veteran campaigner Bill Ashton, and potentially more.
First of three 15-minute practice sessions will fire off on Saturday at 1:00 p.m. with qualifying taking place only a few minutes after the grandstand gates open at 5:00 p.m. where drivers will be gunning to eclipse Ebeling's track record of 15.768 seconds set last time out in 2021. Racing, including the SCSCS Season Opening Twin 60s, is slated to start at 7:00 p.m.
An early optional practice session will be offered to teams the evening before from 5:00 p.m. through 8:00 p.m.
More information can be found on the Super Cup Stock Car Series official web site supercupstockcarseries.com with interactive updates throughout race day available on Facebook (search Super Cup Stock Car Series), Twitter (@SCSCSRacing), and Instagram (SCSCS_Racing).
_________________________________________________________