_________________________________________________________
Potential SCSCS Championship Challengers Begin to Emerge Ahead of 2022 Opening Event
Statesville, North Carolina (April 13, 2022) – When the field of full-bodied stock cars take the initial green flag of the season at Dominion Raceway on Saturday, April 30th, Hickory, North Carolina's Ben Ebeling will start the quest to become the first driver in a decade to secure consecutive Super Cup Stock Car Series titles. That feat will not be anywhere close to easy though, as numerous competitors have announced their intention to chase the entire balance of nine weekends at seven tracks in four states that makes up the 2022 schedule.
Brent Nelson is one driver who has been a factor in deciding a SCSCS overall champion nearly year in and year out. The Petersburg, West Virginia resident has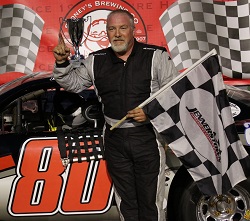 finished fourth or better in the final standings a half dozen times since 2014, ending up second twice, and did obtain the Mid-Atlantic Region title in 2021.
Always an advocate for the motto "races are won in the shop", Nelson has been working away at bringing his No. 80 machine back to life, after mechanical issues sidelined him early on in the 2021 finale, and getting it set up once again for the Thornburg, Virginia 4/10-mile oval. One project that has been explored on the side is preparing a new (to Nelson) car, but the current plan remains to pilot the ride that took him to four victories last year.
"We've had too good of a year to switch to a new one," Nelson remarked, as he will try to go for his first win away from the Laurel Highlands area, where Jennerstown Speedway is situated, since 2016.
Freeport, New York's Ron Langdon was only able to make a handful of appearances throughout 2021 and will likely miss one particular event in 2022 due to another commitment. Nevertheless, the veteran

racer will certainly look to return to contention much like 2019, in which he achieved a series record 17 top five finishes and picked up his first SCSCS win on the way to being championship runner-up.
"2019 was a lot of fun," Langdon, who did have a major happening over the winter with the engagement to his girlfriend Laura, recalled. "I just think going into this year, with what I saw from 2021, the competition level is going to be substantially higher, which is great. Just looking forward to going out there and racing."
The trusty No. 17 from years past is practically ready to go and in the trailer, but at some point in the year the plan is to let his crew members play around with that one and break out a familiar No. 67 from Pro Cup past for himself. Langdon picked the car up, which was previously set up and run by legendary short track driver and consultant Jeff Fultz, from 2017 series champion Jimmie Crabtree and continues to make preparations on what should be a fast ride.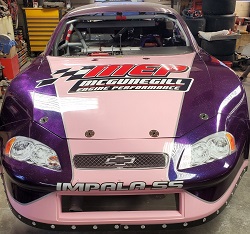 Those on various platforms of social media have been following along with Lauren Butler and the assembly of her Edlin Motorsports No. 53 over the off-season. After sitting out the last couple of events in 2021 due to a tough road of misfortune, the West Mifflin, Pennsylvania operation's renewed confidence is in full swing for the 2022 campaign.
A freshened look and a new "heartbeat" under the hood of the mean machine named "Medusa" are among the work that has taken place in recent months. Butler is focused to lead her first laps and potentially earn a SCSCS career first victory this year.
Someone who met those same goals last year was Jason Kitzmiller. The Maysville, West Virginia driver gave CR7 Motorsports, headed up by occasional driver Larry Berg and past NASCAR Truck Series regular Codie Rohrbaugh, their first win since the 2017 season en route to a third place points result and Rookie of the Year honors.
Kitzmiller is perhaps going into 2022 with the most momentum, having an active streak of 13 straight top five finishes in the No. 97, a new best series mark. He has also been honing his skills when away from SCSCS race weekends, most recently in a Late Model Stock Car at Hickory Motor Speedway.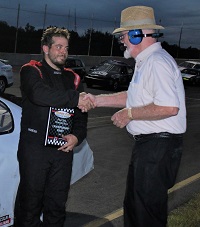 Dusty Silvers has his optimism riding high as well after best career performances last time out at Dominion in October 2021. Although a relative newcomer to the series, the Elizabethton, Tennessee racer indicated that the No. 99 had a bit of a makeover ever since and the Silvers Family Racing team intends to be very competitive from the get go in 2022.
While the five aforementioned drivers may not yet have achieved the glory of being SCSCS champion, one driver once again committing to the full schedule has. Kevin Kromer had a banner 2019, winning on seven occasions on his way to the series championship behind the wheel of the K2 Motorsports No. 77. The Walnutport, Pennsylvania-based team has gone through much of the usual maintenance during the off months in a quest to return to victory lane, where he was shut out in 2021.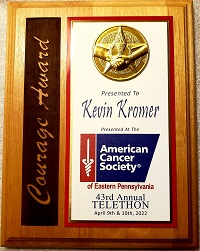 Kromer also recently was a recipient of the American Cancer Society's Courage Award, recognizing his battle with an esophageal cancer diagnosis in which the 'ironman' of the SCSCS with more than 100 starts only missed one race during the 2016 season. Since then, he has been cleared and cancer-free and the family founded the Mission R.A.C.E.R. foundation to raise funds and support cancer patients who may not be as fortunate.
But what has Ebeling been up to regarding his title defense? Find out in another upcoming preseason report that will delve into this topic plus more racers and teams with a connection as well as their outlook and goals heading into 2022.
A complete Race Day Schedule as well as forthcoming updates will be shared on the Super Cup Stock Car Series official web site supercupstockcarseries.com, Facebook (search Super Cup Stock Car Series), Twitter (@SCSCSRacing), and Instagram (SCSCS_Racing) leading into and including the season opening twin 60-lap races at Dominion Raceway.
_________________________________________________________