_________________________________________________________
SCSCS Title Defense and Continued Improvement Being Readied at Ebeling and Ashton Racing Shops
Statesville, North Carolina (April 20, 2022) – There has been a whole lot taking place approximately 400 miles apart in Hopwood, Pennsylvania and Newton, North Carolina over recent months. Many might think a Super Cup Stock Car Series season like Ben Ebeling had driving for Ashton Racing, netting nine victories, more than 300 laps led, and 100 percent of laps completed would be enough. However, there is more in which to strive.
Having combined forces going into last year with Keystone State racer Bill Ashton entering his first full-time campaign in what has become a positive relationship, Ebeling does the maintenance on the No. 44 in his shop situated nearby Hickory Motor Speedway. Concluding 2021 on a high note with a pair of trophies at the fast and grip-filled Dominion Raceway, now bringing his career total of wins at the 4/10-mile oval to five, beginning 2022 where the team left off could be a real possibility. Nevertheless, the venues that follow are what the driver, who began racing karts and street stocks in northern Ohio before moving south to attend the Bobby Isaac Motorsports Program at the Catawba Valley Community College, has circled on his list.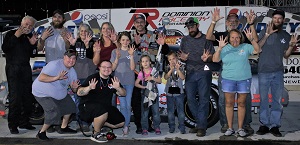 "I would say Midvale, Clearfield, and Jennerstown," Ebeling answered on a recent Lead Lap Show podcast hosted by Tom Baker about where his focus on improvement is centered.
"Jennerstown is one of those tracks where we got a win there (in 2021) but I still don't feel like I've got it completely figured out. There's a bump going into turn three that just messes me up every time.
People like Lauren Butler and Kevin (Kromer) and a couple of the other guys (such as four-time winner last year Brent Nelson and Ebeling's car owner Ashton with a win there in the past too) that have raced up there more than I have, have been able to adapt more."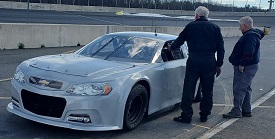 Ohio's Midvale Speedway falls in a similar scenario as Jennerstown, where Ebeling has won a race but does not have as much experience at the bullring 3/10-mile oval as several of his peers. UMI Motorsports Park in Clearfield, Pennsylvania is one of the only facilities on the schedule that the defending champion has yet to win a main event.
"(UMI Motorsports Park) was a little challenging," Ebeling continued, also remarking about the track surface's abrasiveness. "We finished third up there this past year, so I'd like to go back up there and do a little bit better this year. I don't want a track to beat me, so I want to go back up there and see what we can do and outperform what we did last year."
North of the Mason-Dixon, the aforementioned Ashton is switching things up with the approach for 2022. The No. 35 that has been seen at almost every SCSCS event since 2014 will be renumbered 57 with a collective of names in the driver seat. Friends for a number of years, Warrington, Pennsylvania's Mike Senica and Haymarket, Virginia's Rob Jones will split the duties behind the wheel across numerous events, aptly named the RaM (Rob and Mike) Racing leg of the operation.
Ashton and crew as well as each driver have been readying for the season's commencement, recently taking to Dominion Raceway for a test session.
"We turned a bunch of laps, and I started picking up speed, getting more confidence and feeling more comfortable," Senica, who only has one past SCSCS start in 2014 but has most recently previously competed in ARCA and the NASCAR Truck Series in 2018, described. "You can drive it a little deeper into turn one and, from Bill's advice, play with it into turn three a little more and use your discretion. I compare the configuration some to (Florida's) New Smyrna Speedway."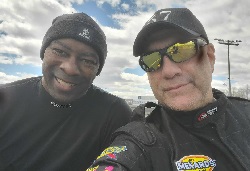 Senica, a commercial pilot during the week, has rather straightforward goals going into the first race and as the weeks roll on, "enjoy the relaxed atmosphere, get faster as we go, and get some good finishes."
While it's been a couple years since Senica has competed in a stock car, it has been an even longer layoff for Jones, a worldwide pilot for UPS and prior to that a fighter pilot for the Air National Guard. His last start was in an ARCA race in 2011, before Dominion (which he also related to New Smyrna) was even constructed.
"It was Mike's persistence to get me back out there," Jones, a past participant in the fledgling SCSCS years, indicated. "I was pleasantly surprised how quickly it was starting to come back and getting into the groove."
During the 2008 and 2009 seasons, Jones led laps and achieved five top five finishes, include third twice. That said, he has a realistic approach when it comes to brushing the dust off.
"For me, seeing as how I had no plans even a year ago, I have to be big picture and can't expect to pick up on it all right away," Jones added. "I'm looking forward to reintroducing myself to the Super Cup Stock Car Series, having a reputation of being a clean driver like before, and gaining the same level of respect. With that and getting comfortable, continuing to get faster and becoming more and more competitive, then I can strive toward running in the top five again."
For Ashton, it will be an unusual endeavor seeing the driver who current holds the longest active streak of consecutive starts not taking the green flag himself. The emphasis though for 2022 is getting his drivers acclimated, but whenever they are not present it will be Bill himself taking the wheel.
"The test went extremely well," Ashton echoed. "Things have been coming along very well with new spindles, brakes, nose, and fenders. Looking forward to an exciting season."

Another connection between the two states is a team that operates on their own, but as of late works on their cars on the Williams Ebeling Enterprises property and as a result comes to the champion driver and team for various setup expertise. The Brothers Brothers Racing Team, comprised of teenage but now seasoned SCSCS drivers Landon and Hayden Brothers, makes the trip down from their York, Pennsylvania home nearly every weekend.
"(Ebeling) helps us with any advice, fabrication, and everything," Landon Brothers, driver of the No. 29, commented. "He's just there for whatever we need."
Both Landon and Hayden Brothers sat out the middle portion of the 2021 season to get their cars back toward tip-top shape. The time off proved to be pivotal, as career best performances ensued for both drivers. Hayden qualified fifth during the championship finale weekend at Dominion and consistently ran around that position, ultimately finishing sixth. Unfortunately, the second race on that night was cut short due to mechanical issues, much of which they have been zeroing in on getting fixed for good over the offseason.
"We tore a lot of things apart and put them back together," Hayden Brothers, driver of the No. 27, specified. "New nose, new fender, and had to replace some brake components, new windshields – a lot of new stuff."
"We pretty much tore down the whole car," Landon added regarding his ride which accomplished five top 10 finishes. "We were working on putting a new body on. The panels aren't ready so we're going to have to improvise a little bit."
The late 2021 success has both drivers optimistic heading into 2022 and ready to take the next step on their list of goals.
"I'm very excited for 2022," Hayden said. "First, we want to run all the races. I really want to run up front in the races and get top fives and top threes, and just do well throughout the whole season."
"We're really excited and we gained a lot of confidence last year, so we just want to do better," Landon mentioned. "Couple top fives and just run up front."
Tying it back to Ebeling's title defense, what has him coming back for 2022? There are a few reasons, including the series format which places execution in the driver's hands, being a smart driver and managing equipment.
"Having the ability to feel, through the car and through your foot and whatnot, and really know what you're doing and being aware of what you're doing to the tires through the corner and when you get on of the gas," Ebeling pointed out as key and what he feels are his strengths. "I've felt like our program and where our racecar and race team is, we've gotten lucky and gotten some poles and stuff like that, but I really feel like our success has come from long run speed. We may not be able to fire off like some of the other guys are, but we're consistent.
"It's the most fun I've had racing in a long time. The cars, the people, the atmosphere – I bring my family, my wife and my three kids and we all have a good time together. A little bit more the traditional racing that we grew up with. I've really enjoyed being involved with it and getting to go to different tracks."
More of Ebeling's thoughts will be featured on MAVTV Motorsports Network and associated viewing platforms as part of a special season-in-review show, which premieres in May and will additionally look at the 2022 season ahead. Check local listings for air times of shows from 2021, presented by Trick Shot® Sustainable Products and STAAR Trucking.
A complete Race Day Schedule as well as forthcoming updates will be shared on the Super Cup Stock Car Series official web site supercupstockcarseries.com, Facebook (search Super Cup Stock Car Series), Twitter (@SCSCSRacing), and Instagram (SCSCS_Racing) leading into and including the season opening twin 60-lap races at Dominion Raceway.
_________________________________________________________