Super Cup Stock Car Series Action
Watch NEW 2018 and Previous Seasons
Events Shown Each TUESDAY and THURSDAY
Tuesday 10 PM Pacific

and

Wednesday 1 AM Pacific

Thursday 12:30 PM Eastern

and

3:30 PM Eastern
_________________________________________________________
Shades of the Past between SCSCS Racing Friends; Pack and Kromer Split September Jennerstown Twin 50s
Jennerstown, Pennsylvania (September 15, 2019) – Saturday night's Super Cup Stock Car Series championship rounds three and four at Jennerstown Speedway Complex featured a number of different players in ultimately figuring out who would take home the pair of trophies. In the end it came down to one driver who returned to victory lane with a car he referred to as "Old Faithful" and a driver who through hard work restored a car to winning form, all while rekindling respectful spirited battles from the past between each other.
_________________________________________________________
Championship Contenders Seeking Crucially Important Results during Upcoming Jennerstown Twin 50s
Statesville, North Carolina (September 9, 2019) – Each of the past five years, Jennerstown Speedway Complex has played a pivotal role toward determining who stays in the hunt for the season-long championships with an encouraging outcome and who may falter upon fortune not going in their favor. 2019 has already been no different, with a pair of races held at the 1/2-mile oval in July.
This Saturday, National Appliance presents the Super Cup Stock Car Series championship rounds three and four, consisting of the Bill's Wood Stoves 50 and Medved Transfer Co. 50 twin features, which will continue the pursuit of many toward an acceptable eventual year-end result.
_________________________________________________________
Another Sweep for Ebeling; Dedicates Shenandoah Wins in Memory of Team Owner's Son
Shenandoah, Virginia (August 25, 2019) – Shenandoah Speedway was one of only two Super Cup Stock Car Series tracks in which Ben Ebeling has previously competed but has yet to win. That changed on Saturday night in another sweeping fashion as the Hickory, North Carolina driver turned out to be the one to beat during the second 2019 visit to the 3/8-mile oval.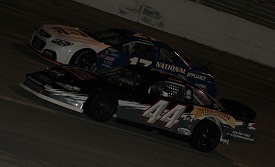 Ebeling's No. 44 Startown Carpet and Flooring / SwannysAutoSales.net / L & C Truck Repair / Battery Specialists / ShoTime Motorsports Ford set fast time for a fourth occurrence this year, bettering his top qualifying effort in June with a best lap of 16.468 seconds. Not only that, his daughter the number one pill for him to start in first position for the feature.
Ebeling kept the lead for the duration of the first 50-lap feature, which went without a yellow flag until 10 laps remained. Despite series championship contenders Ron Langdon and Kevin Kromer staying within striking distance and having two chances on restarts, Ebeling held them off for his first win at Shenandoah and fourth of the year.
_________________________________________________________
Shenandoah Speedway Begins Trend of Repeat Visits in Determination of 2019 SCSCS Champions
Statesville, North Carolina (August 20, 2019) – The stage is set. Drivers have put forth their best effort in the preliminary months of competition, which are reflected in the adjusted standings for the North, South, and Overall leading into the final three twin feature events of this Super Cup Stock Car Series season.
Each of the facilities will be familiar to competitors, having hosted the series on one occasion before in 2019. First up and building upon the success of June's Veterans Classic, Shenandoah Speedway was added late in the game for a return visit as part of the picturesque 3/8-mile's season finale festivities, but can possibly play a role in who hoists the year-end trophies.
_________________________________________________________
Finally:
Fortune Smiles Upon SCSCS First-Time Winners Langdon and Potter at Midvale

Midvale, Ohio (August 12, 2019) – With more than half of the starting field in Saturday's My Water Doctor "Night at the Races" presented by Racing Radios being composed of non-winners in Super Cup Stock Car Series competition, the likelihood was high that one could break through into victory lane. After all the dust from the twin 50-lap races settled at Midvale Speedway though, there were two who celebrated such a feat.

Current point leader Kevin Kromer established himself as the car to beat early, pacing practice and then setting his third fast time of the year with a time of 14.919 seconds, a scant 0.071 margin over Harvey Harrison. 2009 SCSCS champion Tyler Nuckles was on hand to compete in the Open Modified 50-lap race that was also part of the 3/10-mile oval's festivities and holds the record for most wins in a single season, a mark that Kromer is on track to possibly tie or even break.

_________________________________________________________
Annual Pilgrimage to Midvale Sets the Pivotal Stage for Remainder of 2019 SCSCS Campaign
Statesville, North Carolina (August 6, 2019) – Improvement and momentum are two strategies that are likely to be overheard in the pit area on Saturday at Midvale Speedway. The 3/10-mile oval located a half hour south of the Pro Football Hall of Fame will host the Super Cup Stock Car Series for the ninth straight season and returns to their familiar original August date.
Arriving to Ohio, two drivers have set the bar so far in 2019, but even with this year's point structure allowing for a couple races with worse than expected results to be disregarded, they will be looking to increase their season total as much as possible going into the final stretch of events.
_________________________________________________________
Sopwith / MAVTV Back on Board with SCSCS for 2019 Season-Ending Stretch
Statesville, North Carolina (August 1, 2019) – The Super Cup Stock Car Series (SCSCS) has started off 2019 showcasing a great assortment of action for fans in attendance at venues across five different states. Likewise, viewers at home have been following along with social media content as well as recollecting past events on a frequent basis via shows from previous seasons on national television and in the archives.
_________________________________________________________
Ebeling's First Salem Trip a Success; Two Wins Surge Him to South Division Title Lead
Salem, Indiana (July 28, 2019) – Ben Ebeling knew he had to show up and perform at Salem Speedway in order to continue defending his Super Cup Stock Car Series Southern Division title from 2017 and 2018. The Inaugural "Super Cup 100" was a necessity in order for the Hickory, North Carolina driver to meet the minimum eligibility of six races by the conclusion of the event in the Hoosier State to stay in the hunt after a slow start to get going in the 2019 season.