Super Cup Stock Car Series Action
Watch NEW 2018 and Previous Seasons
Events Shown Each TUESDAY and THURSDAY
Tuesday 10 PM Pacific

and

Wednesday 1 AM Pacific

Thursday 12:30 PM Eastern

and

3:30 PM Eastern
_________________________________________________________
Commitment, Racing Spirit, and Camaraderie the Main Takeaways from Annual SCSCS Trophy Presentation
Thornburg, Virginia (October 10, 2019) – The final top 10 in the Super Cup Stock Car Series standings featured eight drivers who bettered their previous best points result. All 10 members, including six for the first time, were in attendance and recognized during the season-ending trophy presentation held in the Championship Room at Dominion Raceway the morning after racing festivities wrapped up.
The most prestigious piece of hardware given out that concluded the ceremonies was for the overall champion across a season which saw many records, one being the longest schedule in series history of 19 races across 10 events.
Kevin Kromer has displayed steady perseverance for numerous years and from the get go at Dominion in April had to capitalize whenever needed, not only to escape with his first touring series championship by a narrow 33 points, but also capture the regional Northern Division title once again.
_________________________________________________________
Defending 2018 and Newly Named 2019 SCSCS Champions Conclude Season in a Big Way at Dominion
Thornburg, Virginia (October 6, 2019) – Two seasoned racers knew going in that there could be only one champion at the end of the night and taking advantage of perhaps the smallest opportunity could be the difference. With 16 additional competitors to face off with during Saturday's Big Mike's Smokin' BBQ & Grill presents the Night and Day Sealcoating Twin 60s at Dominion Raceway, it was not going to be the easiest task either.
The first chance to grab five bonus points for contenders Kevin Kromer and Ron Langdon was during qualifying. Both would come up short as Petersburg, West Virginia's Larry Berg, in only his second start of the year, set fast time navigating the 4/10-mile oval in 16.155 seconds. His first Pole Award since the beginning of 2017 was only five one-thousandths of a second faster than Jennerstown winner three weeks ago, nearby Midland, Virginia's JJ Pack. Langdon and Kromer qualified third and fifth, respectively.
_________________________________________________________
Contenders Up for the Task in 2019 Curtain-Closing Battle for the SCSCS Championship at Dominion
Statesville, North Carolina (October 1, 2019) – The longest season-long expedition in recent time comes to an end this Saturday with the closest Super Cup Stock Car Series championship battle in years. Big Mike's Smokin' BBQ & Grill presents the Night and Day Sealcoating Twin 60s at Dominion Raceway.
The margin separating Walnutport, Pennsylvania's Kevin Kromer and Freeport, New York's Ron Langdon is a mere four points. In a year almost entirely composed of podium finishes for Langdon, a second or even third career win could potentially be what is needed in order to seal the deal when it comes to grabbing the highest accolades.
_________________________________________________________
Shades of the Past between SCSCS Racing Friends; Pack and Kromer Split September Jennerstown Twin 50s
Jennerstown, Pennsylvania (September 15, 2019) – Saturday night's Super Cup Stock Car Series championship rounds three and four at Jennerstown Speedway Complex featured a number of different players in ultimately figuring out who would take home the pair of trophies. In the end it came down to one driver who returned to victory lane with a car he referred to as "Old Faithful" and a driver who through hard work restored a car to winning form, all while rekindling respectful spirited battles from the past between each other.
_________________________________________________________
Championship Contenders Seeking Crucially Important Results during Upcoming Jennerstown Twin 50s
Statesville, North Carolina (September 9, 2019) – Each of the past five years, Jennerstown Speedway Complex has played a pivotal role toward determining who stays in the hunt for the season-long championships with an encouraging outcome and who may falter upon fortune not going in their favor. 2019 has already been no different, with a pair of races held at the 1/2-mile oval in July.
This Saturday, National Appliance presents the Super Cup Stock Car Series championship rounds three and four, consisting of the Bill's Wood Stoves 50 and Medved Transfer Co. 50 twin features, which will continue the pursuit of many toward an acceptable eventual year-end result.
_________________________________________________________
Another Sweep for Ebeling; Dedicates Shenandoah Wins in Memory of Team Owner's Son
Shenandoah, Virginia (August 25, 2019) – Shenandoah Speedway was one of only two Super Cup Stock Car Series tracks in which Ben Ebeling has previously competed but has yet to win. That changed on Saturday night in another sweeping fashion as the Hickory, North Carolina driver turned out to be the one to beat during the second 2019 visit to the 3/8-mile oval.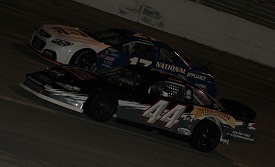 Ebeling's No. 44 Startown Carpet and Flooring / SwannysAutoSales.net / L & C Truck Repair / Battery Specialists / ShoTime Motorsports Ford set fast time for a fourth occurrence this year, bettering his top qualifying effort in June with a best lap of 16.468 seconds. Not only that, his daughter the number one pill for him to start in first position for the feature.
Ebeling kept the lead for the duration of the first 50-lap feature, which went without a yellow flag until 10 laps remained. Despite series championship contenders Ron Langdon and Kevin Kromer staying within striking distance and having two chances on restarts, Ebeling held them off for his first win at Shenandoah and fourth of the year.
_________________________________________________________
Shenandoah Speedway Begins Trend of Repeat Visits in Determination of 2019 SCSCS Champions
Statesville, North Carolina (August 20, 2019) – The stage is set. Drivers have put forth their best effort in the preliminary months of competition, which are reflected in the adjusted standings for the North, South, and Overall leading into the final three twin feature events of this Super Cup Stock Car Series season.
Each of the facilities will be familiar to competitors, having hosted the series on one occasion before in 2019. First up and building upon the success of June's Veterans Classic, Shenandoah Speedway was added late in the game for a return visit as part of the picturesque 3/8-mile's season finale festivities, but can possibly play a role in who hoists the year-end trophies.
_________________________________________________________
Finally:
Fortune Smiles Upon SCSCS First-Time Winners Langdon and Potter at Midvale

Midvale, Ohio (August 12, 2019) – With more than half of the starting field in Saturday's My Water Doctor "Night at the Races" presented by Racing Radios being composed of non-winners in Super Cup Stock Car Series competition, the likelihood was high that one could break through into victory lane. After all the dust from the twin 50-lap races settled at Midvale Speedway though, there were two who celebrated such a feat.

Current point leader Kevin Kromer established himself as the car to beat early, pacing practice and then setting his third fast time of the year with a time of 14.919 seconds, a scant 0.071 margin over Harvey Harrison. 2009 SCSCS champion Tyler Nuckles was on hand to compete in the Open Modified 50-lap race that was also part of the 3/10-mile oval's festivities and holds the record for most wins in a single season, a mark that Kromer is on track to possibly tie or even break.