Super Cup Stock Car Series Action on
Tuesday 10 PM Pacific

and

Wednesday 1 AM Pacific

Thursday 12:30 PM Eastern

and

3:30 PM Eastern
Watch NEW 2018 and Previous 2017 Season Events Each TUESDAY and THURSDAY
_________________________________________________________
Two Return Visits to Popular Jennerstown Speedway Complex in Store for SCSCS in 2019
Jennerstown, Pennsylvania (November 29, 2018) – Over the past five years, Super Cup Stock Car Series competitors and fans alike circle a favorite pilgrimage on the calendar to the Laurel Highlands region of Pennsylvania.
Jennerstown Speedway Complex will once again be a premier part of the 2019 schedule with two exciting summer events for the 3,300 pound, 600 horsepower full-bodied touring series teams on Saturday, July 13 and Saturday, September 14.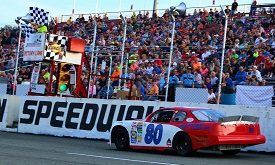 The historic 1/2-mile oval has hosted the SCSCS for a record 18 races on 10 different dates. Drivers show their eagerness on every occasion not only to do battle in front of packed stands, but to meet many of the seasoned enthusiasts and to help introduce and attract community members to short track racing.
"This is home to us," SCSCS Director of Competition Joe Schmaling remarked. "That's why we come to Jennerstown. They love us here and we love to be here. It's one of the finest racetracks in the country."
_________________________________________________________
Super Cup Stock Car Series Kicking Off Summer 2019 at the "Concrete Jungle"
Kingsport, Tennessee (November 26, 2018) – The commencement of summer carries many meanings for families across the nation. For drivers searching for speed in fierce machines, it signifies that racing season is in full effect for several weeks to come.
When summer solstice 2019 arrives at 11:54 a.m. on Friday, June 21, the Super Cup Stock Car Series teams will be in line to register and soon practice for an evening full of competition at a Tennessee facility known as the "Concrete Jungle".
_________________________________________________________
Super Cup Stock Car Series to Begin and Conclude Its 12th Season at Dominion Raceway
Thornburg, Virginia (October 17, 2018) – The dominoes are already starting to fall into place for the Super Cup Stock Car Series and its premier facilities in preparation for 2019. The touring series, which will enter its 12th full season of competition and features 3,300 pound, 600 horsepower full-bodied machines, is announcing jointly with Dominion Raceway a partnership to host both the season opening and closing events in the upcoming year.
_________________________________________________________
Ebeling Sweeps Duels and Claims Southern Title; Langdon Earns Custom Trophy in 2018 SCSCS Finale at Dominion
Thornburg, Virginia (September 30, 2018) – It was shaping up to be a Super Cup Stock Car Series battle for the ages, but in the end, there was a new face to Dominion Raceway's victory lane that was celebrating and a familiar winner on the sidelines.
Bob Schacht, coming in undefeated at the 4/10-mile facility, set a new series track record for the Duels at Dominion presented by Racing Radios with a best lap time of 15.801 seconds. The five bonus points that came with the Pole Award extended the Mooresville, North Carolina driver's advantage in the race for the Southern Division championship to 10 over Ben Ebeling. Ebeling; however, was poised throughout the afternoon to stay right with or, in many cases, ahead of Schacht, leading both practice sessions and qualifying closely behind in second.
_________________________________________________________
Extra Bragging Rights and Incentives Up for Grabs in 2018 Dominion SCSCS Finale
Statesville, North Carolina (September 26, 2018) – Several trophies may have been awarded two weeks ago, but multiple accolades remain within reach this weekend at Dominion Raceway before Super Cup Stock Car Series teams call it a year and regroup over the winter months.
The main course being served up during the Duels at Dominion presented by Racing Radios will be the extremely tight chase for the Southern Division title. North Carolinians Bob Schacht and Ben Ebeling have been on top of their game in all of the four south-denoted races to date, each winning twice and finishing no worse than third.
_________________________________________________________
Nelson, Harrison, Kromer, and Schacht Take Home Hardware during Jennerstown's Championship Night
Jennerstown, Pennsylvania (September 16, 2018) – A bevy of winners, some expected and one completely unexpected going into the weekend, were celebrated during the third and final Super Cup Stock Car Series trip of the season to Jennerstown Speedway Complex.
The American Racer Night at the Races presented by Performance Fiberglass Products started off where it left off three weeks ago. Brent Nelson captured his first Pole Award of 2018 with a best time of 20.22 seconds. After the redraw, the No. 80 Royal Purple / Airtek Inc. / Steam Turbine Services / Precision Auto Collision / Atkinson Welding Chevrolet accelerated into the lead from the outside front row ahead of fellow championship contender Mike Potter.
The first Twin 50-lap feature went clean and green for a majority of the distance with Nelson leading through halfway; however, picking up positions and

lurking behind him was Stephen Cox. The Indianapolis, Indiana driver in his first Jennerstown appearance of the year had to climb from the eighth starting position after spinning on his first qualifying lap earlier in the afternoon.
Coming to 12 laps to go, Cox dove the No. 21 STA-BIL 360 Performance / Impact Race Products / CR7 Motorsports Chevrolet into the corner and Nelson's car went up the track. His lead would not last long though. With five circuits remaining, Cox's car suddenly snapped and spun out of the top spot in nearly the same part of turn two as in qualifying.
_________________________________________________________
Two SCSCS Titles to Be Decided as Part of Jennerstown Speedway's Big Championship Night
Statesville, North Carolina (September 10, 2018) – The Super Cup Stock Car Series will make its third and final trek of 2018 into the Laurel Highlands for Saturday's highly-anticipated championship night. Jennerstown Speedway Complex will feature the crowning of their five local division champions as well as a rescheduled visit for the lightning fast Must See Sprints joining the full-bodied touring stock cars for a jam-packed and unique day of racing.
_________________________________________________________