Super Cup Stock Car Series Action on
Tuesday 10 PM Pacific

and

Wednesday 1 AM Pacific

Thursday 12:30 PM Eastern

and

3:30 PM Eastern
Watch NEW 2018 and Previous 2017 Season Events Each TUESDAY and THURSDAY
_________________________________________________________
2019's Championship Structure Increases Opportunities and Flexibility for SCSCS Teams
Statesville, North Carolina (February 21, 2019) – One by one in recent weeks, seven facilities across six states have made their commitment to be a part of the 2019 Super Cup Stock Car Series schedule. With all the pieces in place, officials have announced a few adjustments to the structure in which the naming of champions will be calculated for the new season.
The twin race format remains intact, in which teams will often be facing the challenges that come with competing once in daylight and once following sunset, all the while managing one set of tires through qualifying and both features. With the growing footprint of support in the form of participating racers and partnering venues resulting in an increased slate of races on tap, teams will be provided with extra flexibility yet encourage continued participation throughout the nine event / eighteen race season-long campaign.
_________________________________________________________
Midvale Returns to Familiar Weekend on 2019 Super Cup Stock Car Series Schedule
Midvale, Ohio (February 12, 2019) – The facility carrying the longest running presence on the Super Cup Stock Car Series schedule is back in 2019 for its ninth consecutive appearance. After enjoying an early June date for three seasons, a familiar weekend in the second half of summer returns as the date for Midvale Speedway this year.
The fast 3/10-mile bullring will host the competitors and their 3,300 pound, 600 horsepower machines on Saturday, August 10th. Some unforgettable on-track battles were waged back when events have been held in that month, with series veteran Kevin Kromer ending the night in victory lane twice.
_________________________________________________________
Debut Date in May at Southern National Added to 2019 Schedule; First SCSCS Race to Be Held in North Carolina Since 2011
Kenly, North Carolina (February 7, 2019) – The Tar Heel State has played a major part in the history of the Super Cup Stock Car Series. Two historic facilities hosted a pair of inaugural exhibition events, serving as an affordable alternative for racers to compete in their existing steel-bodied stock cars late in 2007. Less than 12 years later, another top-tier North Carolina facility adds its name to the list of those who have graciously offered the 3,300 pound, 600 horsepower stock cars to be part of their program.
_________________________________________________________
2014 SCSCS Champion JJ Pack Preparing for Two Season Openers in 2019
Statesville, North Carolina (February 4, 2019) – While many are simply trying to stay cozy indoors in response to the latest winter wrath, one driver is working hard in his Midland, Virginia shop in order to have a pair of machines ready to commence with 2019's racing campaign.
JJ Pack is not only preparing a Super Cup Stock Car Series ride for the opening event at Dominion Raceway on Saturday, April 28, but is also eyeing a return to the Daytona International Speedway for a bid at the first race of the ARCA Racing Series season.
_________________________________________________________
After Trial Runs and Success in Latter Half of 2018, Younger Generation Drivers Ready for Increased 2019
Statesville, North Carolina (January 22, 2019) – Approximately midway through the 2018 season, an emergence of fresh faces tried their hand at the Super Cup Stock Car Series, achieving and at times exceeding some initial targets that were set. For 2019, the bar gets raised a little higher, as each aspires to participate in an increased schedule.
_________________________________________________________
VETERANS CLASSIC AT SHENANDOAH SPEEDWAY TO FEATURE SUPER CUP STOCK CAR SERIES AND LEGENDS
SHENANDOAH, VIRGINIA (January 17, 2019) – The return of the Super Cup Stock Car Series to Shenandoah Speedway will highlight the new "Veterans Classic" on Saturday, June 1st. The 3,300 pound, 600 horsepower stock cars with roots dating back to Pro Cup, ARCA, and even

NASCAR's past will be joined by a $1000 to win INEX Legends race that will support local veterans charities. A busy program will also include local divisions competing and a fireworks show to conclude the night.
Veterans will be admitted for half-price while active duty and first responders will receive free admission.
_________________________________________________________
Super Cup Stock Car Series Adds to Salem Speedway's Storied History in 2019
Salem, Indiana (December 17, 2018) – The Hoosier State has held a major presence within the Super Cup Stock Car Series since its inception. Four drivers have earned a total of eight wins and one championship over an 11-year period, yet not one race has been able to take place in Indiana to date. That will all change on Saturday, July 27.
For the first time, Salem Speedway will host the drivers and their 3,300 pound, 600 horsepower stock cars that tell stories dating back to their Pro Cup, ARCA, and even NASCAR roots, bringing a unique variety of short track racing on a summer night during the facility's 73rd season of operation.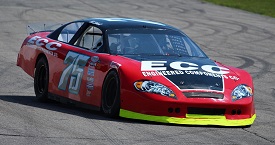 "We're certainly pleased to bring the Super Car Stock Car Series to the high banks of Salem Speedway Fueled by the Hoosier Lottery," Richard Deaton, track General Manager, said. "This southern-based series, featuring steel-bodied stock cars, is a perfect fit for the historic Salem oval. We are pleased to be hosting the inaugural Indiana event for this exciting stock car series."
The 0.555-mile oval is renowned for its fast 33-degree banked corners and its significant history with countless legends of the sport attempting to achieve victory. Almost half of 2018's Daytona 500 field competed at Salem one time or another prior to moving up the ranks. 2018 SCSCS champion Bob
Schacht won a 500-lap race there nearly 30 years ago.
_________________________________________________________
Two Return Visits to Popular Jennerstown Speedway Complex in Store for SCSCS in 2019
Jennerstown, Pennsylvania (November 29, 2018) – Over the past five years, Super Cup Stock Car Series competitors and fans alike circle a favorite pilgrimage on the calendar to the Laurel Highlands region of Pennsylvania.
Jennerstown Speedway Complex will once again be a premier part of the 2019 schedule with two exciting summer events for the 3,300 pound, 600 horsepower full-bodied touring series teams on Saturday, July 13 and Saturday, September 14.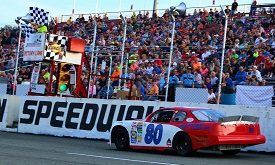 The historic 1/2-mile oval has hosted the SCSCS for a record 18 races on 10 different dates. Drivers show their eagerness on every occasion not only to do battle in front of packed stands, but to meet many of the seasoned enthusiasts and to help introduce and attract community members to short track racing.
"This is home to us," SCSCS Director of Competition Joe Schmaling remarked. "That's why we come to Jennerstown. They love us here and we love to be here. It's one of the finest racetracks in the country."
_________________________________________________________