Super Cup Stock Car Series Action
Watch NEW 2018 and Previous Seasons
Events Shown Each TUESDAY and THURSDAY
Tuesday 10 PM Pacific

and

Wednesday 1 AM Pacific

Thursday 12:30 PM Eastern

and

3:30 PM Eastern
_________________________________________________________
Ebeling Outlasts the Competition and Remains Undefeated at Kingsport Speedway
Kingsport, Tennessee (June 22, 2019) – In a night filled with what turned out to be a game of musical driver seats there was one constant – Ben Ebeling continuously showed that he was the driver to beat when the Super Cup Stock Car Series comes to the "Concrete Jungle".
While the Hickory, North Carolina driver paced practice on more than one occasion, SCSCS Friday Night Thunder presented by Patrick Miller Photography would by no means be a runaway. In qualifying, Ebeling needed every ounce of speed to best his former car owner and last year's Pole Award winner Mike Potter around the 3/8-mile oval. His time of 15.806 seconds was only five one-thousandths of a second quicker, good enough for his second straight SCSCS Pole Award.
_________________________________________________________
Summer Kickoff at the "Concrete Jungle" On Tap for SCSCS Competitors
Statesville, North Carolina (June 17, 2019) – The only Friday function of the year for the Super Cup Stock Car Series is up next as the teams and their 3,300 pound, 600 horsepower rides ring in the official start to summer at Tennessee's Kingsport Speedway on June 21st.
Thundering into the "Concrete Jungle" ahead of the pack to start off 2019 are two drivers separated by only three points for the season-long overall championship, in which both are likely making the longest tow of any competitors. The best Ron Langdon could do at the 3/8-mile oval last year was a sixth place result, but the Freeport, New York racer has collected an incredibly consistent record in the first six races with a trio of runner-ups and three third place finishes. He will most certainly keep focus on that trend continuing with maybe another step up on the ladder and a trophy or two to bring 700 miles home.
_________________________________________________________
Kerley Carries the Flag for the Veterans; Kromer Overcomes at Shenandoah
Shenandoah, Virginia (June 4, 2019) – To say that Saturday night's Veterans Classic Twin 50s at Shenandoah Speedway featured their share of action would be an understatement.
An outstanding field comprised of 20 Super Cup Stock Car Series racers was on hand for what turned out to be two wild 50-lap features. Earlier in the day, Ben Ebeling, making his first appearance of 2019, set a fast time of 16.686 seconds, his first career Pole Award.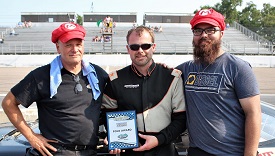 Ebeling was far from home free despite the strong qualifying run though as the ShoTime Motorsports team discovered a brake line issue immediately following the session. Luckily, the CR7 Motorsports team, on hand with driver Samatha Rohrbaugh, lent them the necessary parts n order for the No. 44 Startown Carpet and Flooring / SwannysAutoSales.net / Battery Specialists Ford to make it for the green flag.
Renick, West Virginia's Brian Harrison, making his first start since 2017 in the No. 15 Harrison's Motorsports Chevrolet, and Hiddenite, North Carolina driver Jon Kerley in the No. 4 Monk's Crappie / Potter Racing Chevrolet started the first Twin 50 from the front row after a six car redraw. Kerley jumped to a comfortable lead during much of the first 20 circuits.
_________________________________________________________
Stellar SCSCS Field Expected for Shenandoah Speedway Veterans Classic
Statesville, North Carolina (May 28, 2019) – An impressive assembly of competitors have been anticipating the arrival of the Super Cup Stock Car Series return to Shenandoah Speedway ever since the Saturday, June 1 Veterans Classic date was announced. The months and weeks have now dwindled to days as the first visit since 2013 to the 3/8-mile oval nestled amidst the picturesque Blue Ridge Mountains of Virginia is now upon them.
Riding perhaps the most momentum in his more than decade-spanning SCSCS career is Kevin Kromer. Fresh off an evening sweep of the third and fourth races of 2019 at North Carolina's Southern National Motorsports Park, the Walnutport, Pennsylvania racer has a quartet of previous starts at Shenandoah with a best finish of third the last time there.
_________________________________________________________

Full Moon Doesn't Evade Kromer from Victory Lane, Twice, at SNMP
Kenly, North Carolina (May 19, 2019) – From the start of an optional Friday practice session, it was evident that the first driver to figure out the puzzle that was the Southern National Motorsports Park was going to be tough to beat during Saturday night's Super Cup Stock Car Series Twin 50s.
Walnutport, Pennsylvania driver Kevin Kromer was one of them who ran into trouble initially, spinning in that session but luckily escaping any contact with the wall. From then on, the No. 77 Lehigh Valley Cancer Institute / Mission R.A.C.E.R. / K2 Motorsports team studied the 4/10-mile and proceeded to turn their luck around in a dominating fashion.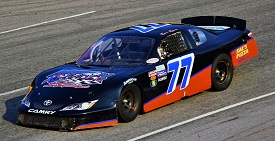 First was his second career Pole Award, setting a blazing fast time of 16.461 seconds. Not even a redraw of sixth would slow Kromer down, as he navigated around front row starters Marc Jones in the No. 00 Office of Special Investigations / CBDmctOilProfits4U.com / Matt Metheney / Jones Motorsports Dodge and John Miller in the No. 0 Diddlefluffin Enterprises / Urgent Property Solutions / CBDmctOilProfits4U.com / Jason Schue Racing / Zero Cents Racing Team Chevrolet as well as his closest competitor for the evening, Ron Langdon, by the time the field made it back to the line to complete lap one.
_________________________________________________________
Shake-up in store for SCSCS Wild Card Inaugural Appearance at Southern National Motorsports Park
Statesville, North Carolina (May 14, 2019) – The first event of the year has been in the books for more than two weeks, giving fans and competitors the time to process what to expect for the 2019 season. Nevertheless, this weekend's Super Cup Stock Car Series Twin 50s at Southern National Motorsports Park is only the beginning of what is to come; setting the stage for a probable shake-up atop the leaderboard after all is said and done.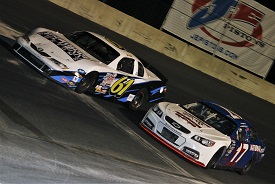 Two of the five drivers that accumulated the most points at Dominion Raceway will be unable to make the first journey for the series since 2011 to the state of North Carolina, meaning all kinds of jockeying in the positioning amid the upper echelon of contention are expected. Not only that, but there are a couple other major wildcard factors playing their part.
Only one driver currently confirmed for this weekend's event, Denver, North Carolina's Larry Wilcox, has previously competed in the 3,300 pound, 600 horsepower stock cars on the 4/10-mile oval surface. That was in a Pro Cup car more than 10 years ago. The remainder of talent will have a short window to figure out the nuances associated with the 17-degree banked turns and seven-degree banked straightaways.