Super Cup Stock Car Series Action on
Tuesday 10 PM Pacific

and

Wednesday 1 AM Pacific

Thursday 12:30 PM Eastern

and

3:30 PM Eastern
Watch NEW 2018 and Previous 2017 Season Events Each TUESDAY and THURSDAY
_________________________________________________________
VETERANS CLASSIC AT SHENANDOAH SPEEDWAY TO FEATURE SUPER CUP STOCK CAR SERIES AND LEGENDS
SHENANDOAH, VIRGINIA (January 17, 2019) – The return of the Super Cup Stock Car Series to Shenandoah Speedway will highlight the new "Veterans Classic" on Saturday, June 1st. The 3,300 pound, 600 horsepower stock cars with roots dating back to Pro Cup, ARCA, and even

NASCAR's past will be joined by a $1000 to win INEX Legends race that will support local veterans charities. A busy program will also include local divisions competing and a fireworks show to conclude the night.
Veterans will be admitted for half-price while active duty and first responders will receive free admission.
_________________________________________________________
Super Cup Stock Car Series Adds to Salem Speedway's Storied History in 2019
Salem, Indiana (December 17, 2018) – The Hoosier State has held a major presence within the Super Cup Stock Car Series since its inception. Four drivers have earned a total of eight wins and one championship over an 11-year period, yet not one race has been able to take place in Indiana to date. That will all change on Saturday, July 27.
For the first time, Salem Speedway will host the drivers and their 3,300 pound, 600 horsepower stock cars that tell stories dating back to their Pro Cup, ARCA, and even NASCAR roots, bringing a unique variety of short track racing on a summer night during the facility's 73rd season of operation.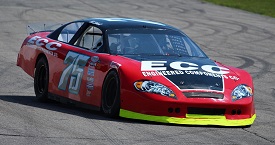 "We're certainly pleased to bring the Super Car Stock Car Series to the high banks of Salem Speedway Fueled by the Hoosier Lottery," Richard Deaton, track General Manager, said. "This southern-based series, featuring steel-bodied stock cars, is a perfect fit for the historic Salem oval. We are pleased to be hosting the inaugural Indiana event for this exciting stock car series."
The 0.555-mile oval is renowned for its fast 33-degree banked corners and its significant history with countless legends of the sport attempting to achieve victory. Almost half of 2018's Daytona 500 field competed at Salem one time or another prior to moving up the ranks. 2018 SCSCS champion Bob
Schacht won a 500-lap race there nearly 30 years ago.
_________________________________________________________
Two Return Visits to Popular Jennerstown Speedway Complex in Store for SCSCS in 2019
Jennerstown, Pennsylvania (November 29, 2018) – Over the past five years, Super Cup Stock Car Series competitors and fans alike circle a favorite pilgrimage on the calendar to the Laurel Highlands region of Pennsylvania.
Jennerstown Speedway Complex will once again be a premier part of the 2019 schedule with two exciting summer events for the 3,300 pound, 600 horsepower full-bodied touring series teams on Saturday, July 13 and Saturday, September 14.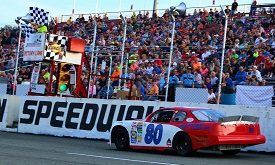 The historic 1/2-mile oval has hosted the SCSCS for a record 18 races on 10 different dates. Drivers show their eagerness on every occasion not only to do battle in front of packed stands, but to meet many of the seasoned enthusiasts and to help introduce and attract community members to short track racing.
"This is home to us," SCSCS Director of Competition Joe Schmaling remarked. "That's why we come to Jennerstown. They love us here and we love to be here. It's one of the finest racetracks in the country."
_________________________________________________________
Super Cup Stock Car Series Kicking Off Summer 2019 at the "Concrete Jungle"
Kingsport, Tennessee (November 26, 2018) – The commencement of summer carries many meanings for families across the nation. For drivers searching for speed in fierce machines, it signifies that racing season is in full effect for several weeks to come.
When summer solstice 2019 arrives at 11:54 a.m. on Friday, June 21, the Super Cup Stock Car Series teams will be in line to register and soon practice for an evening full of competition at a Tennessee facility known as the "Concrete Jungle".
_________________________________________________________
Super Cup Stock Car Series to Begin and Conclude Its 12th Season at Dominion Raceway
Thornburg, Virginia (October 17, 2018) – The dominoes are already starting to fall into place for the Super Cup Stock Car Series and its premier facilities in preparation for 2019. The touring series, which will enter its 12th full season of competition and features 3,300 pound, 600 horsepower full-bodied machines, is announcing jointly with Dominion Raceway a partnership to host both the season opening and closing events in the upcoming year.
_________________________________________________________
Ebeling Sweeps Duels and Claims Southern Title; Langdon Earns Custom Trophy in 2018 SCSCS Finale at Dominion
Thornburg, Virginia (September 30, 2018) – It was shaping up to be a Super Cup Stock Car Series battle for the ages, but in the end, there was a new face to Dominion Raceway's victory lane that was celebrating and a familiar winner on the sidelines.
Bob Schacht, coming in undefeated at the 4/10-mile facility, set a new series track record for the Duels at Dominion presented by Racing Radios with a best lap time of 15.801 seconds. The five bonus points that came with the Pole Award extended the Mooresville, North Carolina driver's advantage in the race for the Southern Division championship to 10 over Ben Ebeling. Ebeling; however, was poised throughout the afternoon to stay right with or, in many cases, ahead of Schacht, leading both practice sessions and qualifying closely behind in second.
_________________________________________________________
Extra Bragging Rights and Incentives Up for Grabs in 2018 Dominion SCSCS Finale
Statesville, North Carolina (September 26, 2018) – Several trophies may have been awarded two weeks ago, but multiple accolades remain within reach this weekend at Dominion Raceway before Super Cup Stock Car Series teams call it a year and regroup over the winter months.
The main course being served up during the Duels at Dominion presented by Racing Radios will be the extremely tight chase for the Southern Division title. North Carolinians Bob Schacht and Ben Ebeling have been on top of their game in all of the four south-denoted races to date, each winning twice and finishing no worse than third.
_________________________________________________________
Nelson, Harrison, Kromer, and Schacht Take Home Hardware during Jennerstown's Championship Night
Jennerstown, Pennsylvania (September 16, 2018) – A bevy of winners, some expected and one completely unexpected going into the weekend, were celebrated during the third and final Super Cup Stock Car Series trip of the season to Jennerstown Speedway Complex.
The American Racer Night at the Races presented by Performance Fiberglass Products started off where it left off three weeks ago. Brent Nelson captured his first Pole Award of 2018 with a best time of 20.22 seconds. After the redraw, the No. 80 Royal Purple / Airtek Inc. / Steam Turbine Services / Precision Auto Collision / Atkinson Welding Chevrolet accelerated into the lead from the outside front row ahead of fellow championship contender Mike Potter.
_________________________________________________________