Super Cup Stock Car Series Action
Watch NEW 2018 and Previous Seasons
Events Shown Each TUESDAY and THURSDAY
Tuesday 10 PM Pacific

and

Wednesday 1 AM Pacific

Thursday 12:30 PM Eastern

and

3:30 PM Eastern
_________________________________________________________
Kromer Takes Two in Jennerstown; Acquires SCSCS Point Lead
Jennerstown, Pennsylvania (July 14, 2019) – A picture perfect evening had a similar final result to a couple earlier events in the 2019 Super Cup Stock Car Series, but the journey toward that outcome thrilled the packed Jennerstown Speedway Complex audience with intense side by side racing throughout the field.
Late Saturday afternoon, Kevin Kromer picked up his second Pole Award of the year with a strong second qualifying lap, 0.120 seconds faster than his main opponent in the season-long championship, Ron Langdon.
It was clear sailing for the Walnutport, Pennsylvania driver in the first of the Twin 50-lap races at Jennerstown presented by Racing Radios, as on the opening lap he accelerated ahead of Mike Potter, who claimed the first starting position during the redraw.
Despite numerous participating racers that called Jennerstown home in the past on a weekly basis also in attendance, Kromer's win was a favorable one in front of the Keystone State fans. Cheering him on from the first series appearance in 2014, through his cancer diagnosis in 2016, and in the recent years following his recovery has been something very meaningful for the K2 Motorsports team and family.
_________________________________________________________
SCSCS Teams Ready for Saturday's July Battle at the "Big J"
Statesville, North Carolina (July 9, 2019) – Twin 50-lap races at Jennerstown Speedway Complex presented by Racing Radios complemented by a complete five-division weekly program will be sure to light up the intensity within the Laurel Highlands of Pennsylvania this Saturday evening. Featured will be the first of two appearances in 2019 and the sixth consecutive year that the Super Cup Stock Car Series has graced the popular 1/2-mile facility.
In terms of most recent SCSCS history at the track, two drivers enter July's event with a good amount of momentum. Brent Nelson has won at the "Big J" on five occasions, three of which occurred in 2018.
The Petersburg, West Virginia driver is searching for his first victory of 2019, after taking a couple races off due to a tough wreck at the opening event of the season at Dominion Raceway. He did; however, get back out to shake down a different car in the fleet at Shenandoah Speedway last month with respectable results in preparation for a possible return to glory this weekend.
_________________________________________________________
Ebeling Outlasts the Competition and Remains Undefeated at Kingsport Speedway
Kingsport, Tennessee (June 22, 2019) – In a night filled with what turned out to be a game of musical driver seats there was one constant – Ben Ebeling continuously showed that he was the driver to beat when the Super Cup Stock Car Series comes to the "Concrete Jungle".
While the Hickory, North Carolina driver paced practice on more than one occasion, SCSCS Friday Night Thunder presented by Patrick Miller Photography would by no means be a runaway. In qualifying, Ebeling needed every ounce of speed to best his former car owner and last year's Pole Award winner Mike Potter around the 3/8-mile oval. His time of 15.806 seconds was only five one-thousandths of a second quicker, good enough for his second straight SCSCS Pole Award.
_________________________________________________________
Summer Kickoff at the "Concrete Jungle" On Tap for SCSCS Competitors
Statesville, North Carolina (June 17, 2019) – The only Friday function of the year for the Super Cup Stock Car Series is up next as the teams and their 3,300 pound, 600 horsepower rides ring in the official start to summer at Tennessee's Kingsport Speedway on June 21st.
Thundering into the "Concrete Jungle" ahead of the pack to start off 2019 are two drivers separated by only three points for the season-long overall championship, in which both are likely making the longest tow of any competitors. The best Ron Langdon could do at the 3/8-mile oval last year was a sixth place result, but the Freeport, New York racer has collected an incredibly consistent record in the first six races with a trio of runner-ups and three third place finishes. He will most certainly keep focus on that trend continuing with maybe another step up on the ladder and a trophy or two to bring 700 miles home.
_________________________________________________________
Kerley Carries the Flag for the Veterans; Kromer Overcomes at Shenandoah
Shenandoah, Virginia (June 4, 2019) – To say that Saturday night's Veterans Classic Twin 50s at Shenandoah Speedway featured their share of action would be an understatement.
An outstanding field comprised of 20 Super Cup Stock Car Series racers was on hand for what turned out to be two wild 50-lap features. Earlier in the day, Ben Ebeling, making his first appearance of 2019, set a fast time of 16.686 seconds, his first career Pole Award.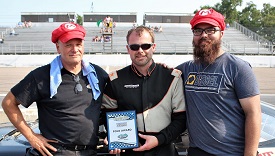 Ebeling was far from home free despite the strong qualifying run though as the ShoTime Motorsports team discovered a brake line issue immediately following the session. Luckily, the CR7 Motorsports team, on hand with driver Samatha Rohrbaugh, lent them the necessary parts n order for the No. 44 Startown Carpet and Flooring / SwannysAutoSales.net / Battery Specialists Ford to make it for the green flag.
Renick, West Virginia's Brian Harrison, making his first start since 2017 in the No. 15 Harrison's Motorsports Chevrolet, and Hiddenite, North Carolina driver Jon Kerley in the No. 4 Monk's Crappie / Potter Racing Chevrolet started the first Twin 50 from the front row after a six car redraw. Kerley jumped to a comfortable lead during much of the first 20 circuits.
_________________________________________________________
Stellar SCSCS Field Expected for Shenandoah Speedway Veterans Classic
Statesville, North Carolina (May 28, 2019) – An impressive assembly of competitors have been anticipating the arrival of the Super Cup Stock Car Series return to Shenandoah Speedway ever since the Saturday, June 1 Veterans Classic date was announced. The months and weeks have now dwindled to days as the first visit since 2013 to the 3/8-mile oval nestled amidst the picturesque Blue Ridge Mountains of Virginia is now upon them.
Riding perhaps the most momentum in his more than decade-spanning SCSCS career is Kevin Kromer. Fresh off an evening sweep of the third and fourth races of 2019 at North Carolina's Southern National Motorsports Park, the Walnutport, Pennsylvania racer has a quartet of previous starts at Shenandoah with a best finish of third the last time there.