_________________________________________________________
Stage Is Set for SCSCS Championship Night at Dominion Raceway
Statesville, North Carolina (September 28, 2021) – The scenarios have been calculated leading into the curtain-closing Super Cup Stock Car Series race weekend of 2021. The overall champion along with various additional accolades will be named by night's end at Dominion Raceway, the third consecutive instance in which the Thornburg, Virginia facility has hosted such an occasion.
Perhaps not coincidentally since they have led the pack from the get go, the two drivers remaining in contention for the championship split the victories at the 4/10-mile oval when the season began in early May. Ben Ebeling holds a fairly comfortable 93-point advantage on Bob Schacht as the field of

competitors will make their way onto the speedway on Saturday afternoon.
Ebeling, from Hickory, North Carolina, is currently in his longest dry spell between race wins (only four) over his SCSCS career, but has used consistency down the stretch to maintain command of the points lead. He will essentially need to finish in the top five, a feat he has only failed to complete once in all of 2021, in order to lock up his first overall title and continue a span of no repeat champions since 2012.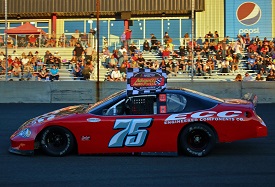 Schacht, on the other hand, has gone winless since mid-May, but Dominion is the perfect venue for the Mooresville, North Carolina driver to break that slump. The 2018 series champion has won on five different occasions at the track in which the SCSCS has been visiting since 2017. Every form of bonus points, which can be obtained by setting fast time and leading laps, will be at a premium but absolutely necessary to have a shot at earning his second title.
These two drivers will also be dueling for one of the regional championships, which will be decided at the conclusion of the first of twin 60-lap main events. The South division has only a 20-point separation, which could ultimately mean a different result than the overall champion.
There will be numerous more drivers on hand with their own set of goals to accomplish. Walnutport, Pennsylvania's Kevin Kromer, for instance, has already clinched the North division title but is eager to claim his first victory of 2021 at the same track in which he won and became the 2019 SCSCS champion.

Jason Kitzmiller has been the driver with the biggest hot streak as of late, sweeping the night at the latest event at Motor Mile Speedway and having not finished worse than second since the month of July. The Maysville, West Virginia racer will be battling Petersburg, West Virginia's Brent Nelson, a four-time winner in 2021, for both third in the overall standings and the Mid-Atlantic division honors.
Nelson will also be looking to catch fellow Petersburg driver Samatha Rohrbaugh for the season-ending Hard Charger of the Year, awarded to the driver who advances the most positions from start to finish on the most occasions throughout the year.
A coveted spot inside the top 10 in points is also up for grabs among a few drivers. Relative newcomer Dusty Silvers from Elizabethton, Tennessee currently holds down the ninth position, but Pittsburgh's Jeff Zillweger along with Renick, West Virginia father and son Harvey and Brian Harrison each have a chance at advancing their way forward in the standings. All four of the aforementioned have never competed at Dominion before.
Following the feature races, a First-Time Winners race will be offered to those who have yet to win a SCSCS main event or previous exhibition. Twin brothers from York, Pennsylvania Landon and Hayden Brothers have been two of the drivers showing marked improvement late in the season and are expected to be among the contenders. Home state driver Jeff Thomas will present as well for his first appearance at the track closest to where he resides in Gloucester.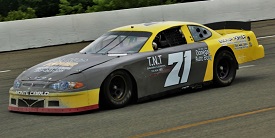 Other drivers will basically be going for nothing else but their best performance of the season. Stahlstown, Pennsylvania's Jerod Brougher has seen limited action in 2021, but took home the trophy in a prior First-Time Winners event at Dominion and also finished a career-best runner up in a main event there in 2019. Uniontown, Pennsylvania's Bill Ashton simply wants to turn a year filled with hard luck around and build upon a lone top five finish or perhaps secure his second career victory to close out the season.
Pit Row TV will be on hand to film and produce the weekend's festivities, which will premiere on MAVTV Motorsports Network and associated viewing platforms during the winter months. Title and presenting sponsorship is available for these shows and interested parties should contact series director Joe Schmaling at JoeSCSCS@gmail.com for more details as soon as possible.
First of three 20-minute practice sessions will fire off slightly prior to Noon with qualifying shortly after 3:00 p.m. The first green flag is expected to fly at 5:00 p.m.
An early optional practice session will be offered to teams the evening before from 5:00 p.m. through 8:00 p.m. On Sunday at 9:30 a.m., the season-ending trophy presentation for top award recipients will be hosted by Dominion Raceway.
For a detailed race day schedule as well as a comprehensive list of potentially expected entrants, please visit the Super Cup Stock Car Series official web site supercupstockcarseries.com. Further interactive updates heading into and throughout race day will be available on Facebook (search Super Cup Stock Car Series), Twitter (@SCSCSRacing), and Instagram (SCSCS_Racing).
_________________________________________________________