_________________________________________________________
Schacht and Ebeling Split Twin 60s at Dominion in SCSCS Return to Racing
Thornburg, Virginia (May 2, 2021) – The Super Cup Stock Car Series stars knocked the dust off their cars for a successful season-opening Twin 60s at Dominion Raceway with two past winners at the 4/10-mile oval hoisting the trophies at night's end.
Bob Schacht, a four-time Dominion race winner leading into the day, paced qualifying with a time of 16.059 seconds, a couple tenths off his track record from 2018.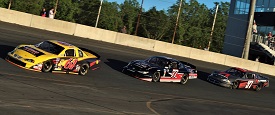 With new series race director Eric Dobson giving the command to fire engines, JJ Pack led the opening seven circuits from the pole after a six-car redraw in his No. 61 David Lucash Racing Engines / IceBoxx Customs / JP Racing Pontiac Grand Prix. However, it was Schacht from the third starting position that was accelerating toward the front and ultimately the lead.
The only yellow flag of the first 60-lap feature flew when contact occurred upon 2019 series champion Kevin Kromer approaching the slower car of Samatha Rohrbaugh. Both cars went around and would have to restart at the rear of the field.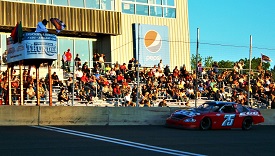 When the race resumed, Hickory, North Carolina's Ben Ebeling chose the outside and powered to the top spot. It was short-lived though, as his car picked up a tight condition and Schacht went by to fairly easily lead the remainder of the way.
"After 18 months since we were here last time it's great to go racing again and have fun," the driver of the No. 75 Engineered Components Co. / Bob Schacht Motorsports Chevrolet said. "The car was really good and it was a good race."
While Ebeling maintained second, Pack utilized lapped traffic to capitalize on Rookie of the Year contender Jason Kitzmiller and navigate around the No. 97 A.L.L. Construction / CR7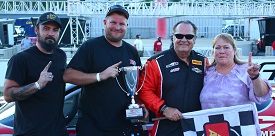 Motorsports Garage Chevrolet for third place. Kitzmiller's teammate and Rohrbaugh's grandfather, Larry Berg, rounded out the top five in the No. 9 Chevrolet sponsored by Grant County Mulch.
The second race, taking place under the Thornburg, Virginia facility lights, was a similar story to the first but with a slightly different result. 2019 Rookie of the Year Lauren Butler started from the first position and fought in her attempt to lead her first lap in series competition. It was outside front row starter Schacht though who once again was out front when the leaders crossed the start-finish line for the first time.
From there, the now five-time Dominion winner and seven-time SCSCS checkered flag recipient overall jumped out to an impressive margin with Pack advancing into the runner-up position.
Two yellows flew in this race, each due to Rohrbaugh losing control on opposite ends of the racetrack. The No. 7 Grant County Mulch / In Loving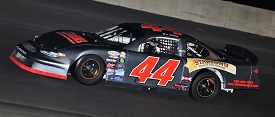 Memory of Mark Huff / CR7 Motorsports Garage Chevrolet had developed issues with the front brakes much of the evening. Being coached by local Late Model driver Sergio Peña, who coincidentally previously competed in the NASCAR East Series with the same car now driven by Brent Nelson to seventh and ninth place runs on this night, the younger sister of NASCAR Truck Series regular Codie Rohrbaugh still managed a pair of top 10 performances.
Before the cautions came out, it was evident that Ebeling seemed to be closing the gap upon passing Pack for second on two separate occasions. The final 38 laps showcased what the two North Carolina residents could do as the remainder of the distance stayed under green flag conditions.
With 12 laps left, the No. 44 Startown Carpet & Floor Coverings / Swanny's Auto Sales / L & C Truck Repair / Battery Specialist of Hickory / RE Suspension / Williams Ebeling Enterprises, LLC Ford made its move as Schacht got loose coming out of turn four.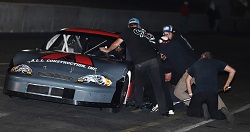 The race almost took a complete final turn in outcome as Bill Ashton's No. 35 Bill's Wood Stoves - Hopwood, PA / Budget Blinds of Altoona & State College / Ashton Racing Chevrolet backfired and gradually lost power, but the green flag remained out and Ebeling cruised to the victory.
"We made some changes from the first race and somebody actually helped me with some of those with some advice," Ebeling noted, pointing at Schacht. "I knew in order to beat him I was going to have to push him as hard as I could. We just sat there, rode with him and pushed him, he bobbled a little bit, and I was able to be there when it happened."
For a driver with such a storied racing career like Schacht, second is almost never the optimal result, but was somewhat acceptable in this instance.
"I think the racetrack pretty much stayed the same, but the right front tire for whatever reason with about 15 laps to go just started going away," the past SCSCS champion indicated. "Finally I got spooked, if you want to call it that, because of the wreck I had here in 2018 so I kind of backed off a little bit. I couldn't hold off Ben because he was running better times. But losing to Ben isn't a big deal to me because he races me clean and we have fun doing it."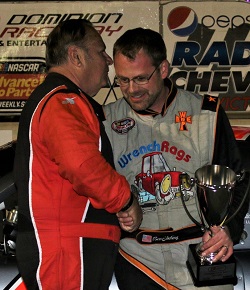 Finishing behind the two racers once again was Pack, who was not entirely satisfied with the results despite overcoming some mechanical-related adversity.
"I felt like we had a better car than two thirds," the local favorite from Midland, Virginia and 2014 SCSCS champion commented. "I'm not unhappy but I definitely feel like I could have given it more. With the spark plug wire (shorting out in the first race), it actually made me have to drive the car a little harder so I had to use up the tires a little more than I wanted to. Second (race) I thought right at the beginning it was fine and it was running great, but it just got tighter and tighter and tighter. Just nothing I could do."
Rounding out the top five in the second Twin 60 were Walnutport, Pennsylvania's Kromer in a nice recovery from a scrape with the frontstretch wall in the first race and Butler claiming her first Dominion top five finish in her No. 53 Edlin Automotive / Night & Day Sealcoating / HG Creations (Custom Tumblers) / 3C Signs / Roof Repair Experts / Hillsview Landscaping / Ligonier Trucking / Pink Zebra / Motive Parts of Homestead / Cornwell Tools / Josh's Eggs Chevrolet.
Kitzmiller, a top five finisher in the first race, was running as high as third again at one point but had to pit under green to remedy a concern with both rear tires and nonetheless salvaged a top 10 result.
Drivers receiving the new for 2021 "stimulus bonus" included Schacht for leading halfway in both the first and second races, Petersburg, West Virginia's Berg for being the top finishing hard charger of the first race, and Kromer for being the hard charger in the second race in his No. 77 High Voltage AC/DC Tribute Band / Lehigh Valley Cancer Institute / Mission R.A.C.E.R. / Versalift East / Leindecker Racing Engines / K2 Motorsports Toyota.
Next up on the schedule will be Ohio's 3/10-mile Midvale Speedway in less than two weeks, a track where Schacht has won twice but Ebeling has never been behind the wheel. Nevertheless, ending the night at Dominion with a win certainly has the outlook and spirits remaining high going in.
"We intend to run all the races this year so a second and a first is a pretty good way to start out the season," Ebeling concluded. "We'll take this momentum and move into the next race and see what we can do there."
Please visit the official web site at supercupstockcarseries.com and the Super Cup Stock Car Series Facebook, Twitter, and Instagram for continued updates throughout the season.
_________________________________________________________