_________________________________________________________
Dominion Raceway Next on the Virginia SCSCS Summer Swing
Statesville, North Carolina (August 3, 2023) – For the first time in Super Cup Stock Car Series history, competitors will be on the track for a second consecutive Saturday. This time it's what has been a perennial favorite to many over recent years, the multi-use entertainment complex off exit 118 on I-95 known as Dominion Raceway.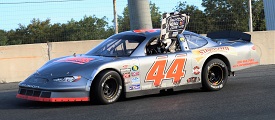 Multiple racers who were not able to be in attendance the prior weekend across the commonwealth at Pulaski County Motorsports Park will be looking for a respectable or perhaps formidable outcome back in the driver seat. Hickory, North Carolina's Ben Ebeling's last appearance resulted in a pair of victories at Franklin County Speedway to begin the 2023 season in early June. The 2021 series champion has five prior wins on the Dominion 4/10-mile oval.
Jeff Thomas, who lives in nearby Gloucester, Virginia, has been excited to get back at it since last competing at Pennsylvania's Jennerstown Speedway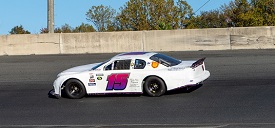 in mid-June. The driver, who recorded a best career sixth at Dominion in October 2021, is prepared with a new driveshaft in place in hopes of bettering that result.
Warrington, Pennsylvania's Mike Senica returns to his Ashton Racing ride at a track in which he qualified within the six-car redraw and finished fifth last October. Ron Langdon, now residing in Gettysburg, Pennsylvania, is scheduled to take over the No. 57 for the second of twin races as he attempts to achieve his eighth top five result in his last nine Dominion starts or potentially earn his first win there. Maryland's Rob Hindt and home-state driver as well as past series champion JJ Pack intend to split driving duties in their first appearances since the 2021 season.
In all, drivers from six different states, also including neighboring West Viriginia and as far off as Michigan, are expected to be in action at Dominion Raceway. Grandstand gates will open at 5:00 p.m. and racing begins at 7:00 p.m.
Following Saturday's festivities at the Thornburg, Virginia facility, the series will be factoring in two 'drop' races from each eligible driver's points total. This system was instituted beginning in 2019 to compensate for the lengthier schedule in which a team's worst two performances (including races where a driver did not record points or in which "show up" points were awarded) could be eliminated. Despite the shorter number of events in 2023, it was decided to remain in effect due to the numerous unexpected schedule rearrangements that may have impacted or resulted in conflicting summer plans away from the racetrack.
More information can be found on the Super Cup Stock Car Series official web site supercupstockcarseries.com with interactive updates throughout race day available on Facebook (search Super Cup Stock Car Series), Twitter (@SCSCSRacing), and Instagram (SCSCS_Racing).
_________________________________________________________