_________________________________________________________
15th SCSCS Season Gets Underway at Newly Renamed Pulaski County Motorsports Park on Saturday
Statesville, North Carolina (May 17, 2023) – The Super Cup Stock Car Series will be starting year number 15 as Shively Electric presents Saturday night's festivities at the popular Pulaski County Motorsports Park in Radford, Virginia. Previously known as Motor Mile Speedway during the former three visits, there was a recent announcement about the renaming of the facility in which drag racing, concerts, the Rusty Wallace Racing Experience, plus the anticipated Superstar Racing eXperience in July on the 0.416-mile oval are among the exciting activities offered and upcoming events being hosted.
There have been ups and downs for many over recent times, with higher travel costs and longer turnarounds for products impacting blue-collar racers and their families perhaps the most within motorsports. Raised expenses for series tracks and partners, not to mention expendable funds available for spectators, also has played a significant factor in the current short track racing landscape.
Nevertheless, the camaraderie and partnership that is constantly displayed throughout in the SCSCS pit areas as well as at home between race weekends demonstrates a committed group will be pressing forward to greet fans and put on the best show possible for all their supporters.
On that topic, one individual will be recognized at year-end with the Sportsman of the Year Award, which for 2023 is being named in honor of Mike Potter, a role model to several and a past NASCAR and SCSCS driver who passed away at age 74 over the offseason.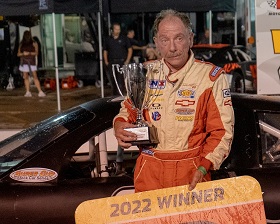 Among the committed group that are ready to get going includes last year's Sportsman of the Year recipient, which was named in remembrance of series photographer Patrick Miller in 2022. Petersburg, West Virginia's Larry Berg was a winner at the track last August, his first SCSCS victory since 2015.
2021 champion Ben Ebeling returns after a mostly forgettable 2022, which included brake issues at Pulaski County. The Hickory, North Carolina resident won in the first two appearances at the speedway for the SCSCS and hopes to turn it all around and begin the journey to potentially become the first repeat title winner since 2012.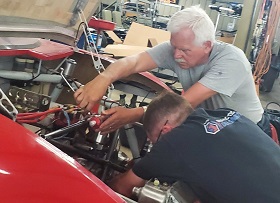 Ebeling's team owner Bill Ashton is putting forth an all-out effort to run for the championship in 2023 after a partial schedule behind the wheel last year. The Uniontown, Pennsylvania veteran of 79 SCSCS starts, which is fourth all-time, finished fifth in his most recent Pulaski County start. Teammate to Ebeling and Ashton, Mike Senica from Warrington, Pennsylvania, will be looking to improve upon an eighth-place finish from 2022.
Father and son Harvey and Brian Harrison aspire to keep a checkered flag or two in the region as they begin the season at both of their home tracks with Franklin County Speedway in Callaway, Virginia being next on the schedule. The Renick, West Virginia drivers each have a top five finish in past Pulaski County SCSCS competition.
Brent Nelson was the latest winner in the series to close out the 2022 season and had intentions on contending right from the get-go. Unfortunately, the West Virginian sustained two broken ribs off the track and will not be able to take the green; however, more special guests (one of which has been announced on the track's Facebook page) are certainly possible behind the wheel this Saturday.
Grandstand gates will open at 4:00 p.m. with a full docket of racing getting underway at 7:00 p.m. Tickets can be purchased on the Pulaski County Motorsports Park website.
More information can be found on the Super Cup Stock Car Series official web site supercupstockcarseries.com with interactive updates throughout race day available on Facebook (search Super Cup Stock Car Series), Twitter (@SCSCSRacing), and Instagram (SCSCS_Racing).
_________________________________________________________