_________________________________________________________
Jason Kitzmiller and CR7 Motorsports Keep a Streak of Unique SCSCS Champions Alive in 2022
Hudson, North Carolina (November 7, 2022) – Immediately following an entertaining evening of racing for the final time in 2022, the Super Cup Stock Car Series held its annual season-ending trophy presentation thanks to the hospitality of the Tri-County Speedway staff.
Maysville, West Virginia's Jason Kitzmiller was formally recognized as the champion, one year after earning Rookie of the Year honors.
"We set out as a goal last year in the last couple races that we want to try to win this this year, so it is really very fulfilling," Kitzmiller, whose No. 97 A.L.L. Construction, Inc. / Grant County Mulch / A & J Excavating / CR7 Motorsports Chevrolet started off the season in victory lane at Dominion Raceway, the first two of six wins in 2022, said. "A lot of effort went into where we were at tonight. We really had a good year."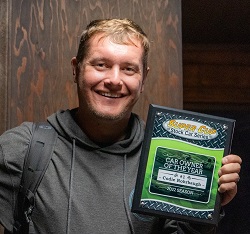 Not only did Kitzmiller's title keep a streak alive in which there have been no repeat SCSCS driver champions since 2012, but the same can be said when it comes to the team a driver races for, as he earned the first of such for CR7 Motorsports. Codie Rohrbaugh, also a past Rookie of the Year in the series and a six-time race winner as a driver himself, was given the Car Owner of the Year award.
"That's really cool," Kitzmiller remarked. "I never thought about it (being their first championship), but a lot of effort went into it so it's really where we wanted to be and good to accomplish a goal. If it wasn't for Codie and the CR7 crew, I work (outside of motorsports) a lot and often, so they provide me a good car and I tell them that works or no that won't work, but all the credit goes to them. It's not too hard to drive a car when they give you a good one."
Kitzmiller set records of his own, finishing in the top five on 25 consecutive occasions dating back to early in the 2021 season. An engine failure abruptly brought that to a close at Dominion in October, but a string of 30 straight top 10s continues into 2023.
"We're going to start again, so we'll see what happens," Kitzmiller alluded to the streak. "We actually talked about it in the hauler. We're going to try and sit down here in the next couple weeks and try to get a plan for '23."
For the third time in his career, Brent Nelson secured the runner-up position in the standings on the strength of three wins and 14 top five finishes.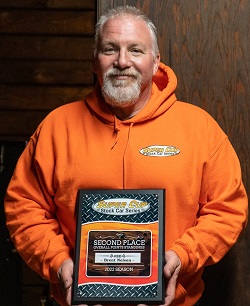 "We did everything we could to try and get a championship, but one year we're going to make it," the Petersburg, West Virginia driver, who sits tied atop the record books in most top fives all-time as well as sole possession of categories such as number of races led, hard charger awards, and consecutive seasons with at least one lap led, mentioned. "Sooner or later we're going to get that number one spot."
Although Nelson and Kitzmiller had a couple on-track run-ins during the year, the two Mountaineer State campaigners often shook hands and shared laughs in the pit area before and afterward.
"That comes with racing," the driver of the No. 80 Precision Auto Collision / Airtek Inc. / Atkinson Welding / QH Design / JEBCO Chevrolet expressed. "Jason has really improved tremendously. He's a very hard competitor now, and he was before, but he has really picked it up this year."
As for 2023, Nelson is methodically going to take one step at a time, much like his family team normally does, while reflecting on a successful year.
"We're going to go back and dismantle the car because we've still got damage from early in the season at Dominion that occurred in a practice session," Nelson indicated. "We're going to completely redo the front end and really find out what other damage that the car and the chassis may have. We're just ecstatic that we're here and we're able to run the Super Cup Stock Car Series and be competitive. I'd like to think we're a threat pretty much every weekend that we show up."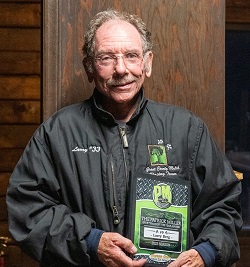 Third in points in a one-two-three sweep for the state of West Virginia for the first time in series history was Kitzmiller's teammate, Larry Berg, who was also recognized as the Patrick Miller Sportsman of the Year, named in memory of the SCSCS photographer from 2015 until his passing in 2021. Berg, a first-time top 10 finisher in the standings after partial schedules since 2014, and Grant County Mulch have contributed a great amount to the series as a whole, in which the CR7 Motorsports group is often seen lending a hand at the racetrack with parts and advice to competitors in need as well.
Defending series champion Ben Ebeling was fourth in 2022 and in the process also received one of the divisional plaques that have been handed out since 2017. The Hickory, North Carolina driver has been the lone recipient of the Southern Division title over the years, while Jason Kitzmiller and New York-turned-Pennsylvania resident Ron Langdon earned the Mid-Atlantic and Northern Division honors, respectively, for the first time.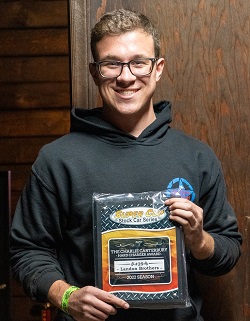 York, Pennsylvania's Hayden Brothers achieved his first ever top five points finish in fifth in a season that saw him accomplish a best career second place finish at Motor Mile Speedway among his first four career top five results. Brothers' twin brother, Landon Brothers, was sidelined much of the latter part of the season due to mechanical woes and ended up ninth in the final tally; however, his efforts early on were enough to take the 2022 Charlie Canterbury Hard Charger of the Year Award.
The aforementioned Langdon started off the second half of the final top 10 with Warrington, Pennsylvania's Mike Senica in seventh with three top five finishes. Senica's team owner Bill Ashton earned the Racing Spirit award for his exemplification of the racing spirit in his daily life both on and off the track. Ashton fielded his ride out of the Uniontown, Pennsylvania shop for multiple competitors, including himself, in addition to efforts helping manage the American Racer tire supply throughout the year among many responsibilities the 2014 series top performing rookie has taken on without question in assisting the series.
Pittsburgh's Jeff Zillweger came on strong toward the end of the year, climbing to eighth in the final standings, while the most recent SCSCS champion from West Virginia in 2016 Harvey Harrison rounded out the top 10.
Lastly but certainly not least, series photographer for the 2022 season, Ashley Hope Photography, and Robert Wellek were recognized for stepping up in their work helping out behind-the-scenes.
Although 2022 had its share of hurdles for many, the Super Cup Stock Car Series staff and officials would like to thank each and every competitor and crew member for their support and look forward to welcoming them again when the 2023 season begins.
For developments over the off-season detailing the Super Cup Stock Car Series please be sure to stay posted to the official series web site at supercupstockcarseries.com and Facebook, Twitter, or Instagram accounts for more information regarding all that is being planned.
_________________________________________________________