_________________________________________________________
Purkhiser and Nelson Spin and Win at Tri-County; Kitzmiller Named SCSCS Champion in Thrilling Conclusion to 2022 Season
Hudson, North Carolina (October 23, 2022) – The 2022 season finale featuring rounds five and six of the Super Cup Stock Car Series Championship Series had something for everyone in attendance at Tri-County Speedway on Saturday night. Its first appearance at the unique 4/10-mile oval for many of the competitors resulted in quite the showdown all the way until the last checkered flag waved.
Jason Kitzmiller started off the evening by shattering the past series track record with a time of 16.135 seconds, nearly a half second faster than the mark set back in 2008. The third Pole Award of the year would draw the Maysville, West Virginia driver five points closer to locking up the championship in which he has led since the onset of the season.
The laps that ensued for the No. 97 A.L.L. Construction, Inc. / Grant County Mulch / A & J Excavating / CR7 Motorsports Chevrolet would have some ups

and downs that have not been witnessed throughout much of the successful year. That all began with the six pill being drawn for the first 50-lap main event.
Instead it was most recent winner Brent Nelson breaking out into the lead in the No. 80 Precision Auto Collision / Airtek Inc. / Atkinson Welding / QH Design / JEBCO Chevrolet on the outside front row of York, Pennsylvania's Hayden Brothers, whose team thrashed on the No. 27 EHB Logistics, LLC / Manchester Barbershop / Mt. Wolf VFW / Wago Club Chevrolet all the way up until Saturday afternoon to be in attendance.
The racing behind Nelson for second was intense with Kitzmiller eventually finding a hole to obtain the runner-up position from Allen Purkhiser, making his first SCSCS start since 2019, and CR7 Motorsports teammate Larry Berg. It would prove to be short-lived, however.

Approaching a slower car on lap 20, Nelson had to back out slightly. Kitzmiller at this point made his way to Nelson's back bumper and it appeared he had to back off as well with the run going into turn three, looping the car in the process and bringing out the caution.
On the restart, Nelson cleared Purkhiser, who had been making the outside line work in his favor to get to where he was at this point. Nevertheless, the complexion of this race would again change after the flagman signaled halfway. Suddenly the leader was around in turn four.
"I really don't know what happened," Nelson indicated. "It's just hard racing, driving into turn three and I don't know if I got a little bit high and got up in the marbles, and it just took off. It was one of those things where I was just along for the ride. Everybody told me do not get up in the grey stuff and it pushed up a little bit and got into it and I just lost it."
With the reset under the second yellow, it was now Simpsonville, South Carolina's Purkhiser in the top spot. From there, the No. 68 Clear Choice Auto Glass / Premiere Motorsports Chevrolet extended the advantage for his third career SCSCS victory.
"It felt great to get a win in the first race," Purkhiser, who was in the driver seat for the first time in more than three years, said. "Everything just went well. Just had a little contact early on and worked through that and worked my way to the front. I enjoyed it."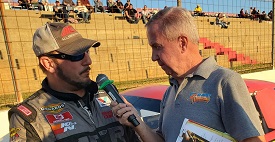 Kitzmiller ultimately recovered to finish second, which unofficially clinched the 2022 title prior to the second Twin 50, as Nelson was only able to recover for a fourth place result after an exciting duel with Berg's No. 9 Grant County Mulch / CR7 Motorsports Chevrolet on the final corner of the final lap. Battles were taking place throughout the field until the end, as Warrington, Pennsylvania's Mike Senica powered the No. 57 Seattle Gummy Company / ASAP Energy Drink / Russell's BBQ / Battle Warrior Coffee / Jersey Girl Hot Sauce / Shoe Crazy Wine / Ashton Racing Chevrolet by Hayden Brothers for a photo finish at the line for seventh.
The sixth and final round of the Championship Series began with an identical front row as the finishing order from the initial race, despite the top six redrawing once again. Purkhiser was able to get sole possession of the lead from the get go, but it was Nelson again accelerating fast to third and pressuring Kitzmiller for the runner-up position.
It looked to be another potential runaway for Purkhiser, but as it goes in racing, it's never decided until the very end. A yellow flag waved with only six laps remaining due to debris that was spotted in the groove. Nelson, now successfully up to second, took a slight advantage on the restart. The two drivers battled side by side over the next lap with Nelson getting to the lead on the backstretch. Going into turn three, this time it was Purkhiser diving low and going around.
"I just had a lot of trash on my tires and couldn't get through the center of the corner to be able to get by him," Purkhiser explained. "Down in three and four I just ran out of talent and spun out."

It was not completely over for Purkhiser just yet. He ascended to second once again in short time and almost saw an opportunity to retake the lead. Nelson suddenly slid high in turn four coming to the white flag, but on this occasion kept the car in the gas and going. Purkhiser made a bid for the win on the final lap, but it was Nelson edging him by a slim margin of 0.032 seconds at the line for his third victory of 2022.
"It worked in our favor," the Petersburg, West Virginia driver commented. "I kept saying 'I need a caution' and actually saw the debris in turn four and we ran two or three more laps after that and I thought 'man, they're not going to throw it' and all of a sudden they did. Cooled our tires down and once I was able to restart on the inside the car just hooked up."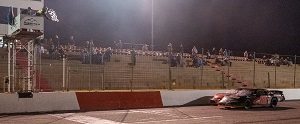 Nelson, who had an outside mathematical shot at the series title that would have required some misfortune from Kitzmiller, also elaborated on the near disaster coming to the conclusion.
"The car was actually perfect the last part of the race until I don't know what happened up here in three and four again, but I just dirt tracked it all the way around and was able to save it," the now 15-time SCSCS winner at six different tracks, noted. "Was looking for (Purkhiser) to pass me at any moment but he never did, so we held onto it and it was a good night."
Hickory, North Carolina's Ben Ebeling was perhaps the fan favorite at a track in which he had previously won feature races across a couple local divisions. The defending series champion quietly finished third in both main events.
"We just missed it a little bit tonight," the driver returning to his No. 44 Startown Carpet & Floor Coverings / Swanny's Auto Sales / Wrenn's Lawn Service / L & C Truck Repair / Battery Specialist of Hickory / RE Suspension / Good Frames, LLC / Williams Ebeling Enterprises Ford recapped. "This track is a lot different than it used to be and took a little bit for the driver to get used to it. (Purkhiser) and (Nelson) were really on a rail tonight. We were grateful and blessed to come home with two third place finishes, so we'll take it, car is in one piece, and see what we do for the future."
Pittsburgh, Pennsylvania's Jeff Zillweger rounded out the top five in his first visit to the venue in the No. 18 Jeff Zillweger Landscaping / Wagner's Service / St. Jude Children's Research Hospital Chevrolet, also taking Hard Charger honors in the prior race of the evening. Damian Payton, a resident of Winston-Salem, North Carolina, was the Hard Charger recipient in the second feature in a series debut filled with steady improvement for the No. 64 Damian Payton Racing Chevrolet.
Back to Kitzmiller, finishing fourth to conclude a year with six victories resulted in some mixed feelings upon earning CR7 Motorsports their first ever championship in 10 years with the series.
"We just kept on losing forward drive and could not gain it back and tried different things," Kitzmiller mentioned. "I was like on an Easter egg hunt trying to find different places around the track to find it faster. Just wasn't our night. It is cool and I'm glad for everybody, but when you come, you come to run well. Kind of a bittersweet thing. It's cool and we'll celebrate here in a little bit."
A future story will recap the season-ending awards presentation that took place at the Tri-County Speedway facility following the evening's festivities.
Stay tuned to the official series web site at supercupstockcarseries.com and Facebook, Twitter, or Instagram accounts for any announcements, news, and developments over the off-season heading into 2023.
_________________________________________________________