_________________________________________________________
Returning Drivers at Returning Track Join Final Championship Battle of 2022 SCSCS Season
Statesville, North Carolina (October 19, 2022) – By the time Saturday's fifth and sixth rounds of the Super Cup Stock Car Series Championship Series conclude, someone will be hoisting the title trophy for the first time in their career. The host facility for this year's finale is a familiar track from back in the infancy of the series.
Tri-County Speedway in Hudson, North Carolina was the second venue the SCSCS ever visited as an exhibition race and then kicked off the inaugural season schedule in 2008 where Megan Reitenour earned the first checkered flag in the official record books.
Fast forward more than 14 years and two drivers remain mathematically eligible for the series championship. Jason Kitzmiller has topped the standings ever since his sweep of the opening weekend at Dominion Raceway in April. It was that same

track though where his first run-in with bad luck came two weeks ago, his No. 97 A.L.L. Construction, Inc. / Grant County Mulch / A & J Excavating / CR7 Motorsports Chevrolet expiring a motor in the first race.
The second race opened the door for Brent Nelson from Petersburg, West Virginia to grab his second victory of 2022. As a result the driver who has finished either second or third in the final standings on five occasions remains in contention. Maysville, West Virginia's Kitzmiller only needs to finish ninth or better, something he has accomplished in all but two of his 36 career starts, in each twin 50-lap main event to clinch the title.
Five bonus points will also be available for each race's Hard Charger, lap leaders, halfway leader, and the evening's Pole Award winner. With each set of corners having been repaved and the autumn weather in the air, there is a probable chance that the series track record of 16.60 seconds set by Jim Crabtree Jr. could be shattered.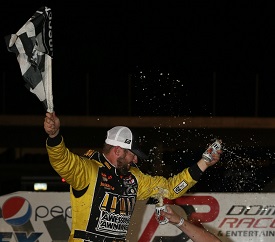 For some other drivers it will be a welcome return to competition in the series and the 4/10-mile oval. Allen Purkhiser has not competed since the summer of 2019, in which he opened that year with a pair of wins at Dominion. The Simpsonville, South Carolina racer will certainly be a threat for victory despite the time away, having finished fourth in a Pro Cup race at the venue in 2012.
2021 series champion Ben Ebeling may not have a shot at a championship repeat after mechanical gremlins sidelined him for a portion of the season's home stretch, but will be looking to finish off strong at a familiar track to him. The Hickory, North Carolina resident driving the No. 44 Startown Carpet & Floor Coverings / Swanny's Auto Sales / Wrenn's Lawn Service / L & C Truck Repair / Battery Specialist of Hickory / RE Suspension / Good Frames, LLC / Williams Ebeling Enterprises Ford regularly competed at Tri-County in Limited Late Models, Super Trucks, and Street Stocks with victories in the latter two divisions.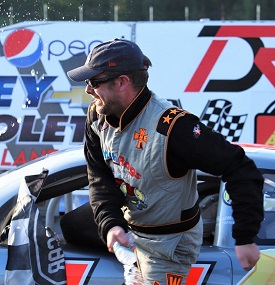 Ebeling also has the potential to move as high up as third in the final standings. Nevertheless, current third place in points Larry Berg will be defending that position. The last time the Petersburg, West Virginia driver climbed behind the wheel at a track for the first time in which a basis of prior knowledge was obtained by his granddaughter, past SCSCS racer Samatha Rohrbaugh, he won, at Motor Mile Speedway in August.
While Warrington, Pennsylvania's Mike Senica, a fifth place finisher at Dominion, will be on hand to close out a successful season and has seventh in points locked up, a couple spots behind him continue to be up for grabs. Jeff Zillweger will make the trip from Pittsburgh, Pennsylvania fresh off a best career result of third at Dominion in an attempt to improve upon his position of 10th at the moment. Richard Hauck is 13th in the standings, but with the absence of a few competitors ahead of him will be coming down from Howell, Michigan with the possibility of cracking the final top 10.
One driver is slated to make his series debut while another will be rolling out a different car for the first time. Damian Payton previously was a crew member for 2014 SCSCS champion JJ Pack, competed in Legends cars at Dominion and Shenandoah Speedway, and has stock car experience in the Mid-Atlantic Road Racing Series. He has since relocated to Winston-Salem, North Carolina and will be taking to the Tri-County surface for the first time. Jason Schue has been working tirelessly on a new ride that was once driven in the ARCA Series by legendary Frank Kimmel at his Littlestown, Pennsylvania shop and intends to debut it on Saturday.
Following an optional test and tune from Noon until 2:00 p.m., the first of two scheduled practice sessions will fire off at approximately 2:20 p.m. Grandstands and tier parking open at 4:00 p.m. with qualifying taking place at 5:00 p.m. The first green flag for the SCSCS Championship Series – Rounds Five and Six is expected to fly at 6:30 p.m.
An autograph session on the front stretch is also expected to be held beginning at 5:40 p.m. The season-ending trophy presentation will commence at the track immediately after the evening's on-track festivities are completed.
For a detailed race day schedule, please visit the Super Cup Stock Car Series official web site supercupstockcarseries.com. Further interactive updates heading into and throughout race day will be available on Facebook (search Super Cup Stock Car Series), Twitter (@SCSCSRacing), and Instagram (SCSCS_Racing).
_________________________________________________________