_________________________________________________________
Kitzmiller and Nelson Outrun the Rain in SCSCS Championship Series Rounds 1 & 2 at Jennerstown
Jennerstown, Pennsylvania (September 11, 2022) – Weather loomed from mid-afternoon on, but the Jennerstown Speedway Complex staff tirelessly worked to successfully complete the evening's festivities, which included the Super Cup Stock Car Series Championship Series Rounds One and Two, for the fans and competitors in attendance.
A passing shower cut practice short by 15 minutes and adjustments were made from there. Qualifying
was substituted with a five-lap scuff session and the initial main event was lined up by point standings. That put current leader Jason Kitzmiller out front for the first of two races that were shortened to 30 laps in order to keep the show moving due to the ongoing threat of rain.

The driver of the No. 97 A.L.L. Construction, Inc. / Grant County Mulch / A & J Excavating / CR7 Motorsports Chevrolet led flag-to-flag for his sixth victory of the season and third at Jennerstown.
"In the hot laps we had a good car, but when you start first you can get out and get going, so that worked out real good," Kitzmiller noted.
The Maysville, West Virginia driver did have one main challenger from the drop of the green flag and on a late restart when the No. 27 EHB Logistics, LLC / Manchester Barbershop / Mt. Wolf VFW / Wago Club Chevrolet driven by York, Pennsylvania's Hayden Brothers came to rest with a flat tire to bring out the yellow. Nine-time Jennerstown winner Brent Nelson lined up to the outside, which meant Kitzmiller had to be on his game at least in the short-term.
"We got bit on the restarts before, so we were pretty careful," Kitzmiller indicated. "(Nelson) got us here one time last year, so that was in the back of my mind. We tried to run a low line so he couldn't get underneath us. After two or three laps we could get out front, but it was still a little stressful."
Nelson did all he could, but for the second time in 2022 came up one position short in the first race.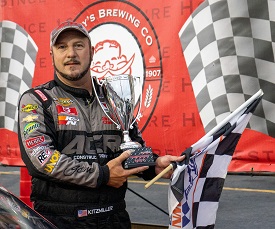 "The longer we ran, I got tight in the center and then I was getting loose coming off the corner," the Petersburg, West Virginia racer explained. "I pretty much had to ride it out. I didn't have a thing for Jason. He ran a good race and I couldn't get to him, but I knew what we had to do for the second race."
Larry Berg completed a West Virginia podium in the No. 9 Grant County Mulch / CR7 Motorsports Chevrolet. Freeport, New York's Ron Langdon had Berg for a couple circuits on the final restart, but had to settle for fourth.
A trifecta of drivers earned hard charger honors in the opening 30 lapper of the evening. Local personalities John Komarinski, making his first start of the year in the No. 33 Auto Dynamic Specialties / Marsula Electric / Hands-On Concepts / Gulisek Construction Chevrolet, and Jeff Zillweger in the No. 18 Jeff Zillweger Landscaping / Wagner's Service / St. Jude Children's Research Hospital Chevrolet each moved up a couple positions for respectable performances, while 2016 series champion Harvey Harrison completed the top five.
Perhaps the most elated was Gloucester, Virginia's Jeff Thomas, who after a multitude of mechanical gremlins over the last year brought his No. 15 Charles Parks Photography / B.A.D.G.E. / Camp Cardinal at Gloucester Point / Thomas Racing Team Chevrolet across the stripe to the checkered flag for the first time with a ninth place finish. Thomas, originally from the Jennerstown vicinity, had assistance from the Edlin Motorsports team and spotter Lauren Butler, a crowd favorite who was unfortunately sidelined with mechanical issues.
Harrison's grandson Logan drew the number one starting spot for the second feature and from there it was on for the next 30-lap distance. Moving up fast was Nelson's No. 80 Precision Auto Collision / Airtek Inc. / Atkinson Welding / QH Design / JEBCO Chevrolet from the fourth position, and by lap six powered under Harrison down the backstretch to take the lead.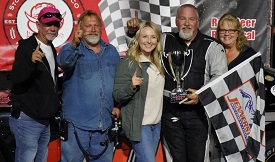 Harrison stayed within a few car lengths, but Nelson was not to be denied in this particular event.
"I knew what adjustments we needed to make and, man, did this thing come to life," Nelson said following his first checkered flag of 2022. "Harvey's a real hard competitor. He and I have run several hundred, maybe thousand, laps together side by side. Once I was able to get by him, my spotter which is my brother (Rocky Nelson) is in my ear hollering and fibbing to me a little bit that they're coming. I just kept pushing it as hard as I could and we were able to fortunately bring the win home."
The 10th win at Jennerstown alone and 13th of his SCSCS career was the highlight of the season for the veteran competitor.
"We've struggled this year," Nelson commented. "I thought I would have had a win earlier in the season, but you better cherish every one of these because you never know when you're next one is going to be."
Harrison held on for a second place run, his best result in a few years.
"We changed springs and changed two or three things," the Renick, West Virginia driver mentioned.
"The setup I came up here with was the setup that I won here with in 2018. I came up here, shot out of a cannon, finished good in one race, and couldn't be beat in the next race. I tried a strategy of saving the tires and wind them down for the last four or five laps until it's time to go, but once you've already heated everything up, there was nothing there. I could get to him a little bit, but I couldn't win it like that."
It turned out to be a first, second, third, and fourth place finish for the Mountaineer State with Berg and Kitzmiller behind them. This is the only time that has happened in series history, a silver lining for fans after their college football team's overtime loss earlier in the day.
"We had a lot of fun; I trust the guys behind me and trust the guys in front of me, so I was using the whole track," the driver of the No. 51 John 3:16 / Southern Coal Corporation / Harrison's Motorsports Chevrolet continued. "We were in kind of a slump because of wrecks so this really made the team feel better. We love Super Cup. We'd like to come to all of them , but just haven't been able to. A lot of good competitors and a lot of good people."
Langdon's National Appliance / Oval Speed Unlimited / Langdon's Automotive Chevrolet rounded out the top five after starting on the outside of the front row.
Nelson moves up to the second slot in the standings after defending series champion Ben Ebeling was absent from competition, but still has some ground to make up on Kitzmiller with a 125 point gap. A return to Thornburg, Virginia's Dominion Raceway is next on the schedule Saturday, October 1st, a track Nelson has yet to achieve victory but Kitzmiller claimed both trophies back in April.
"Really looking forward to that," Kitzmiller specified. "We've got a big thing where we're putting some guests up in the hospitality suites, so we want to put on a good show for them. That's a big deal for us."
More details and continued updates throughout the season will be available at the official web site at supercupstockcarseries.com as well as the Super Cup Stock Car Series Facebook, Twitter, and Instagram pages.
_________________________________________________________