_________________________________________________________
It Was All Kitzmiller's Night During Trick Shot Twins at Jennerstown
Jennerstown, Pennsylvania (July 17, 2022) – In the last year Jason Kitzmiller has become a familiar face to contend with toward the front of any Super Cup Stock Car Series event. Nevertheless, he was looking to secure an elusive first Jennerstown Speedway Complex victory heading into Saturday's Trick Shot Twins.
The afternoon began on a strong note for the Maysville, West Virginia resident, edging teammate Larry Berg in qualifying and setting a new track record for his first career Pole Award. He navigated the 1/2-mile oval in 19.741 seconds, eight-thousandths faster than Berg, with both being the initial time anyone in the series has run under the 20 second mark at the picturesque facility in the Laurel Highlands region.

The six-car redraw put Kitzmiller's closest championship competitor Ben Ebeling out front with the No. 97 A.L.L. Construction, Inc. / Grant County Mulch / A & J Excavating / CR7 Motorsports Chevrolet having to line up in sixth.
Brent Nelson, a winner at Jennerstown in four of the last five SCSCS visits, accelerated from the outside front row to the early advantage. The No. 80 Precision Auto Collision / Airtek Inc. / Atkinson Welding / QH Design / JEBCO Chevrolet broke out into a comfortable lead for much of the race, but charing fast was Kitzmiller, who moved into second spot only 10 circuits into the 50-lap distance.
As the race remained under green flag conditions, slower traffic than the leaders began to play its part. Warrington, Pennsylvania's Mike Senica and York, Pennsylvania's Hayden Brothers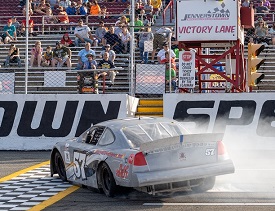 raced together as Nelson and Kitzmiller approached. The end result saw Kitzmiller advance his way to first position with 13 laps remaining, while Nelson ended up boxed in for another lap trying to get around the No. 27 EHB Logistics, LLC / Manchester Barbershop / Mt. Wolf VFW / Wago Club Chevrolet.
A yellow flag when Senica's No. 57 Jersey Girl Hot Sauce / Battle Warrior Coffee Company / Russell's BBQ / Slap Shot Jerky / Ashton Racing Chevrolet spun on the frontstretch due to a break in the power steering O-ring bunched up the field for a final three lap dash, but it was Kitzmiller who was able to hold on for his fifth career win, third of 2022, and first at Jennerstown.
"Brent is really good and he's tough to get around," Kitzmiller indicated. "It was real tough and we were trying to be patient, trying to save our tires. We picked a line and luckily it was the right line. Didn't want to wait, made my own fate, and it worked out that time."
Nelson remained in positive spirits despite coming up one position short in the first race of the evening.
"Jason was really fast and we had a pretty healthy lead and my car started getting tight," the Petersburg, West Virginia driver commented. "The longer we ran the tighter it got and then I think we got down to just a handful of laps left. I'm not saying it was the deciding factor, but I think the lapped cars are what really held us up. He got by me on that part and that's racing. That's the way it goes. I wish we would have been able to finish those last three laps running side by side because it would have been a photo finish."
Nelson and his family team were racing with a heavy heart this week after the passing of his mother Maxine.
"I'm tickled to death with a second place finish," Nelson continued. "This is our third track that we've been able to make it to and we've run well and I'm very pleased with the outcome. Don't get me wrong, I would have loved to win the race for my mother, but she's up there cheering us along right here because we could load this car with no damage and make it home safely. That was always her biggest concern."
Berg scored a third place finish for the third time in 2022 in the No. 9 Grant County Mulch / CR7 Motorsports Chevrolet with Ebeling ending up with a fourth place result. West Mifflin, Pennsylvania's Lauren Butler in her No. 53 Edlin Automotive / McGunegill Engine Performance / HG Creations / Motive Parts of Homestead / 3C Signs / Hillsview Landscaping / Low Teams Motorsports Chevrolet held off 2022 first-timer, Pittsburgh, Pennsylvania's Jeff Zillweger in the No. 18 Jeff Zillweger Landscaping / Wagner's Service / St. Jude Children's Research Hospital Chevrolet, in a near dead heat to round out the top five.
Ruffs Dale, Pennsylvania driver Kyle Komarinski made his debut in his Uncle John Komarinski's No. 33 Auto Dynamic Specialties / Marsula Electric / Hands-On Concepts / Gulisek Construction Chevrolet and despite pulling into the pits before the checkered flag with handling issues, achieved Hard Charger award honors in the first race.
Ebeling was given a second chance in the final race on Jennerstown's program for the night, the second Trick Shot 50-lap main event, starting from the pole once again thanks to his son Landon's redraw skills. This time though the Hickory, North Carolina driver had Kitzmiller immediately to his outside for the initial green. Nevertheless, the lead was his from the get go as the new Musco infield lighting shined on the field across the speedway.
The outcome of this race changed entering lap 20 when Kitzmiller found a way under Ebeling's No. 44 Startown Carpet & Floor Coverings / Swanny's Auto Sales / Wrenn's Lawn Service / L & C Truck Repair / Battery Specialist of Hickory / RE Suspension / Good Frames, LLC / Williams-Ebeling Enterprises Ford. It was almost too close to call the first time by at the stripe, but around the next circuit Kitzmiller was clear.
A couple cautions with less than 10 laps remaining kept things interesting and Ebeling fought on the outside on both restarts, especially the final one when Kitzmiller briefly missed a shift, but Kitzmiller proved too strong on this night and escaped with the evening sweep.

"Me and Ben raced hard, and as I told him after the race, whether we won or not if we would have finished second it was still good clean racing," Kitzmiller remarked. "I really enjoyed that, although it's not enjoyable watching his bumper. I've got all his graphics memorized and I'll probably see them tonight, but we had a phenomenal night. No way I would have ever asked, if I was wishing, I wouldn't have wished for all that happened tonight to us."
Kitzmiller went on to recognize the track staff, fans, and guests, which included the Quecreek miners that were in attendance and were honored 20 years after their rescue.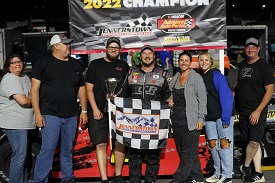 "It was a ball and there were several people from home up here tonight," Kitzmiller added. "A guy from our church, a foreman for us for our construction company was here tonight and he was in one of the pictures with us, so it was really special."
Ebeling held on for second after a late challenge from third and fourth, Berg and Nelson.
"Definitely gave it everything we had," Ebeling said. "We made some adjustments from the first race. (Team members) Carey, Jonathan, dad, and everybody really helped it out for the second race and freed it up where we could race and race hard. I felt like after (Kitzmiller) got by me there at the beginning, we could catch him and I felt like I made the tires mad when I got to his back bumper. The last run before the last one or two cautions I really pushed it as hard as I could.
"Then when we had that last restart, I heard Jason hit the chip or spin the tires or something and I saw that this was our chance. I drove the tar out of it on the outside trying as much as we could. Just not quite enough, but then the guys told me after the race that we had like 15 pounds of air in the right front, so that probably contributed to it all. We'll take it; that was a lot of fun. I enjoyed racing like that with Jason. That's what this is all about. Coming down here and having fun."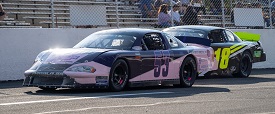 Ebeling's car owner Bill Ashton hopped into the No. 57 at his home track where he won a SCSCS race in 2016 and rallied for a fifth place result in his only start so far in the 2022 season.
York, Pennsylvania's Landon Brothers fought some new car blues initially with the No. 12 EHB Logistics, LLC / Manchester Barbershop / Mt. Wolf VFW / Wago Club Ford, but recovered in the second race to a seventh place finish and his third Hard Charger Award of 2022. Richard Hauck was also in attendance all the way from Howell, Michigan and accomplished his best career results of ninth and eighth on this night in the No. 31 Hauck Enterprises Inc Dodge.
Next on the calendar is a first ever trip to the historic North Wilkesboro Speedway in North Carolina on August 12th and 13th. With still a good amount of the season to go, Kitzmiller unofficially leads Ebeling by 47 points heading into that unique weekend as part of the track's Racetrack Revival program.
"It's by far from over with, that's for sure," Kitzmiller concluded. "It was a good gain for us. First thing I did after the first race was look up to see when we took the lead to see if we had the halfway points or not. That's bad when you're worried about them few points."
More details and continued updates throughout the season will be available at the official web site at supercupstockcarseries.com as well as the Super Cup Stock Car Series Facebook, Twitter, and Instagram pages.
_________________________________________________________