_________________________________________________________
Ben Ebeling Sets New SCSCS Marks in Another Shenandoah Speedway Veterans Classic Sweep
Shenandoah, Virginia (June 6, 2022) – A small yet mighty field assembled in the valley of the Blue Ridge mountainous region for an evening of Super Cup Stock Car Series benchmarks being achieved as part of the third running of the KVK Precision / RealFast.TV Veterans Classic.
Although not a new track record, Ben Ebeling set fast time with a lap of 16.659 seconds, obtaining his fourth consecutive Pole Award at Shenandoah Speedway. According to series historical records, this was only the second instance in which such a feat at a specific facility had been accomplished.
With first to last being separated by only slightly over a half-second, and even less of a margin at times during earlier practice sessions, it was decided for the entire field to redraw for starting position. Freeport, New York's Ron Langdon in the No. 17 National Appliance / Oval Speed Unlimited / Langdon's Automotive Chevrolet and Haymarket, Virginia's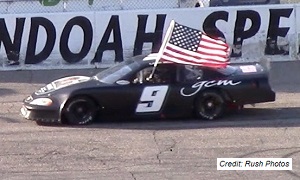 Rob Jones Shoe Crazy Wine / Seattle Gummy Company / SlapShot Beef Jerky / Jersey Girl Hot Sauce / Brownzzz.com / Perk2o / Ashton Racing Chevrolet started from the front row as a result.
Over the opening laps Ebeling, who started third, looked for a way to navigate inside of Langdon and finally was successful on lap five of 50. The Hickory, North Carolina competitor essentially cruised to victory from there, maintaining between a two and four second advantage over the battle for the runner-up spot during the remainder of the distance.
"We were definitely able to set our pace in the first race," Ebeling noted. "It's a lot nicer when you're able to do that so definitely an advantage there. We made some adjustments after the first and second practice that really helped the car out some."
Behind Ebeling was some of the most incredible action between teammates on the 3/8-mile oval to be seen. Point leader heading into Shenandoah, Jason Kitzmiller, maneuvered his

way to second position fairly early on, but was pressured lap after lap by Petersburg, West Virginia's Larry Berg. Once the white flag waved, Berg made his move to the outside.
"I really didn't want to push the issue with Jason since he runs for points, but I thought I'd just go ahead and sneak around him on the last lap," Berg said with a grin. "Honestly, between (Ebeling) and Jason and my car there wasn't a lot of difference really. It was fun."
Kitzmiller explained the learning experience that ultimately relegated him to third in the final order.
"The car kept getting loose off and I spun the right rear two laps before that," the driver of the No. 97 A.L.L. Construction, Inc. / Grant County Mulch / A & J Excavating / CR7 Motorsports Chevrolet. "I was just trying to hang on, and I just didn't. I came off of two and too much in the throttle and it kicked sideways and he got around me. It was good driving and a mental note for me. I just came back through the throttle too fast. That's why I was so aggravated. It was my fault."
Brent Nelson, returning from an absence from Midvale Speedway last time out, moved up to finish fourth in the No. 80 Precision Auto Collision / Airtek Inc. / Atkinson Welding / QH Design / JEBCO Chevrolet while early leader Langdon fell back to a fifth place result.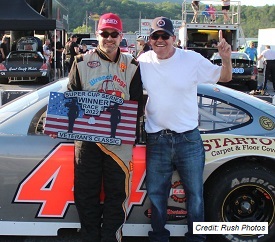 Another redraw saw Ebeling starting a row further back in the second twin 50-lap main event with Kitzmiller leading the field to the green flag. The No. 44 Startown Carpet & Floor Coverings / Swanny's Auto Sales / Wrenn's Lawn Service / L & C Truck Repair / Battery Specialist of Hickory / RE Suspension / Good Frames, LLC / Williams Ebeling Enterprises Ford's ascension toward the front was a bit more challenging in this one. He was up to third within the first 10 laps, but had to deal with both CR7 Motorsports drivers to find a way by.
On lap 12, Ebeling was able to get around Berg and then a lap prior to halfway, the strategy worked out to acquire the lead for another entertaining duel for the fans to witness.
"We just kind of had to pick and choose our battles with Jason and Larry both," Ebeling explained.
"Larry gave us a hard run for it and we were able to get past him after a few laps, but Jason was doing what he was supposed to do. He was the leader of the race and he was trying to protect his line and make me work for it. We definitely had to kind of follow him and he pushed up a little bit, I almost looked on the outside and we were able to cross over and go to the bottom and it just worked out. We ran pretty tight through one and two and then three and four, but we were able to come out in the front."
The night's racing outcome served as the second straight SCSCS portion of the Veterans Classic without a single yellow flag flown during the 100 laps recorded altogether each time. It was Ebeling's fourth consecutive points-paying race win and sixth in a row at Shenandoah Speedway, both new series records.
"Obviously we like the racetrack," Ebeling continued. "It's kind of a driver's racetrack where it's very easy to overdrive and one of those racetracks where you have to slow down to go fast. I feel like it fits my driving style pretty good; it's definitely been good to us. We enjoy the scenery and enjoy everything about this place."
Kitzmiller would have to settle for a best of second, which was in a different car than he ran in the first two events of 2022.
"Trying to hit my marks and I knew Ben was coming somewhere," the Maysville, West Virginia racer recapped. "He's got a good car and he's really good here, so I knew he would be there at some point. I just did not have the drive off that we would like to have, but the car wasn't bad. We had a good second place car today. My car ran better with two wheels down under the white line and we were just running that. Ben got underneath me there coming off of three and four and we raced down the frontstretch, but it was a clean pass and we didn't beat on each other. All the cars are in a little bit better shape than Midvale so that's a victory in itself."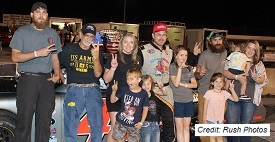 Berg stayed with Kitzmiller until the checkered flag but followed him to the line for third on this occasion. Nelson, a fellow Petersburg, West Virginia resident, was fourth with Langdon fifth once again. Warrington, Pennsylvania's Mike Senica took over the driving duties in the aforementioned No. 57 and rounded out the field of finishers.
Ebeling unofficially holds a slim eight-point lead over Kitzmiller following the victorious night heading into the next event in two weeks. The Keystone Twins at Clearfield, Pennsylvania's UMI Motorsports Park is one of the very few facilities in which the defending SCSCS champion has not captured a checkered flag.
"We're going to look back at our setup notes and stuff from what we did there last year and do something definitely different," Ebeling indicated regarding the 5/8-mile oval in which the series returned to in 2021 after a six year hiatus. "I felt like we struggled there a little bit last year to get a hold of that place, so we'll go home and thankfully we can work on making it faster and don't have to work on anything else. We'll be good to do our homework and see what we need to do for UMI."
More details and continued updates throughout the season will be available at the official web site at supercupstockcarseries.com as well as the Super Cup Stock Car Series Facebook, Twitter, and Instagram pages.
_________________________________________________________