_________________________________________________________
Ebeling Sweeps Ferocity-Filled SCSCS Night at Midvale
Midvale, Ohio (May 15, 2022) – A threat of inclement weather thankfully did not materialize, but, for the superstitious, Saturday night falling between Friday the 13th and Sunday's Blood Moon lunar eclipse perhaps contributed in paving the way for the escalated Super Cup Stock Car Series events at Midvale Speedway that occurred in which many will be reviewing the drama for quite some time.
Some procedural changes were introduced at the outset of the afternoon, both in attempt to keep the show smoothly moving along as well as address the ongoing tire supply situation being faced by most in the motorsports community. Practice and qualifying sessions were combined in which Hickory, North Carolina's Ben Ebeling set a new track record, navigating the 3/10-mile oval in 14.533 seconds.
The first Quaker Drive Thru main event presented by Swearingen Bat Company was shortened to 25 laps, partly for the aforementioned purposes described, and the field was lined up for the green in the order in which they qualified.
All but the final three circuits were relatively quiet, with Ebeling leading the way and the race being slowed by only one yellow up until that point for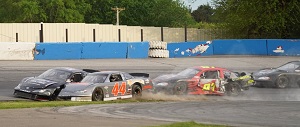 the spun car of Petersburg, West Virginia's Larry Berg. Another caution flew on lap 22 when an unfortunate collision ended the night for Landon Brothers in the No. 29 EHB Logistics, LLC / Manchester Barbershop / Mt. Wolf VFW / Wago Club Chevrolet and Lauren Butler in the No. 53 Edlin Automotive / McGunegill Engine Performance / HG Creations / Motive Parts of Homestead / 3C Signs / Hillsview Landscaping / Low Teams Motorsports Chevrolet.
The final three restarts that ensued turned wild. Two-time winner at Dominion Raceway two weeks back, Jason Kitzmiller had a slight advantage on the outside of Ebeling going into turn one. The cars got together with Ebeling's very briefly catching air and the contact resulting in Kitzmiller being sent around.
The two most recent winners in the series offered differing viewpoints regarding this incident.
"Every time we restart, he was spinning tires, and he openly admitted that," Kitzmiller indicated. "We would have half a car going into one and two, and he would come in too hard and the car would push up. That's when he got into the door. And it was battle back and forth. His perspective, he got off better. If we could get to that bottom line, I felt like we were better. We were better off the start. From his perspective, and I talked to him, he said we were jumping the start."
"I knew Jason was going to run me hard and I'm all for that," Ebeling explained. "I feel like he jumped the restart a little bit, which if they call it green I'm fine with that. Where I had a problem was he didn't give me a lane going into turn one. At that point after, (Kitzmiller) and I got together and I went airborne. My thoughts and my opinion on that, mentality-wise, was let's salvage a second place or third place or whatever we can get here and bring home what's left of it in one piece."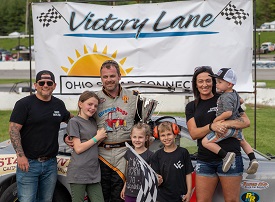 The damage sustained did not end there for Ebeling and a couple other competitors. Two-time Midvale winner Kevin Kromer inherited the lead following the previous incident. Coming to one lap remaining and into turn two, Ebeling dove low and another circumstance resulted. Kromer's No. 77 High Voltage AC/DC Tribute Band / Mission R.A.C.E.R. / Versalift East LLC / Leindecker Racing Engines / Mahoning Valley Speedway Toyota went around on the backstretch, ending with extensive front end damage.
The noticeably agitated driver from Walnutport, Pennsylvania declined comment on the record before conclusion of the night. Ebeling shared his own side.
"We go down in the corner, Kevin pushes up, gets crossed up, I turned down in the apron to get underneath him, never touched him, and he spun," the defending series champion in the No. 44 Startown Carpet & Floor Coverings / Swanny's Auto Sales / Wrenn's Lawn Service / L & C Truck Repair / Battery Specialist of Hickory / RE Suspension / Good Frames, LLC Ford commented. "I don't know where his anger comes from and he's entitled to that, but I would encourage him to watch the video."
The final green-white-checkered restart saw the mangled No. 97 A.L.L. Construction, Inc. / Grant County Mulch / CR7 Motorsports Chevrolet of Kitzmiller back out front, but again, more contact took place on the backstretch, upsetting Kitzmiller's car and allowing Ebeling to get by for the eventual victory.
"After (the prior incident), it was crazy, and to have the opportunity to win that race was unexpected at that point with everything we had been through, but grateful that it happened that way," Ebeling recapped.
Kitzmiller additionally recounted what he felt happened during the race toward the checkered flag.
"I felt, in my opinion, that when we had two to go and he had the incident with Kromer, we were leading and we went down and got through one and two and I was fine. I was coming down the backstretch, I saw him in my mirror and I was in the lane and I thought to myself, he's either going to run us or we're going to get through three and four because I purposely did not overdrive the car. I didn't want to rush myself, push up, and let him have the underside lane. From my perspective, he made contact with us and shoved us up out and consequently he won the race. I want to see the video, everybody's perspective is different, but that's the way I remember it. There's always two sides to every story."
Kitzmiller's teammate Berg snuck by for second, his best result since a win at the same facility in 2015. Behind Kitzmiller in third, Mike Senica kept his nose clean and recorded consistently competitive lap times en route to the Warrington, Pennsylvania racer's best career finish of fourth in the No. 57 Shoe Crazy Wine / Seattle Gummy Company / SlapShot Beef Jerky / Jersey Girl Hot Sauce / Brownzzz.com / Ashton Racing Chevrolet.
Due to the carnage from the first main event, the second race of the night was abbreviated to a 10-lap dash. With an invert, Kitzmiller started on the pole and led the first four laps before Ebeling slipped by to take the spot and sweep the night.
Although the race ran caution-free, some remarks were overheard afterward and further conversations were had regarding an overall disagreement.
"From my perspective, and in Ben's post-race interview he mentioned some bonehead moves so I'm sure he's talking about me and I'm not going to dignify that with a response," Kitzmiller, who leaves Midvale unofficially with a 37 point lead over Ebeling, said. "End of the day, we survived the night. Second race our tires were shot; he was much better than us. Half our car was torn off, the rear clip is bent, so we had no downforce in the back. We tried to stay down on the bottom with the car pushing up. He got around us and we tried to swing back in underneath him and once he was gone he was gone."
Ebeling, despite being satisfied with the win, objected and took issue with an altercation that occurred late in the going.
"I knew we were in trouble when the crew guys said that he had our number and our name on his car like he was coming to get us, so I knew what his intentions were going into that race," Ebeling, now a three-time Midvale winner and recipient of the customized Swearingen Bat Company baseball bat trophy that was awarded, mentioned. "I did everything I can, and did, to stay clean of him and he pushed up.
Racing is a mind-game and I watched him overdrive the corner, watched him push up, I turned underneath him, and beat him off the corner. He proceeded to turn left into my right rear quarter panel by trying to kill me and turn me head on into the wall. I have a problem with people trying to weaponize a racecar and that's what he did."
Berg rounded out the podium behind Kitzmiller with hardly a scratch on the No. 9 Grant County Mulch / CR7 Motorsports Chevrolet and provided a short summary and point of view of his own.
"Just people being too aggressive, basically and, you know, we all get that way sometimes," Berg stated. "But overall it was a good night for us, finishing the races."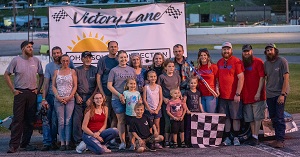 Ebeling's ultimate success was potentially in doubt before the Midvale event even arrived.
"To walk away with two wins was definitely good," Ebeling, who increased his SCSCS win total to 20, noted. "I love the different kind of trophies that Swearingen Bat Company provides. That part was great, especially after the trouble getting here. One of our crew members had an accident on the way up here and then we lost power at the shop when we were trying to finish up and load the car, had trouble getting home from Dominion after the last race, and the replaced transmission on the car after Dominion."
A much-needed couple weekends off, from racing on the track at least, will allow for teams to make necessary repairs before the third running of the Shenandoah Speedway Veterans Classic commences in Virginia on Saturday, June 4th.
More details and continued updates throughout the season will be available at the official web site at supercupstockcarseries.com as well as the Super Cup Stock Car Series Facebook, Twitter, and Instagram pages.
Race Results
_________________________________________________________