_________________________________________________________
Frontrunners Seek to Keep Momentum Rolling as Quaker Drive Thru powers the Midvale SCSCS Twin 50s presented by Swearingen Bat Company
Statesville, North Carolina (May 11, 2022) – There were a few Super Cup Stock Car Series racers who did not necessarily start off on the best foot, mostly due to circumstances outside their own control, at Dominion Raceway. On the other hand, there were some who left Virginia rather satisfied. For both scenarios, it will be a new day of racing in Ohio this Saturday at Midvale Speedway to capitalize upon.
Another new layer, in more ways than one, could be the potential for faster speeds on the 3/10-mile oval for the 2022 edition. Almost immediately prior to the track's season opener last year, fresh asphalt was applied to the corners. When the SCSCS visited in May 2021, a new track record of 14.416 seconds was set. During the most recent offseason, a second coat was applied earlier on, providing more weeks to cure this time around before any action took place on the track surface.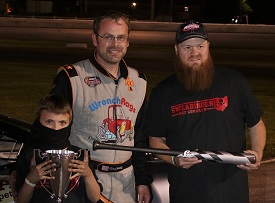 Entering the upcoming event, Jason Kitzmiller proved to be the early frontrunner for the 2022 title, winning both 60-lap features at Dominion Raceway. Multiple members of the CR7 Motorsports team have previously been present in Midvale victory lane with drivers Larry Berg and Stephen Cox behind the wheel. Nevertheless, misfortune ended their night in 2021 rather quickly.
"We'd like to redeem ourselves there," the Maysville, West Virginia driver indicated. "We had a decent car last year and qualified third or fourth, but 10 laps into the race we lost an oil line so we never really got to race there."
Kitzmiller also made sure to mention the fan-friendly festivities that the staff of the facility always offers, whether it's an autograph session with the drivers or something else for the younger enthusiasts.
"We're looking forward to it and they put on a great show. I remember last year with the Frisbee toss for the kids, it was really cool."

Interestingly enough, Kitzmiller is the only driver in the current top five standings that has yet to win at the next venue. Drivers such as Brent Nelson from Petersburg, West Virginia and Walnutport,
Pennsylvania's Kevin Kromer both prevailed through an up-and-down weekend at Dominion with a pair of top five results, and six years ago it was Nelson who had a banner night in Eastern Ohio taking the win. Kromer has two wins, including the first of his SCSCS career in 2011, at Midvale and the 2019 champion will certainly be looking to rekindle such an accomplishment.
Rounding out the top five at the moment is a driver who is coming off one of, if not, the most uncharacteristically challenging results in his time with the series, but has an encouraging immediate history when it comes to the most recent Midvale main event in May of last year. Hickory, North Carolina's Ben Ebeling was sidelined early in the second race at Dominion due to transmission troubles, but intends to be a threat to rebound and potentially secure another series trophy or two as well as another special prize the night's presenting sponsor has stepped up to offer for the second straight year.
Many additional competitors will also be making the effort to conquer one of two customized baseball bat trophies provided by Swearingen Bat Company out of Toronto, Ohio. The unique awards will ultimately have each winning driver's name engraved along with the Super Cup Stock Car Series and the title of Midvale Race Winner.
Grandstand gates open at 3:00 p.m. on Saturday with a full racing program slated to begin at 5:30 p.m. as Quaker Drive Thru powers the Midvale SCSCS Twin 50s presented by Swearingen Bat Company.
More information can be found on the Super Cup Stock Car Series official web site supercupstockcarseries.com with interactive updates throughout race day available on Facebook (search Super Cup Stock Car Series), Twitter (@SCSCSRacing), and Instagram (SCSCS_Racing).
_________________________________________________________