_________________________________________________________
Clean Sweep:
Kitzmiller Starts off 2022 on the Right Foot in Season Opening Twin 60s at Dominion

Thornburg, Virginia (May 1, 2022) – It was a favorable beginning to 2022 for a few but a wild and eventful one for many as the Super Cup Stock Car Series kicked off another year's campaign at Dominion Raceway on Saturday night.

The awarding of the first five bonus points of the season looked to be a replica of the most recent visit to the multi-purpose facility last October with Ben Ebeling picking up where he left off by earning the Pole Award and navigating the 4/10-mile oval in 15.859 seconds. Only 0.013 seconds behind him though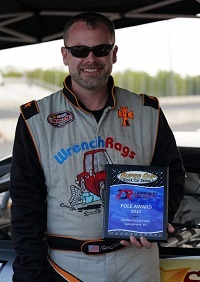 was last year's series Rookie of the Year, Jason Kitzmiller, who had the six car redraw on his side when team owner Codie Rohrbaugh's son Benji drew the number one pill.
The path to victory was far from decided though for the Maysville, West Virginia driver. On the initial start as well as ensuing restarts in the opening 60-lap main event Kitzmiller had to contend with Ron Langdon, who was making his first SCSCS start since June 2021. The Freeport, New York competitor was able to muscle his way by using the outside line twice, but nearly lost control on a couple occasions under a lengthy green period which allowed Kitzmiller's No. 97 A.L.L. Construction, Inc. / Grant County Mulch / CR7 Motorsports Chevrolet to somewhat comfortably pull away.
Langdon and others made one last charge over the closing laps, but it was Kitzmiller coming away with his third career series win and first at Dominion for both himself and the team.
"They made a good push there and we were trying to maintain what we had," last year's third place finisher in the standings indicated regarding his competition. "Didn't want to burn the tires up, but those guys were coming and I was praying that there wasn't a caution flag because I didn't want to have to deal with Ron again on the restart because he was real tough. We really had to be careful and make sure we hit our shifts in the right spots and run a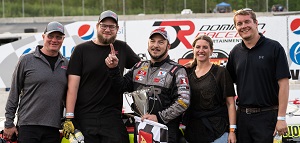 good line. He was tough to deal with there and you've got to tip your hat to him. He ran me clean and I appreciate that."
It was also Kitzmiller's first victory that his fiancée Tonya was there to witness in person, since she was out of town when he swept the night at Motor Mile Speedway last September and had to join on FaceTime for the celebration that evening.
"It was amazing and when Benji, Codie's son, drew number one we walked away down the pit road and she said 'look, you've only got one job, just stay up there' and I was like thanks hun, lot of pressure," Kitzmiller laughed.
Langdon managed to hang on for second with Brent Nelson coming on strong for third in the No. 80 Precision Auto Collision / Airtek Inc. / Atkinson Welding / QH Design / JEBCO Chevrolet. One incident that brought out an early yellow was between past champions Kevin Kromer and Ebeling. The latter apologetically came over post-race to discuss the contact, although both were able to continue on and find their way toward the front again with Ebeling fourth and Kromer fighting a tight condition to end up fifth.
The second race of the night featured Hayden Brothers drawing the pole after performing within the top five much of the day and finishing sixth in the first race despite a broken right front shock bolt. The night unfortunately turned ugly and unprecedented for some almost right away when the green flag waved.
Ebeling and team diagnosed afterward that something likely broke in the transmission that caused the No. 44 Startown Carpet & Floor Coverings / Swanny's Auto Sales / Wrenn's Lawn Service / L & C Truck Repair / Battery Specialist of Hickory / RE Suspension / Good Frames, LLC – Hardwood Furniture Frames / Williams Ebeling Enterprises Ford to suddenly snap around on the backstretch in front of the field that remained behind him. West Mifflin,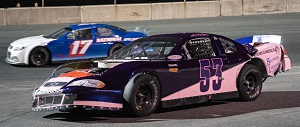 Pennsylvania's Lauren Butler anticipated the potential problem ahead and checked up in her No. 53 Edlin Automotive / McGunegill Engine Performance / HG Creations (Custom Tumblers) / Motive Parts of Homestead / 3C Signs / Hillsview Landscaping / Low Teams Motorsports Chevrolet; however, multiple others that followed were not as fortunate to notice immediately and she was collected in a collision that ensued.
All were able to pull away except for the No. 31 Hauck Enterprises, Inc. Dodge driven by Richard Hauck, making his series debut all the way from Howell, Michigan. Ebeling would also be done for the night, the first ever SCSCS race in which he was not running at the finish in a career where he had previously completed every single circuit but one.

Because a lap had not been completed, an original start took place among those that remained in the running with Petersburg, West Virginia's Nelson advancing to the front. Fast once again was Kitzmiller, first by Langdon for second and then finding a way by for the lead just prior to halfway. On lap 36, a heim joint issue contributed to Nelson slowing on the racetrack and resulting in a caution. It was Langdon yet again who fought for the top spot, clearing the first race winner for a couple laps, but Kitzmiller found his way back by and eventually on his way to the second win of the night.
"We were really hoping to have a strong year and what a way to start," the driver, whose streak of consecutive top five finishes has stretched to a series record 15 and counting, commented. "(Langdon) was super tough to get around and we followed him and (Nelson) around the whole time, it felt like 30 or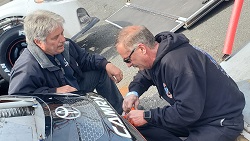 40 laps. Brent would slip up and slip up and I could see him when I was following Ron, I was able to get to Ron's back quarter panel and was able to get around him. Brent's car kept on pushing up and we just had real good timing and were able to get him coming off of turn four."
The battle behind Kitzmiller down the stretch was far from over. Kromer worked his way up to second position in the closing stages but had Langdon close on his tail. The slightest amount of contact into the back of Kromer's rear bumper cover exiting turn two sent the 2019 SCSCS champion around, narrowly avoiding the inside wall. The championship runner-up that year scored his second runner-up on this night in the No. 17 National Appliance / Oval Speed Unlimited / Langdon's Automotive Chevrolet. A rather calm conversation was had immediately following the checkered flag and both were in positive spirits shortly afterward.
"I didn't think I got into Kevin that time," Langdon initially believed. "I thought he got loose and then I tapped him because I was on him. I was trying to hope he'd make a mistake, but I was just so glad he didn't get the inside wall. We don't need to tear racecars up over this."
As for Langdon's outlook on the start to 2022? "Who knows, we'll see what the year brings."
Kromer was able to rally for third in the No. 77 High Voltage AC/DC Tribute Band / Mission R.A.C.E.R. / Versalift East LLC / Leindecker Racing Engines / Mahoning Valley Speedway Toyota and was satisfied despite the near disaster.
"Me and Ron had an altercation at Midvale last year where it was the opposite way, so I guess we're even now," Kromer joked.
The Walnutport, Pennsylvania veteran racer had some additional individuals to thank for the pair of top five results.
"Joel Brown has been a big help here," Kromer continued. "He helps me on the suspension and shocks, but I think I made a little bit too much adjustment for the second one. We were a little bit loose and I just could not get through one and two. Three and four we were good, but you've got to make all four corners here to be fast. When I was in second I felt we were reeling (Kitzmiller) in, but then we had an altercation. Then we came back with third. We're good with that."
Nelson recovered to fourth despite displaying a shower of sparks the balance of the event. All in all, a respectable showing for the Petersburg, West Virginia when the weekend started with right side damage to be repaired from an unfortunate incident during Friday's optional practice session.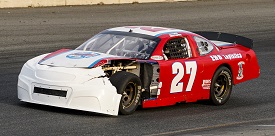 Surviving to round out the top five was Haymarket, Virginia resident Rob Jones in his first time out with the series since 2009. He was driving for team owner Bill Ashton in the No. 57 Shoe Crazy Wine / Seattle Gummy Company / SlapShot Beef Jerky / Jersey Girl Hot Sauce / Perk2o / Ashton Racing Chevrolet that Warrington, Pennsylvania's Mike Senica piloted in the first race.
Perhaps the most valiant effort of the day was turned in by York, Pennsylvania's Landon Brothers. The twin brother of Hayden Brothers, who had another top five run in the No. 27 EHB Logistics, LLC / Manchester Barbershop / Mt. Wolf VFW / Wago Club Chevrolet soured by mechanical problems, Landon overcame brake issues during practice and damage from the lap one wreck in race two to finish respectably. For only the second time in series history and the first since 2009, the Hard Charger honors were earned by the same driver twice in one night thanks to the results achieved by the crew's efforts and the young man behind the wheel of the No. 29 EHB Logistics, LLC / Manchester Barbershop / Mt. Wolf VFW / Wago Club Chevrolet.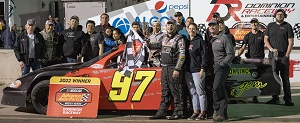 The Super Cup Stock Car Series next goes to Eastern Ohio's 3/10-mile oval Midvale Speedway in two weeks for the Quaker Drive Thru Twin 50s presented by Swearingen Bat Company, in which special baseball bat trophies are being customized for the eventual winners for the second straight year.
A return to Thornburg, Virginia's Dominion Raceway is slated for Saturday, October 1st in which the big winner on this most recent night is certainly looking forward to once more.
"This is a top notch facility," Kitzmiller mentioned. "They do an amazing job here. We brought some folks that A.L.L. Construction works for and was really awesome that they got to see the A.L.L. Construction car win the race. It means a lot."
More details and continued updates throughout the season will be available at the official web site at supercupstockcarseries.com as well as the Super Cup Stock Car Series Facebook, Twitter, and Instagram pages.
_________________________________________________________