_________________________________________________________
Trick Shot® and STAAR Trucking Sign On as Primary and Secondary SCSCS TV Partners
Reynoldsville, Pennsylvania (October 27, 2021) – On behalf of STAAR Lubricants, management team and partners, Trick Shot® Sustainable Products is proud to announce a joint venture with STAAR Trucking, in the co-branding of the Super Cup Stock Car Series. This exciting opportunity will provide the ability for all three entities to vastly showcase products and strengthen their brand, utilizing the upcoming televised events from 2021 and beyond on the MAVTV Motorsports Network.
Owned by Benny and Todd Gordon, familiar names that famously won two Pro Cup Series national titles and four division titles with Benny as driver and Todd as his crew chief, STAAR Trucking is one of the fastest growing asset-based transportation companies in the Northeast.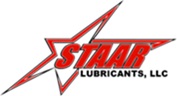 "We have carried over that same hard work ethic and ability to surround ourselves with great employees to win championships with intentions of making STAAR Trucking a household name and go-to transportation company," Benny Gordon stated regarding the Pennsylvania-based business that has been in operation since 2010.
STAAR Trucking's employees are their greatest assets; hiring drivers from anywhere in the country and servicing customers throughout the United States and including Canada. Drivers are treated to the very best new equipment in a diverse working environment, having options of running vans, flatbeds, container chassis, lowboys, hot shot trucks and pneumatics to haul frac sand, cement or lime.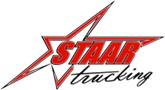 As added flexibilities, drivers also can utilize the new self-dispatch program that allows freight decision-making, giving more freedom in their schedule and income. If a driver wants to own their own truck, STAAR Trucking also has one of the best lease purchase programs available.
To apply or find out more information on the customer strategic transportation solutions that are offered, check them out at www.staartrucking.com.
Trick Shot® has always been known for its 100% biodegradable, non-toxic, eco-safe Penetrating Lubricant product that has been used within many industries. As a qualified NSF register, Trick Shot® is safe enough for the kitchen but strong enough for the toughest tasks.
"I am extremely proud to be producing a nationally and internationally recognized brand directly out of our headquarters in the rural town of Reynoldsville, Pennsylvania," Todd Gordon noted. "Trick Shot® Penetrating Lubricant has become well known for its high performance, versatility, and incredible environmental friendliness. Producing our product with local American workers, while providing a market for area grown American soybeans, has become a dream come true."
Todd Gordon additionally expanded upon the collaboration with the SCSCS and MAVTV.
"While STAAR Lubricants continues to expand its product line, the timing of committing to a three-year national marketing relationship with MAVTV is perfect," Todd Gordon added. "As a lifelong motorsport participant, alongside my brother Benny, we fully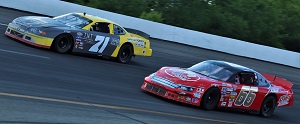 recognize the opportunity that MAVTV will bring to the Super Cup Stock Car Series and our businesses. Benny and I have a long history as participants in the Hooters Pro Cup Series which has now basically transformed into the SCSCS and are looking forward to bringing this exciting racing to a national audience. We are particularly excited to be able to give back to the racing community by showcasing the new and established talents that are racing in our area.
"We hope you tune into MAVTV for all of the SCSCS events as you learn more about Trick Shot® Sustainable Products and what they can do for you, on or off the job."
Trick Shot® is gearing up to vastly expand on their sustainable product line, in which everyone is encouraged to visit www.itdoesthetrick.com to follow along.
Both businesses previously came on board to sponsor the Keystone 150 weekend that was held in June at UMI Motorsports Park and Jennerstown Speedway. Those races along with both the season-opening and final twin races at Dominion Raceway as well as the September twin races at Motor Mile Speedway were filmed and are being produced by Pit Row TV for premiere on MAVTV and associated platforms on a projected date beginning January 16, 2022. Further details regarding the upcoming broadcast schedule will be available at www.mavtv.com.
The Super Cup Stock Car Series would additionally like to thank the multiple supporters who generously contributed toward making the presence of another year's worth of racing appear in front of a national television audience possible.
For continued developments leading into the 2022 season, please be sure to stay posted to the official series web site at supercupstockcarseries.com and Facebook, Twitter, or Instagram accounts for more information.
_________________________________________________________