_________________________________________________________
Blessings Abound as 2021's Award Winners Are Celebrated
Thornburg, Virginia (October 10, 2021) – The morning after the season-ending twin 60-lap races last weekend, several drivers along with their family and crew members converged one final time for 2021. Thanks to the hospitality of Dominion Raceway, the annual awards presentation took place at the 118 Bar and Grill located on the facility property.
Festivities kicked off with series director Joe Schmaling announcing that the Super Cup Stock Car Series will again begin and conclude their 2022 season at the Thornburg, Virginia 4/10-mile oval on Saturday, April 30th and either September 24th or October 1st, respectively. The final trophy presented was to the overall series champion, Ben Ebeling, the ninth different one in the last decade.
Despite success in previous years, this was the first full season that the Hickory, North Carolina driver was able to assemble, and much of it had to do with another longtime SCSCS competitor.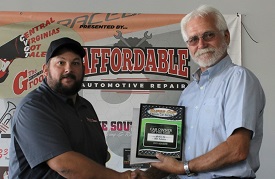 "Very blessed to have gotten hooked up with Bill (Ashton), have the sponsor support, and everything come together to be able to run all the races and run for the championship," Ebeling, a record nine-time winner in 2021 who completed every lap of competition from beginning to end, commented. "To have the year that we had, it's just unbelievable. Very thankful."
Ashton had a rather uncharacteristic season of struggles behind the wheel himself, but was awarded Car Owner of the Year for his contributions toward Ebeling's efforts.
"It's been a real privilege to be the car owner of a guy like Ben, not only because of his driving ability and his mechanical skills, but the support that he has from his friends and his family race after race is just incredible," the 2014 SCSCS Top Performing Rookie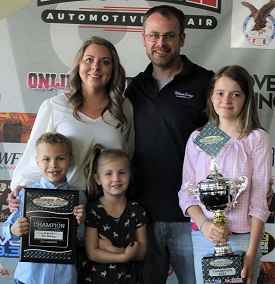 from Uniontown, Pennsylvania remarked. "I look at that and I appreciate it."
A winner on one occasion at Jennerstown Speedway in 2016, Ashton was given the opportunity to take the championship-winning No. 44 for a spin at the end of Saturday evening's program. The experience may have swayed his thoughts on the future following a season-high fourth place finish in the final main event in the No. 35 he prepares.
"All day (at Dominion) I was thinking that this was my last race, even as I was making the final laps I was convinced that this is the end of my racing career," Ashton added. "And then, after it was over they convinced me to jump in the seat of the 44 and I found out what it was like to drive a real racecar. I think I have to give it one more year. Maybe we can run one-two one of these days."
Although some of the competitors were not able to stay or appear at the season-ending get together, all of the top 10 points finishers were recognized for their accomplishments. 2018 SCSCS champion Bob Schacht, Jason Kitzmiller, and Brent Nelson were all multi-time winners in 2021 and took second through fourth in that order, while 2019 champion Kevin Kromer rounded out the top five.

Kitzmiller was one of those drivers who was unable to attend on Sunday morning, but received this year's Rookie of the Year award. Coming on the scene late in 2019, the Maysville, West Virginia racer has steadily ascended from top five hopeful to a threat for the win at the drop of every green flag. He took some time on Saturday night to discuss his evaluation of the year.
"We weren't where we wanted to be the first half of the year, struggled some and had an engine failure at Midvale," Kitzmiller, who did not finish any worse than second during the final three months of the season, noted. "But the second half we were really strong. It would be interesting to see where we were from the second Jennerstown race until the end where we would have shook out there."
With the late season results, the outlook for 2022 will likely see Kitzmiller and CR7 Motorsports as one of the championship favorites, in which team patriarch Larry Berg received the annual Racing Spirit Award for his exemplification of such in life and his support on and off the track.
"We got to run a whole race season and we were third and hats off to the guys that were ahead of us," Kitzmiller continued. "We're going to regroup and really looking forward to next year already."
Divisional title honors, which were settled at the checkered flag of the first twin 60-lap race, were also accepted. Ebeling remains undefeated in the South while Kromer captured the North for the third consecutive time.
"It was an accomplishment," the Walnutport, Pennsylvania driver, who had an up and down year including mechanical troubles that sidelined him early from Dominion, said. "To come off a real good season in 2019 winning the championship and then the pandemic hit and didn't run 2020, you'd think you'd be really good and prepared, but we came into 2021 on a bad note right from the get go and it was an uphill crawl all the way."
For the first time, a Mid-Atlantic region title was offered, resulting in Petersburg, West Virginia's Nelson capturing the inaugural plaque. His year started off slow but the eventual outcome was pure dominance at Jennerstown Speedway as well as some additional solid results.
"We were running the best we had and we were able to purchase another car and step our game up," Nelson, whose final weekend of 2021 came to a quick end as well, indicated. "From there, we ran well pretty much the whole season. It didn't end the way we wanted. We started the race and were running third and 10 laps into it we lost a motor. All in all, we had a great year. We've got another car in the stable that we're putting together and the motor is ready for that car."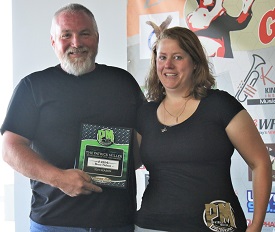 Nelson also accepted the Patrick Miller Sportsman of the Year, named after the series photographer who unexpectedly passed away in July. The award goes to those who express camaraderie and a willingness to assist others above and beyond what is normally witnessed. He mentioned an instance in which the help was given to him in order to race by a number of his fellow competitors.
"We've been in that situation where we've needed things and one of them was actually this year at Jennerstown when we broke the gear (the day before) up at (UMI Motorsports Park)," Nelson commented. "If it wasn't for the support of the drivers and the teams we would have never made that race and we went on and won the race that night."
Samatha Rohrbaugh took home sixth in the final points and also earned the Charlie Canterbury Hard Charger of the Year award for moving up the most positions from start to finish on four occasions throughout 2021. The aforementioned Ashton ended up seventh and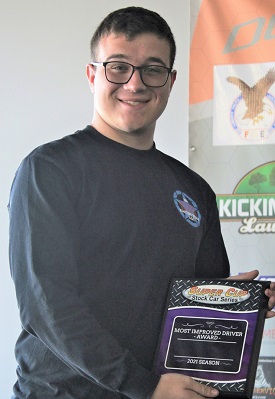 finishing out the top 10 were 2019 Rookie of the Year Lauren Butler, 2016 champion Harvey Harrison, and newcomer plus Southern Division top performing rookie Dusty Silvers.
The Most Improved Driver of the Year award went to Hayden Brothers, who had turned many heads in the latter part of the season, including his first ever top five qualifying run and best career sixth place finish at Dominion. Hayden and his twin brother Landon have been receiving advice from series champion Ebeling in recent months to bring their program along with momentum heading into 2022.
Speaking of 2022, what does it hold for Ebeling? Will he be the first driver to potentially repeat as a champion since 2012? It remains to be seen.
"I haven't thought about next year yet. We've been trying to get this year taken care of. Bill (Ashton) fit in that seat pretty good so I don't know if I'm going to have that seat anymore."
For developments over the off-season detailing the Super Cup Stock Car Series please be sure to stay posted to the official series web site at supercupstockcarseries.com and Facebook, Twitter, or Instagram accounts for more information regarding all that is being planned.
_________________________________________________________