_________________________________________________________
Penultimate Event Focus Shifts Resulting in Return Trip to Motor Mile
Statesville, North Carolina (September 3, 2021) – Following the success of the inaugural visit a month back and thanks to the facility's support and assistance in generously stepping up with coordination aspects, the next Super Cup Stock Car Series road toward the championship will take place at a different venue than initially expected. Friday, September 10th will feature twin main events at Motor Mile Speedway.
A set of unfortunate circumstances related to the originally scheduled Kentuckiana Dual Weekend, factors of which were partly outside the overall realm of series control, resulted in this reorganization being made. Series officials remain optimistic that a plan can potentially be formulated for some flexibility to further encourage the growing interest in teams throughout the Midwest area to join the series for the future.
Looking immediately ahead, the third and fourth rounds of the Championship Series slate will each be 50 laps in distance, while the annual increase to 60 laps will take place as part of finale weekend at Dominion Raceway on Saturday, October 2nd. The final four races of 2021 will now be settled entirely within the Commonwealth of Virginia.
Pit Row TV will be on hand to film and produce the remaining races on the schedule, which will premiere on MAVTV Motorsports Network and associated viewing platforms at a later date. Title and presenting sponsorship is available for these shows and interested parties should contact series director Joe Schmaling at JoeSCSCS@gmail.com for more details.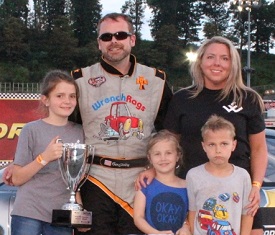 The first appearance by the SCSCS at Motor Mile in August resulted in a sweep of the night by current point leader Ben Ebeling. Nevertheless, the Hickory, North Carolina-based team knows it will not be anywhere close to an easy feat to replicate such a result.
Second in the standings Bob Schacht, who resides in Mooresville, North Carolina, battled side by side for numerous laps with Ebeling during that previous Friday evening and is searching for his first win since May. Maysville, West Virginia's Jason Kitzmiller also challenged for the top spot and is currently riding a streak of four consecutive runner-up performances, certainly hungry for a first career victory.
Multiple additional competitors will look to unseat this year's race winners and obtain their first trophy of 2021 and, in many cases, others have the goal to simply improve upon their season or career best finish and close off the conclusion of the season strong.
Grandstand gates will open at 4:30 p.m., in time for fans to see the SCSCS cars on track for a half hour practice session. Single-car qualifying is scheduled to commence at 5:30 p.m. and the first green flag expected to fly at 7:00 p.m.
The night of family fun will also include open practice for local divisions, which will settle the battles for their track championships the following night. Admission is set at only six dollars with children 12 and under admitted for three dollars.
An early optional practice session will be offered to teams from Noon through 3:00 p.m. on race day.
For a detailed race day schedule as well as a comprehensive list of potentially expected entrants, please visit the Super Cup Stock Car Series official web site supercupstockcarseries.com. Further interactive updates heading into and throughout race day will be available on Facebook (search Super Cup Stock Car Series), Twitter (@SCSCSRacing), and Instagram (SCSCS_Racing).
_________________________________________________________