_________________________________________________________
The "Petersburg Posse" Reigns Supreme in Final Jennerstown Visit of 2021
Jennerstown, Pennsylvania (August 23, 2021) – Jennerstown Speedway Complex may have to rename themselves to Petersburg after Saturday's dominance of the Super Cup Stock Car Series Twin 50s by residents of Grant County, West Virginia.
For the first time in numerous years of competition, qualifying was canceled due to a brief passing shower and to allow for the fans in the Laurel Highlands region to enjoy the complete program of feature racing. Lineup was set by points going into the event with the top six redrawing for their starting position.
Local favorite Lauren Butler started from the pole in her No. 53 Edlin Automotive / Night & Day Sealcoating / HG Creations / 3C Signs / Roof Repair Experts / Hillsview Landscaping / Pink Zebra / Motive Parts / Cornwell Tools Chevrolet. Walnutport, Pennsylvania's Kevin Kromer took the green flag along the outside and powered into the early lead for the 2019 champion's first laps led of 2021.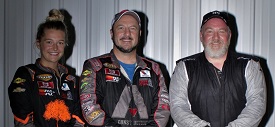 Behind them were two of the fastest cars on track, Bob Schacht and Brent Nelson, both past winners at Jennerstown. The first to the front was the No. 75 Engineered Components Co. / Bob Schacht Motorsports Chevrolet on lap three. But then it was Nelson that was able to get inside of the Mooresville, North Carolina driver 15 circuits later and lead the rest of the way over the caution-free distance.
"The first race we were really hooked up," the driver of the No. 80 Precision Auto Collision / Airtek Inc. / RAM Trucking / Snap-On Tools / Atkinson Welding / QH Design / JEBCO / Nelson Motorsports Chevrolet remarked. "Again, I don't know what it is about Jennerstown, but we've fallen in love with this place. We just have a really good setup here."
Schacht slowed and came to pit road shortly after halfway, allowing for a podium sweep at the checkered flag for the "Petersburg Posse" composed of drivers Nelson, Jason Kitzmiller who resides in Maysville just outside of the town, and Samatha Rohrbaugh picking up hard charger honors in the No. 7 Grant County Mulch / In Loving Memory of Mark Huff / CR7 Motorsports Garage Chevrolet in third.
Kromer and Butler rounded out the top five in the first Twin 50 while point leader Ben Ebeling struggled to an uncharacteristic result of sixth.
Ebeling's No. 44 Startown Carpet & Floor Coverings / Swanny's Auto Sales / Wrenn's Lawn Service / L & C Truck Repair / Battery Specialist of Hickory / RE Suspension Ford started along the outside front row for the second Twin 50, but it was pole starter Kitzmiller that would get to the top spot and the No. 97 A.L.L. Construction / CR7 Motorsports Garage Chevrolet appeared to be the car to beat.
A yellow flag with 15 laps remaining set up a thrilling restart though. Schacht, who had rectified his problems from the earlier race, had worked his way from 13th starting position by Ebeling for third prior to the caution, but the one challenging the most once again was Nelson.
"Going into three (Kitzmiller) swung it a little wide, trying to get a better angle into the corner and I figured, you know what, this is the only chance I'm going to get," Nelson, already a three-time winner at Jennerstown in 2021 going into this race, explained.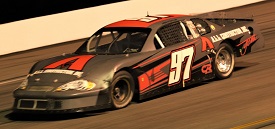 "I dove it in and drove it in really deep and the car hooked and we came out on the other side in front of him."
The remainder of the distance was no cakewalk either, with both Kitzmiller and Schacht staying within striking distance. Kitzmiller made a couple last bids to no avail, his car gaining ground entering the corners but Nelson's appearing to drive off the corners slightly better.
It was Nelson's 12th career SCSCS victory, his ninth at the facility in which he clearly has figured out.
"Had to really work hard at it, and I'll be honest and I told Jason, if that caution had not come out I don't think I would've had anything for you," Nelson said. "He was running a good line and I kept waiting for him to make a mistake, and it didn't happen."
The series veteran, who has taken a slim one point advantage over Kitzmiller for third in the overall standings, was not sure he would even be making the trip to defend his wins from June and July until the week of the race.
"The way things were when we were a little damaged there at Motor Mile and honestly we didn't get it fixed until last night about 10:00 when we were able to load up," Nelson added. "I guess we had done a pretty good job on it because we pulled two of them off tonight."
Kitzmiller achieved his fourth consecutive runner-up result.
"It was a little rough since we didn't need that caution," the series rookie noted. "Brent made a really good move so hats off to him. I honestly didn't see him coming as I went into three. Just one of those things."
A win is something that's certainly at the top of Kitzmiller's list before the season concludes with as much as his results have been impressive and the closer he nears to that goal.
"It helps the confidence, but raises the aggravation levels," the driver, who had competed the previous day in an ARCA race at Michigan International Speedway, admitted. "But the guys have done such a good job preparing this car."
Schacht, Ebeling, and Kromer's No. 77 High Voltage AC/DC Tribute Band / Lehigh Valley Cancer Institute / Mission R.A.C.E.R. / Versalift East / Leindecker Racing Engines / K2 Motorsports Toyota completed the top five in the running order. Ebeling's point lead now stands at 73 points over Schacht heading into the next event in three weeks, Kentuckiana Dual Weekend at Salem Speedway and Kentucky Motor Speedway.
More details and continued updates throughout the season will be available at the official web site at supercupstockcarseries.com as well as the Super Cup Stock Car Series Facebook, Twitter, and Instagram pages.
_________________________________________________________