_________________________________________________________
SCSCS Championship Stretch Begins at Familiar Pennsylvania Venue This Saturday
Statesville, North Carolina (August 17, 2021) – The stage is set for the Super Cup Stock Car Series as teams begin their final rally toward the overall championship and additional awards. The third visit of 2021 to Jennerstown Speedway Complex will kick it all off this Saturday with twin 50-lap feature races.
Pausing after the most recent event at Motor Mile Speedway, the points were reset with the worst two performances of the season for each top driver being dropped from the total. Overall, the battle for the championship to be settled in early October at Virginia's Dominion Raceway has mainly come down to two competitors.
Ben Ebeling and Bob Schacht have each won before at Jennerstown, Ebeling doing so in July, but the machines piloted by the North Carolina drivers clashed on the backstretch abruptly ending Schacht's night during that particular event. After the aforementioned adjustment, 60 points now separate the two with six scheduled races remaining.
Not only is the overall title going to be up for grabs but multiple regional awards, segmented based on the location in which drivers reside, will be handed out during the post-season trophy presentation in less than a couple months. The South is exclusively between Ebeling and Schacht as well with only 10 points separating each after the best five races were selected for eligible drivers to reach the current total. Ebeling won the South title in 2017, 2018, and 2019.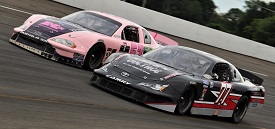 In the North, the fans from the Laurel Highlands region will have plenty in which to cheer. 2019 series champion Kevin Kromer currently leads that contest by 50 over local favorite Lauren Butler. Kromer, from Walnutport, Pennsylvania, picked up the division title in both 2018 and 2019 and will be looking for his first victory of 2021 at a track he has won on three occasions. Butler continues to search for a breakthrough toward her first SCSCS win at the facility in which she is a past Street Stock champion.
The West Mifflin, Pennsylvania driver looks to rebound from mechanical issues there last time and reenter the top five in overall standings. Uniontown's Bill Ashton, a winner at Jennerstown in 2016, also would like to shake some recent hard luck and sits third in the North standings only 99 points back.

An added region for 2021 is the Mid-Atlantic, consisting of racers from Virginia, West Virginia, and Maryland. Petersburg, West Virginia's Brent Nelson currently has the advantage and is a two-time Jennerstown winner already this year. Nevertheless, Jason Kitzmiller, far and ahead the top-performing rookie competitor, has been gaining momentum lately with two of his three career runner-up results occurring less than two weeks ago at Motor Mile Speedway. The Maysville, West Virginia driver is 45 points back, has moved up to third in the overall standings, and led his first SCSCS laps during the July Jennerstown event too.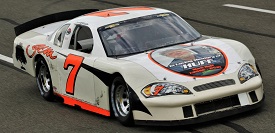 Midland, Virginia's JJ Pack is also within striking distance 55 points behind Nelson in the Mid-Atlantic and has won multiple times previously at Jennerstown. Petersburg's Samatha Rohrbaugh has shown improvement, much like her CR7 Motorsports teammate Kitzmiller, after a best career third at Motor Mile and is a manageable 90 points back.
Many additional drivers will be on-hand to go for nothing else but a win or a formidable outcome.
A 45-minute practice session is scheduled to commence at 2:45 p.m. with grandstand gates opening at 4 p.m., more than enough time for those in attendance to see SCSCS single-car qualifying at 5:30 p.m.
Racing will begin at 6:00 p.m. with the first of the 2021 Championship Series Twin 50s taking the green flag following a make-up feature for the local Late Models. An autograph session is in the plans to be offered in the midway behind the grandstands between races.
For a detailed race day schedule as well as a comprehensive list of potentially expected entrants, please visit the Super Cup Stock Car Series official web site supercupstockcarseries.com. Further interactive updates heading into and throughout race day will be available on Facebook (search Super Cup Stock Car Series), Twitter (@SCSCSRacing), and Instagram (SCSCS_Racing).
_________________________________________________________