_________________________________________________________
Years in the Making for SCSCS, Career Best Finishers, and the Big Winner at Motor Mile Speedway
Photo Credit: Erika Bree Photography
Radford, Virginia (August 8, 2021) – Friday night's WFXR – FOX TV presents the Inaugural Super Cup Stock Car Series Twin 50s were a long time coming for many awaiting to tackle the 0.416-mile Motor Mile Speedway oval. The outcome featured intense side by side action, a winner breaking into victory lane twice at a track he previously competed at semi-regularly, and a night of career best performances for a pair of teammates.
After Mooresville, North Carolina's Bob Schacht and Maysville, West Virginia's Jason Kitzmiller paced the two half hour practice sessions, it was current point leader Ben Ebeling who set the quick time in qualifying. Circulating the facility in 16.488 seconds was not the only fortune on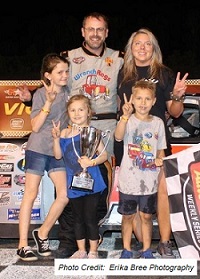 his side, as his "little lucky charm", daughter Lilly, drew the number one pill for Ebeling to start out front for the first 50-lap race.
Championship rival Schacht started on the outside front row, but Ebeling built a comfortable lead following the opening lap. The only yellow flag during the distance flew with a mere four laps remaining when JJ Pack's No. 61 David Lucash Racing Engines / IceBoxx Customs / JP Racing Pontiac blew a rear line which caused Kevin Kromer's No. 77 High Voltage AC/DC Tribute Band / Lehigh Valley Cancer Institute / Mission R.A.C.E.R. / Versalift East / Leindecker Racing Engines / K2 Motorsports Toyota to spin and back into the wall upon hitting the fluid that was down.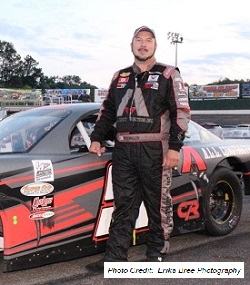 Ebeling fought off a late challenge by Kitzmiller to take his sixth victory of 2021.
"We got to start on the pole, and that's a huge advantage track position-wise," the Hickory, North Carolina driver indicated. "We were just able to kind of set our pace, hit our marks, and really be able to capitalize on that one."
Kitzmiller and the No. 97 A.L.L. Construction / CR7 Motorsports Garage Chevrolet team matched their best result to date after making a late race pass on third place finisher Schacht. Petersburg, West Virginia's Brent Nelson took hard charger honors by moving up to fourth in the final finishing order, while Kitzmiller's teammate Samatha Rohrbaugh, also from Petersburg, rounded out the top five.
The second Twin 50 was a different story but ultimately concluded with a similar result. For this race's redraw, No. 51 John 3:16 / Southern Coal Corporation / Harrison's Motorsports Chevrolet driver Harvey Harrison started on the pole. Nelson though took his No. 80 Precision Auto Collision / Airtek Inc. / RAM Trucking / Snap-On Tools / Atkinson Welding / QH Design / JEBCO / Nelson Motorsports Chevrolet on the outside and got the advantage to lead the opening laps.
Charging fast, this time starting alongside each other in the second row, were Ebeling and Schacht. The No. 75 Engineered Components Co. / Bob Schacht Motorsports Chevrolet worked its way to the front first on lap nine. Nelson's night came to an

abrupt end when a mechanical failure sent Larry Wilcox's No. 6 Sellstate Choice Realty / Daddy K's BBQ / Larry Wilcox Racing Ford around in turns three and four leaving Nelson nowhere to go.
The caution flag right before halfway set up the duel of the night between championship contenders for the fans in attendance to enjoy. Schacht had the slight edge at the line on a majority of the occasions, but only by a nose with Ebeling fighting back on the outside. Finally after nearly 10 consecutive circuits of side by side racing, Schacht earned the top spot; however, that margin was short-lived. Hiddenite, North Carolina's Jon Kerley, substituting for Johnson City, Tennessee's Mike Potter in the No. 14 Potter Racing Chevrolet, suddenly slowed on the front straightaway.
The ensuing restart saw Ebeling charging on the outside once again and clearing his way to the lead

once and for all. The evening sweep ties the driver of the No. 44 Startown Carpet & Floor Coverings / Swanny's Auto Sales / Wrenn's Lawn Service / L & C Truck Repair / Battery Specialist of Hickory / RE Suspension Ford with 2019 champion Kromer for most wins in a single-season.
"I had to earn it a lot harder," Ebeling, who also shatters an all-time record of most consecutive top five finishes that has stood since 2013 with 12 and counting, commented about the second race. "I don't know how many laps it was, it felt like about 50, but Bob and I ran side by side for a lot of laps and gave it everything I could on the outside to try to get past him. I enjoy doing that, having fun and racing door to door."
Ebeling formerly competed in the track's weekly Truck division, coming close but just short of victory on multiple occasions.
"Feels good to come here and get the pole, win both races," Ebeling said. "It has been 15 years in the making. I feel like this place has owed me one. Definitely feels very good and blessed beyond measure."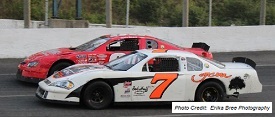 Behind Ebeling, CR7 Motorsports racers Kitzmiller and Rohrbaugh were having another stellar run dicing their way toward the front. Both achieved another series best result.
"I'm stoked," Kitzmiller, in his first SCSCS full season, remarked following his second and third career runner-up results. "That was the best car we've had all year and it was a pleasure to drive. This is a great racetrack, carries a lot of speed and you can drive it hard into the corner. We would've liked to have five or six more laps. I think we would've had something for (Ebeling). We were catching him, but it is what it is. We'll take second place every time."
Kitzmiller looks ahead now to his third visit to Jennerstown Speedway in two weeks, which will be part of a busy itinerary across a two day period.
"We're looking for that W for sure, but I think we'll have a lot better car for Jennerstown this coming time," the driver, who has taken over third in the standings, added. "I actually race (ARCA) at Michigan the day before and then head to Jennerstown, so I'm really looking forward to that weekend."
Rohrbaugh made a successful bid for third with five laps remaining, her best finish yet in the No. 7 Grant County Mulch / In Loving Memory of Mark Huff / CR7 Motorsports Garage Chevrolet that showcased steady improvement and increases her confidence heading into the remaining races of the season.
"It's all credit to the guys at the shop," the younger sister of NASCAR Truck Series racer and past SCSCS winner Codie Rohrbaugh mentioned. "They put together a good piece. We worked on it a lot since the last race I was at, so all credit to them. I like it here (at Motor Mile) and look forward to coming back. I hold myself to a higher standard now that I know what the car is capable of. I have to compete at the level that the car is competing at."
Schacht slipped to fourth in the final order, as the car, rebuilt with the help from many following a wreck the prior month at Jennerstown, began to lose some of its handle that it had shown earlier as the laps wound down. Midland, Virginia's Pack recovered from the DNF in the first race to fifth and took home the hard charger award in the second Twin 50. Renick, West Virginia's Brian Harrison, West Mifflin, Pennsylvania's Lauren Butler, and relative newcomer Dusty Silvers from Elizabethton, Tennessee were contenders throughout the night and each of the trio secured top 10 results in both races.
Heading into the championship stretch in 2021, Ebeling has the opportunity to exceed some more series marks, but will continue to keep the focus consistent with how they started.
"We set out this year that we wanted to win races and that's our goal," Ebeling noted. "The rest of it will work itself out if you accomplish that goal. That's what we're going to do. We've been blessed this year so far and we may not win another race, and I hope that's not the case, but we're going to go into every weekend trying to win. That's what we set out as a team as a goal to do."
The Super Cup Stock Car Series returns on Saturday, August 21st to Jennerstown, Pennsylvania for another edition of twin 50-lap features.
More details and continued updates throughout the season will be available at the official web site at supercupstockcarseries.com as well as the Super Cup Stock Car Series Facebook, Twitter, and Instagram pages.
_________________________________________________________