_________________________________________________________
Inaugural SCSCS Stop at Motor Mile Speedway Features Variation in Experience among Competitors
Statesville, North Carolina (August 2, 2021) – The Super Cup Stock Car Series is ready to bounce back in the second half of summer with something new for Friday night. Motor Mile Speedway becomes the sixth facility in the Commonwealth of Virginia to host the highly-enthusiastic group of racers and their teams, some of which have past knowledge of the oval that is 0.416 miles in length and is situated right outside the town of Radford.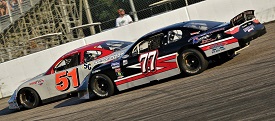 For one family in particular, this inaugural series visit will be quite the homecoming. Harvey Harrison, the 2016 SCSCS champion, competed in Late Models fairly regularly at the track from the early 1990s onward for about a decade.
"I'm real excited; it's kind of like going back home," the Renick, West Virginia driver indicated. "It's a great little track and has changed a lot since we were there last with it being paved and becoming more like a motorsports park now, but when we raced back then it was tough with it being such a prestigious place where a lot of big name racers cut their teeth e

very week. My kids used to run around the pits and up and down the stands growing up. I know it's going to bring back a lot of memories."
Although it has been a while since last competing at the track and he has only been able to make one appearance with the series so far in 2021, Harrison added some insight on what first-time visitors might expect ahead of when WFXR - FOX TV presents the Inaugural SCSCS Twin 50s at Motor Mile gets going.
"A lot of the fast cars run on the bottom, but I always set my car up to run up a lane higher, so you can still make some passes," Harrison, who had a pair of top 10 results at Shenandoah Speedway this season but has earned five series victories over his career altogether, explained. "It's no Jennerstown exactly, but it sort of reminds me of it a little bit."

Current series point leader Ben Ebeling is another one that has competed at the speedway before and hopes that translates to a sixth and/or seventh victory in the 2021 season.
"I raced there in their Truck division around 2006 and 2007," the Hickory, North Carolina driver noted. "I compare it most maybe to Dominion Raceway. Similar banking but a little longer straightaways. It's a beautiful facility, plenty of room to race, and plenty of grip."
Multiple additional drivers expected ran at the track during the 2000s decade in the Pro Cup series. That includes but is not limited to 2019 champion Kevin Kromer from Walnutport, Pennsylvania, who made his debut in that series there in 2003, DuBois,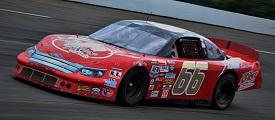 Pennsylvania's Benny Gordon, and veteran Tennessee campaigner Mike Potter. Gordon, who won in his SCSCS debut at UMI Motorsports Park in June, is a five-time winner at the facility.
It will be a quick learning curve for others with only two half-hour practice sessions scheduled. For a couple instances it ties back to a few aforementioned drivers. Harvey Harrison's son Brian, although having traveled and helped out with racing endeavors there in years past, will be taking his first green flag when it unfurls for the first twin 50-lap feature shortly after 7 p.m. Rookie driver Dusty Silvers, having been sidelined due to mechanical issues early in his initial debut at Jennerstown Speedway last month, will be piloting the same car that Potter drove in a Pro Cup race in 2003.
Grandstand gates are scheduled to open at 4 p.m., in time for fans to see the SCSCS cars on track for the first time that day. Single-car qualifying is estimated to commence at 6:30 p.m. and immediately leads into the first race of the night following opening ceremonies.
There will be fun entertainment for the entire family, as bike races for the kids, free Rusty Wallace Racing Experience ride-alongs for lucky winners during intermission, twin U-Car 15-lap races, twin Sportsman 35-lap races, a few FASS Big Rig trucks on display for their race the following day, Friday Night Fury on the adjacent dragstrip all in addition to the twin 50-lap features for the Super Cup Stock Car Series will be provided for everyone's enjoyment.
For a detailed race day schedule as well as a comprehensive list of potentially expected entrants, please visit the Super Cup Stock Car Series official web site supercupstockcarseries.com. Further interactive updates heading into and throughout race day will be available on Facebook (search Super Cup Stock Car Series), Twitter (@SCSCSRacing), and Instagram (SCSCS_Racing).
_________________________________________________________