_________________________________________________________
Championship Duel Motors into Hoosier State for Twin 50s at Salem Speedway
Statesville, North Carolina (July 20, 2021) – Following the most recent Super Cup Stock Car Series event at Jennerstown Speedway, somewhat of a rivalry has emerged among competitors who have each won in the past at the next facility on the calendar. Saturday, July 24th will mark the return to the high-banks of Salem Speedway.
During the only previous visit to the fast 0.555-mile oval, current point leader Ben Ebeling swept the night. The Hickory, North Carolina driver, likely to no one's surprise based on those results, enjoys going to this particular racetrack.
"It's a lot of fun to go up there," Ebeling commented following a win and a second place finish last time out in Pennsylvania less than two weeks ago. "As far as our chances go, I went (in 2019) not knowing anything and we had the chance to do what we did. Hopefully we can repeat on that. We've got a pretty good baseline setup, but I know there are going to be some really tough cars. We'll go with both barrels loaded and see what we can do."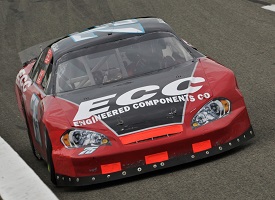 One of those to contend with will be Bob Schacht, who is certainly set on closing a 75-point gap after a tough ending to the most recent weekend. The Mooresville, North Carolina veteran racer has set two new track records as part of his various 2021 accomplishments and won more than 30 years ago at Salem, a track in which Ebeling currently holds the series qualifying record, in an arduous 500-lap ARCA Racing Series event.
"At one time we went down two or three laps because we had a flat tire and we just kept working our way back around, but up there in (turns) three and four I put the rear bumper against the wall and just stood on the gas pedal and let the bumper ride around the wall," Schacht recounted about that triumphant day during a previous interview. "I had ground off about six inches of the bumper by the time the race was over."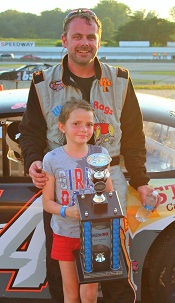 Ebeling and Schacht will not be the only previous winners on-hand this weekend. Will Kimmel, most recently a track champion in 2019 in the Great American Stocks (which will also be running a 50-lap feature on Saturday along with Legends and Crown Vics in action), intends to make his first SCSCS start in 2021. The Sellersburg, Indiana family team synonymous with success in the region looks to rebound from a practice mishap during the first visit for the series two years back that sidelined them for the remainder of the evening right after setting the fastest lap time.
Multiple drivers that contended the first time will return for the first of two visits to Southern Indiana for 2021. Walnutport, Pennsylvania's Kevin Kromer registered a pair of consistent top five runs on his way to the 2019 championship and searches for his first victory of 2021. Lauren Butler, from West Mifflin, Pennsylvania, will be on the hunt to recover from overheating issues last time out at Jennerstown and capture another solid showing. Joe Cooksey makes his 2021 debut at a track in which the Centralia, Illinois driver has numerous laps. Uniontown, Pennsylvania's Bill Ashton also has a decent amount of experience and wants to improve upon a best sixth place finish from 2019's twin races.
There will additionally be some Salem first-timers in the field. Current SCSCS top rookie Jason Kitzmiller seeks another impressive performance at a facility he sees for an initial occasion. The Maysville, West Virginia racer has finished in the top five in his debut at multiple tracks elsewhere. Kitzmiller's CR7 Motorsports teammate Doug George has decades of knowledge both as a crew chief and behind the wheel, but the driver originally from Atwater, California and a former NASCAR West
Series and Southwest Tour champion has not taken a green flag at Salem before. Another rookie Dusty Silvers, from Elizabethton, Tennessee, will tackle the 33-degree banked corners after mechanical issues cut his series debut short a couple weeks back.
Even more will be expected for the mid-summer evening of excitement, which will include a backpack giveaway organized by Indiana Racing for Autism Awareness, a classic car cruise-in, burnout contest, and dollar beers. Gates open on race day at 2:00 p.m. with racing starting at 5:00 p.m.
Live streaming of the entire night will be produced by Dirt2Media, a member of the Speed Sport TV Network, and will be available for purchase at SalemSpeedway.tv.
There will be an optional practice on Friday evening that is free of charge and will consist of one car on the track at a time.
More information can be found on the Super Cup Stock Car Series official web site supercupstockcarseries.com with interactive updates throughout race day available on Facebook (search Super Cup Stock Car Series), Twitter (@SCSCSRacing), and Instagram (SCSCS_Racing).
_________________________________________________________