_________________________________________________________
Ebeling and Nelson Split Contentious Patrick Miller Photography Twin 35s at Jennerstown Speedway Complex
Jennerstown, Pennsylvania (July 12, 2021) – Saturday night's return to Jennerstown Speedway Complex was not short in excitement or debate among fans and competitors throughout the pair of 35-lap races for the Super Cup Stock Car Series.
The day started with second in points heading into the weekend, Bob Schacht, setting a new track record in the No. 75 Engineered Components Co. / Bob Schacht Motorsports Chevrolet with a time of 20.049 seconds around the 1/2-mile oval.
The redraw resulted in West Virginia drivers Jason Kitzmiller and Brent Nelson starting from the front row and Kitzmiller, a series rookie, breaking out to lead the first laps of his SCSCS career. It did not take much longer though for Nelson to work his way under the Maysville racer for the top spot.

As the laps progressed, series point leader Ben Ebeling marched toward the front, beginning to pressure a No. 80 Precision Auto Collision / Airtek Inc. / RAM Trucking / Snap-On Tools / Atkinson Welding / QH Design / Nelson Motorsports Chevrolet that was fighting a more ill-handling condition than before. Contact ensued as the No. 44 Startown Carpet & Floor Coverings / Swanny's Auto Sales / Wrenn's Lawn Service / L & C Truck Repair / Battery Specialist of Hickory / RE Suspension Ford went to the lead shortly after halfway.
Ebeling began to stretch the advantage, but a yellow flag late for local favorite Lauren Butler's No. 53 Edlin Automotive / Night & Day Sealcoating / HG Creations / 3C Signs / Roof Repair Experts / Hillsview Landscaping / Pink Zebra / Motive Parts / Cornwell Tools Chevrolet coming to a stop on the backstretch with overheating issues bunched the field up for a green-white-checkered conclusion.
Schacht had moved to the runner-up position by this stage of the race and chose to restart outside of the Hickory, North Carolina competitor. The veteran driver who resides in Mooresville, North Carolina found an opportunity to pounce as Ebeling's car drifted high in turn one. They battled side by side, but contact occurred coming out of turn two. The result saw Schacht spinning down the backstretch and a major collision with the rear of the car into the inside wall. The impact caused the car to briefly get slightly airborne and hit a light pole, knocking one of the track lights off in the process. Schacht climbed out and was okay.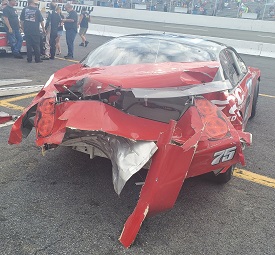 Both drivers provided their account and remarks afterward.
"I wish we would have never gotten the caution to come out to begin with, but I drove into turn one too hard, which was my fault," Ebeling indicated. "The car washed up and as I got sideways and I'm trying to catch it, he went from outside to inside, like he should have. We're trying to win the race. He went to the inside and I'm already trying to catch it, we made contact, and after that I felt like we were both along for the ride. I heard the rpms kick up on his car and my car and we're both trying to save it. It was just one of them things. It's nothing either one of us intentionally did. It kills me that that happened. I wouldn't want that to happen to anybody."
Schacht did not entirely agree and had a differing assessment.
"He cleaned me out," the noticeably irritated 2018 SCSCS champion commented. "We've raced together for three years now and I've never touched him. I was able to get under him and he slammed me a few times there and cleaned me out. He's a dirty driver. I race for the fun of it, but I treat people the way they race me. I'm coming for him at Salem."
In the end, Ebeling was able to keep moving and pulled ahead on the final restart for his first checkered flag at a track that has eluded him previously. At the same time, it was a bittersweet moment given the circumstances that led to it.
"I don't want to win a race that way and I want to race the best to the checkered flag, so yeah, I'm happy I got a Jennerstown win but I'd be happier if we had one without controversy," the five-time winner in 2021 continued.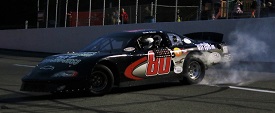 Nelson survived for second, which following the checkered flag was borderline miraculous.
"What we found out after the race was over is we had a flat on the right rear," the Petersburg driver noted. "We came in and once Ben got into me coming out of four, the car was just squirrelly loose. And it just kept getting worse and worse and worse. Honestly, I think I was fortunate to hold on to second place."
Kevin Kromer stayed out of trouble for third while early leader Kitzmiller finished fourth in the No. 97 A.L.L. Construction / CR7 Motorsports Garage Chevrolet and Bill Ashton, setting a new record for consecutive starts in his No. 35 Bill's Wood Stoves - Hopwood, PA / Budget Blinds of Altoona & State College / Ashton Racing Chevrolet, achieved Hard Charger honors and his first top five of 2021 in fifth.
For the second race, K2 Motorsports crew member Rick Wellek drew the first position for what would be Kromer's milestone 100th career SCSCS start. It was outside front row starter Nelson though that would take the lead from the No. 77 High Voltage AC/DC Tribute Band / Lehigh Valley Cancer Institute / Mission R.A.C.E.R. / Versalift East / Leindecker Racing Engines Toyota at the get-go.
Winner from the first Twin 35, Ebeling, eventually made his way to second and was gradually catching Nelson throughout the caution-free distance. Nevertheless, Nelson held on for his second win of 2021 and at Jennerstown.
"We made wholesome changes, back to where what we know this track likes and it worked," the now seven-time winner at the facility overall remarked. "We've just got a really good setup here. A lot of people want to know what we're doing and we're just doing the basics. We cover everything in the shop and make sure that everything is good to go and then we're just clearing the tire pressures and tire stagger (at the track)."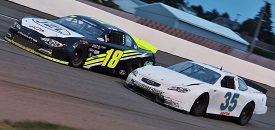 Following Ebeling to the line in second was Kromer with Kitzmiller finishing fourth. The best battle on track for much of the race was between home state drivers Ashton and Pittsburgh's Jeff Zillweger. The No. 18 Jeff Zillweger Landscaping / Wagner's Service / St. Jude Children's Research Hospital Chevrolet ultimately powered by after numerous laps of racing side by side, earning Zillweger the Hard Charger award and his first top five since the season finale in 2016, also at Jennerstown.
In two weeks, the Super Cup Stock Car Series makes its second ever and first appearance of 2021 to the high-banks of Salem Speedway in Indiana. The most recent winner has won at multiple configurations of tracks over his series tenure but will be a complete newcomer to the unique 0.555-mile track. He summed up his objective with one word.
"Survival," Nelson explained. "We've never been there. Totally different from the shock package to the spring package that we've got to run there. Talked to a lot of people and I hope that they're telling me the truth, and for the most part I believe they are. We'll have the setup for it. If we've got to make wholesome changes there then that's what we'll do."
More details and continued updates throughout the season will be available at the official web site at supercupstockcarseries.com as well as the Super Cup Stock Car Series Facebook, Twitter, and Instagram pages.
_________________________________________________________