_________________________________________________________
Multiple Milestones Will Be Reached during July Jennerstown Visit
Statesville, North Carolina (July 7, 2021) – The Super Cup Stock Car Series this Saturday will pick up at the same location they left off, but this particular trip to Jennerstown Speedway Complex will present quite a few special pieces of significance.
The second race of the night not only will mark the halfway point in the 2021 series campaign, but it will be the 25th green flag that the field has taken on the 1/2-mile oval nestled in the Laurel Highlands region of Pennsylvania. The evening's festivities will feature twin 35-lap races, the second of three unique formats for the always enthusiastic assembly of fans to enjoy and challenges for each of the drivers throughout the summer. The distance selected for the July date will be the first of its kind for the series since a pair of Jennerstown races in 2015, the first that were hosted under the current management.
"I think the 25th event milestone shows the great partnership between the speedway and the Super Cup Stock Car Series," Bill Hribar, General Manager for the track, remarked. "The SCSCS definitely has a forever home at the Jennerstown Speedway."
The event itself will not be the lone overall milestone reached. A few drivers are ready to embark upon hitting some distinctive statistical numbers and records. At the beginning of the first feature, Uniontown, Pennsylvania's Bill Ashton will set a new mark of consecutive points race starts currently held by the most recent winner from Keystone 150 weekend.
"It's kind of bittersweet, because it's a record that Brent (Nelson) holds, but I'm glad (Jennerstown) is the track it's about to happen," a humble but excited Ashton stated. "I don't place a huge importance since it might be the only record I'll ever hold, but I'm just so thankful at my age that my health and body has been able to go to these races, which I always look forward to. I wouldn't want to miss one and as long as I can climb in one I'm going to. Even if I'm no longer driving, I plan to stay involved one way or another."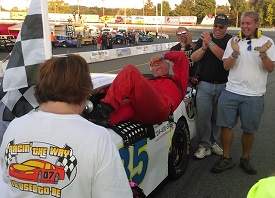 Ashton, intending to start his 58th and 59th consecutive races on Saturday, achieved his only SCSCS victory to-date at Jennerstown in 2016. He believes that it is typically the track in which he has the best chance to contend.
"I feel as though I would've finished top five in June if I hadn't cut a right front tire," Ashton indicated, despite adding that the competition has really stepped up this year. "I always have kind of a handle on the setup there."
Fast forwarding to the second race, the next driver will be celebrating quite the accomplishment. Kevin Kromer, the most recent SCSCS champion, is set to start his 100th series race, the first driver in history to do so. The all-time leader in top five and top 10 finishes as well is looking forward to hitting that achievement at a facility that has become a second home to the entire team.
"It feels good as that's where we had the announcement about my diagnosis and we've had the most support from there," the Walnutport,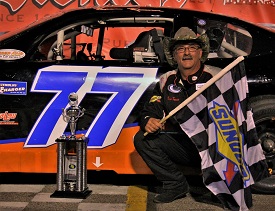 Pennsylvania driver, who has now been cancer-free a few years and often donates proceeds from fundraisers and apparel sales to his family's Mission R.A.C.E.R. foundation, commented. "It all has kind of coincided with going to Jennerstown and I might be one of the favorites there."
Despite an up-and-down season so far, Kromer remains optimistic entering the weekend.
"Definitely not doing things right like in 2019," the 10-time series race winner, three times at the Keystone State track, laughed. "I have confidence that we have a good idea what's been going on and I think we'll be in good shape for Jennerstown."
Aside from Ashton and Kromer, only one other driver has been in attendance for all of the previous 23 races. While not having the best of fortune in recent appearances, the aforementioned Nelson turned that around with his ninth career win and sixth at Jennerstown last time out. The Petersburg, West Virginia racer will certainly be a contender once again as he looks to resume his mid-season turnaround.
Current points leader Ben Ebeling is set to hit a benchmark of his own. Six laps into the first race, the Hickory, North Carolina resident will complete his 1,500th lap of competition. The four-time winner in 2021 has only failed to complete one circuit throughout his entire series career; however, that lap came at Jennerstown in which he still has yet to secure an allusive victory.
Other competitors will search to give themselves a belated birthday gift. One of the local veterans John Komarinski, from Greensburg, Pennsylvania, finished seventh last time and plans to improve upon that effort four days after turning another page. Pittsburgh's Jeff Zillweger celebrated another year around the sun the day after but finished one spot better in June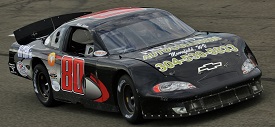 with a sixth place result. Just over a week prior to his birthday, Elkton, Maryland's Rob Hindt achieved his first top 10 performance in six years and will ride that momentum into the weekend.
Constant contenders that will be in action will also include Mooresville, North Carolina's Bob Schacht, who is a past winner at Jennerstown and sits a close second in the standings. Lauren Butler, from nearby West Mifflin, Pennsylvania, is always a threat as she knocks on the door for her first SCSCS win at her home track. Maysville, West Virginia's Jason Kitzmiller earned a finish of fifth in his debut at the track last month while Midland, Virginia's JJ Pack won in his most recent appearance at the facility and is expected to make his return. Elizabethton, Tennessee's Dusty Silvers will be making his long-anticipated series debut among other additional drivers that are possible to be in attendance on Saturday.
Practice is slated to begin at 2:45 p.m. with qualifying taking place at 5:30 p.m. The first of the Super Cup Stock Car Series Patrick Miller Photography Twin 35s at Jennerstown Speedway will take the green flag shortly after 6:00 p.m. with an autograph session behind the grandstands for fans between races.
More information can be found on the Super Cup Stock Car Series official web site supercupstockcarseries.com with interactive updates throughout race day available on Facebook (search Super Cup Stock Car Series), Twitter (@SCSCSRacing), and Instagram (SCSCS_Racing).
_________________________________________________________