_________________________________________________________
Benny Gordon Emerges Victorious at UMI; Brent Nelson Rebounds at Jennerstown in Inaugural Keystone 150 Weekend
Clearfield, Pennsylvania and Jennerstown, Pennsylvania (June 20, 2021) – The weather predictions looked uninviting at times, but by some miracle and the hard work by many with UMI Motorsports Park and Jennerstown Speedway Complex the inaugural Keystone 150 weekend is in the record books. Ultimately, drivers who have not been to victory lane in recent stock car racing history were the ones getting to the checkered flag first.
For the first time in the 14-year existence of the Super Cup Stock Car Series, a pair of 10-lap qualifying races assisted in setting the starting lineup each night rather than single-car time trials. Friday began with a similar story to what has been seen in the early part of 2021. Ben Ebeling in the No. 44 Startown Carpet & Floor Coverings / Swanny's Auto Sales / Wrenn's Lawn Service / L & C Truck Repair / Battery Specialist of Hickory / RE Suspension Ford and Bob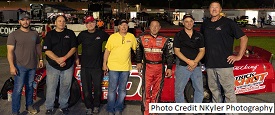 Schacht in the No. 75 Engineered Components Co. / Bob Schacht Motorsports Chevrolet won the races and as a result earned five bonus points toward their season total.
The qualifying races were lined up based on series standings to-date, meaning those who were newcomers to the 2021 season or the series altogether started toward the back. One of those drivers was Benny Gordon, from DuBois, Pennsylvania, less than 20 miles from the 5/8-mile UMI Motorsports Park facility. The multi-time past Pro Cup Series champion had to start last but was up to third quickly. Despite a spin when contact between him and series regular Samatha Rohrbaugh occurred and dealing with what evidently was identified as a wheel bearing issue, Gordon nursed his ride to a third place finish.
This is where luck played its part. The top three from each qualifying race redrew for their starting position in the 75-lap main event. Gordon drew the number one pill and, although a few competitors such as Ebeling and Schacht contended, it was lights out throughout the distance for the No. 66 Trick Shot Penetrating Lubricant / Staar Trucking / Fastrak Trucking / Spray & Ship / Day Spa DuBois Ford.
For Gordon, it was his first start in this style racecar in nearly a decade and his first altogether since being in a NASCAR Xfinity Series car at Daytona International Speedway in 2017.
"I do a lot of racing with my nephew right now and crew chief him, so I don't get to race much," Gordon, a previous Late Model winner at the Clearfield track who picked up the win in his SCSCS debut, explained. "I felt right at home in that thing out front. This series is great and hopefully we can be a part of it and help (Series Director) Joe (Schmaling) with the series. A lot of good racers and a lot of good cars, track was beautiful. It was just a good night."
As mentioned before, track position was certainly critical on an oval surface that had not been raced on in nearly six years. The event had nine yellow flags including two brief stoppages for a few raindrops in which drivers were permitted to come down pit road for team members to service and dry off the windshields.
"I would have liked to race up through, but at the same time I was glad I was in the front because my car wasn't that good," Gordon admitted. "I struggled in the (qualifying) race, we made some changes, and it really came to life. The lead is where it wanted to be. The restarts were really good and I could get out there a little bit and then could put the car on cruise control."
Schacht was able to work his way by Ebeling for the runner-up position on a late restart with Rohrbaugh charging late for a best career fourth in her No. 7 Grant County Mulch / In Loving Memory of Mark Huff / CR7 Motorsports Garage Chevrolet and teammate Jason Kitzmiller rounding out the top five.
Atwater, California racing veteran Doug George took control of the No. 9 Grant County Mulch / CR7 Motorsports Garage Chevrolet from regular driver Larry Berg immediately prior to the green flag. Dicing his way from the rear, he appeared to have a car that could challenge Gordon through the middle stages. Unfortunately, shortly after lap 50, Brent Nelson had a rear gear fail leaving oil on the inside line as he limped to pit road. With not enough time to react, George spun and backed into the outside wall, ending his night early.
Those events played into Saturday's outcome at Jennerstown. The qualifying races on this evening were set based on the finishing order from Friday, meaning racers like Nelson had to start near the back. Gordon picked up where he left off with a win in the first one while Schacht won in the second; however, it was drivers such as Nelson as well as 2019 SCSCS champion Kevin Kromer who marched through the field and into the redraw.
The Petersburg, West Virginia driver drew the fortunate number one pill with Kromer starting second for the 75-lap feature. Nelson's car came to life from the get go and was overtaken at the line on one brief occasion early by Ebeling, who was able to lead a lap and pick up five championship points. The rest of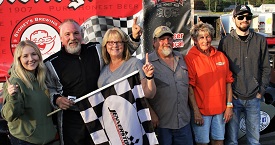 the way, nobody could match the Precision Auto Collision / Airtek Inc. / RAM Trucking / Snap-On Tools / Atkinson Welding / QH Design / Nelson Motorsports Chevrolet's performance and for the first time since 2018 the familiar No. 80 was in victory lane.
"It was a Cinderella night," Nelson, now a series-leading six-time winner at Jennerstown, remarked. "Anything we needed to do and any place we needed to run, we could. From the drop of the green flag in the (qualifying) races, I knew we had something for them. Lo and behold we drew the number one pill and the rest is history from there. We were able to stay out front and every lap kept getting more and more momentum and started stretching the lead."
Although the previous night's winner fell out of the race early on, if it was not for him and the help of many competitors within the series and also locally at the track, Nelson's team would have been headed home.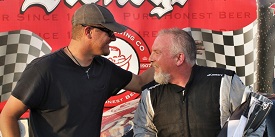 "Without Benny getting here tonight, we didn't have a drive shaft," Nelson mentioned after a heartbreaking Friday result. "We got here this morning and found some other issues and really what the cause was. What can I say about the competitors here? (Jennerstown Late Model veteran and champion) Barry Awtey and going to his shop and getting us lines, Bob Schacht had seals here for us, Codie Rohrbaugh and them had a gear and stuff in the trailer for us. Super Cup is a family-oriented series. That's just the way these competitors are. If you've got it and you need it, they're willing to give it up. Without them we wouldn't have been running tonight."
Two-thirds of Nelson's career wins have come at the 1/2-mile oval.
"We didn't get any practice, but we've got a good setup and handle on this track and that's what we put under the car," Nelson added. "It's been very good to us. We just fell in love with this track. We got into a rhythm and every time we come here it seems to work for us."

In a reversal of the previous day, on a final restart it was Ebeling that got around Schacht for second on Saturday. The points margin of 21 exiting the weekend turned out to be the same as it was coming in.
"There for a second when we first took that last restart with four to go I thought I might even have a chance for the win," Hickory, North Carolina's Ebeling indicated. "When Bob decided to take the inside and left me to take the outside I was surprised but grateful. It worked out for us and we were not only able to hold him off but give Brent a run for his money. We gave it everything we had there at the end.
I've said it before, this racetrack I don't feel like I have the most confidence so to come home second, all in all, I'll take it. We're just trying to win races, lead laps, and do everything we can. The points will be what they are."
Schacht, from Mooresville, North Carolina, held on for third. "The car was pretty good, but there's just a couple things I've got work on," the 2018 SCSCS champion commented. "We chattered the right front tire all night long and I messed up on that restart right there at the end. I should've went to the outside, but I tried it the caution before and the car just washed straight up the racetrack. Car's in one piece, what do you do? Good weekend I guess."

After early contender Kromer ran into additional issues that relegated the No. 77 High Voltage AC/DC Tribute Band / Lehigh Valley Cancer Institute / Mission R.A.C.E.R. / Versalift East / Leindecker Racing Engines / K2 Motorsports Toyota further back in the final order, Butler rallied for a fourth place finish at her home track and now takes sole possession of third in the standings in the No. 53 Edlin Automotive / Night & Day Sealcoating / HG Creations / 3C Signs / Roof Repair Experts / Hillsview Landscaping / Pink Zebra / Motive Parts / Cornwell Tools Chevrolet.
Rounding out the top five for the second evening in a row was Jason Kitzmiller, who holds down fifth in the series standings as well, in the No. 97 A.L.L. Construction / CR7 Motorsports Garage Chevrolet. Pittsburgh's Jeff Zillweger received Hard Charger honors for the No. 18 Jeff Zillweger Landscaping / Wagner's Service / St. Jude Children's Research Hospital Chevrolet's move to sixth in his first start since 2018.
In three weeks it will be back to Jennerstown Speedway Complex, this time for twin 50-lap races. The second race will mark the 25th instance in which the series has taken the green flag at the facility.
More details and continued updates throughout the season will be available at the official web site at supercupstockcarseries.com as well as the Super Cup Stock Car Series Facebook, Twitter, and Instagram pages.
_________________________________________________________