_________________________________________________________
Much-Anticipated Keystone 150 Dual Weekend to Feature New and Exciting Challenges
Statesville, North Carolina (June 15, 2021) – There has been a great amount for competitors and fans to look forward to already during the 2021 Super Cup Stock Car Series season, but a homecoming to Pennsylvania for the first time in 22 months is high on the list for many. An added bonus circled on the calendar during the month of June has been the previously announced Keystone 150, featuring 75-lap races at first-class facilities on each of consecutive evenings, leading off with a return to UMI Motorsports Park on Friday.
The 5/8-mile oval located in Clearfield, Pennsylvania last hosted the series nearly six years ago. UMI Performance out of nearby Philipsburg acquired the facility a few years back and has revitalized interest from the local community and beyond with their desire to assemble autocross events that have become nationally known. In fact, an inaugural team-based competition will be taking place the afternoon prior to and the day after the stock cars comes to town.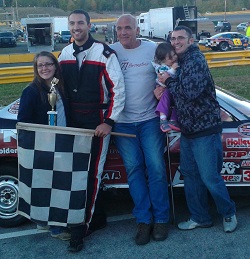 One of the drivers that found success on the oval and has also competed on the grounds more recently than anyone else is Jerod Brougher. The Stahlstown, Pennsylvania resident won in 2013 in a four cylinder Dodge Neon and then took to the autocross layout in a Miata. Despite his extra experience, the 2017 SCSCS Top Performing Rookie thinks the field and its accomplished racers should level out once everyone gets some practice under them.
"I can't remember that track for the life of me, whether we ran the top or the bottom groove," Brougher somewhat jokingly attempted to recall. "Back then I never dreamed of running a caliber car as I run now. What I do remember is the big sweeping corners that you can really get a run off of and it being smooth and wide with its progressive banking."
Having been to the track within the last year, Brougher expressed admiration for what track owner Ryan Kirkwood and team have accomplished in such little time.
"They're not going to recognize the place," the two-time runner-up SCSCS finisher remarked about various improvements for both the spectator and racing team members. "The UMI guys have done a bang-up job and it's incredible what they've done. The track itself seems like it's in good shape, but will have zero racecar rubber on the surface when we first get there."
On Saturday, everyone will journey two hours to another favorite, the first of three visits this year to Jennerstown Speedway Complex. The speedplant nestled in the Laurel Highlands region will also present a 75-lap event, the longest race distance at the 1/2-mile for the series there since 2014.
Brougher, who led the most laps in one of the Jennerstown appearances in 2019, has yet to compete on the 2021 schedule prior to the weekend.
"It looks like a completely different car," the driver who has also won at Jennerstown in the past in Street Stock competition explained. "We put in new windshields, painted the whole car, rebuilt the rear end, found all kinds of stuff such as track arm bushings that were tweaked from multiple incidents. I really can't wait to see it on the ground and see how it feels."
Brougher has always set realistic goals and, while remaining confident, is going in with much of the same mentality.
"My expectations right now; I would love to get a top five in both races," Brougher added. "With the car and my experience being capable, that's what we're shooting for. If there's anything I've learned with these races though, it's anyone's game."
Some of those key players include at least two who have a record of being in victory lane at both tracks, each achieving four top five finishes in the first six races leading up to the upcoming weekend. Lauren Butler is no stranger to Jennerstown Speedway Complex as a former Street Stock track champion and a best career SCSCS result of second twice coming in 2019, but UMI Motorsports Park has also provided some good fortune in her limited starts there.
"It's been a long time, but from what I remember it's a fast track," The West Mifflin, Pennsylvania driver, who took a Street Stock win at UMIMP in August 2013, said. "It's similar to Jennerstown as far as size-wise. The groove is kind of on the middle and high side, which is usually what I tend to like. I'm excited to go back."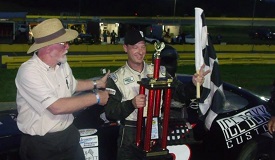 The only one of the common group that has won in Super Cup competition is JJ Pack, who hoisted the trophy during both visits in his 2014 championship season. The Midland, Virginia driver was short on words but big on excitement when asked about the races to come, which includes a track that his most recent series win came at in 2019.
"I'm kind of curious and anxious to see what it's like there now since they've done so much to it," Pack indicated regarding UMIMP. "I can't wait."
The aforementioned trio of drivers will not be the only ones with knowledge of both tracks. Petersburg, West Virginia's Brent Nelson has won at Jennerstown on five occasions and has a runner-up and two thirds at UMIMP. Walnutport, Pennsylvania's Kevin Kromer also has a similar record with wins at Jennerstown and top five results at each. Maryland's Rob Hindt achieved his best career finish of fifth at UMIMP, a track he used to operate during the first instance in which the SCSCS made an appearance.
Other drivers who have been present in Clearfield before that intend to participate this weekend include West Virginia's Larry Berg and home state drivers Bill Ashton and Jeff Zillweger. Zillweger set fast time at the track in 2014 and is returning to the SCSCS for the first time since 2018 while Ashton is set to tie the record at Jennerstown for most consecutive series starts with a total of 57 and counting. Mike Potter plans to make his 2021 maiden voyage from Johnson City, Tennessee with a combined 14 top 10 finishes between the two Pennsylvania facilities.
While the remainder may have never seen UMIMP before, almost all of them do have a grasp of the characteristics that Jennerstown offers. Leading that contingent is Bob Schacht, who captured the checkered flag in a summer race in 2018. Fellow North Carolinian and current point leader Ben Ebeling can set a new record for consecutive wins if he were to do so again on Friday, as he is currently tied with the mark previously set by Schacht and Nelson with three. West Virginia's Samatha Rohrbaugh, New York's Ron Langdon, and Pennsylvania's John Komarinski and Quincy Sponseller have all logged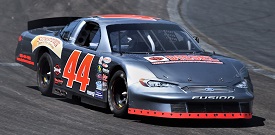 many laps and look to further their success there. The only driver on the entry list that has not taken a green flag at either facility is SCSCS rookie contender Jason Kitzmiller from Maysville, West Virginia.
One more unique portion of each day's festivities will be within the race format. The field will be split up into two 10-lap qualifying races initially to contribute toward setting the lineup. The incentive of five bonus points will be awarded to each qualifying race winner while the top three from each will redraw for the first six positions in the 75-lap main event.
As an added bonus, flagman for Friday evening Jon Shipley has committed to contribute $100 toward the Hard Charger award for the UMIMP race and $100 toward another award to be announced on race day.
The gates for the evening program on the UMI Motorsports Park oval on Friday swing open at 5 p.m. with $10 general admission tickets (umimotorsportspark.com/tickets) and the first qualifying race set to go at 6 p.m. The feature race takes the green flag at 7 p.m. Saturday at Jennerstown Speedway Complex will feature a similar schedule for the SCSCS action with tickets
(tix.com/ticket-sales/jennerstownspeedway/4946/event/1209426) at only $12, which includes the agenda of five-division local racing as well. Kids ages 12 and under are admitted free at both venues.
Same-day practice sessions will take place in the afternoon prior to racing.
More information can be found on the Super Cup Stock Car Series official web site supercupstockcarseries.com with interactive updates throughout race day available on Facebook (search Super Cup Stock Car Series), Twitter (@SCSCSRacing), and Instagram (SCSCS_Racing).
_________________________________________________________