_________________________________________________________
Second Career Shenandoah Sweep for Ben Ebeling in Caution-Free Veterans Classic Twin 50s
Shenandoah, Virginia (June 7, 2021) – The second edition of the Veterans Classic at Shenandoah Speedway featured a familiar face in victory lane, but it by no means was a walk in the park over the course of the pair of 50-lap Super Cup Stock Car Series events.
Ben Ebeling claimed his first Pole Award of 2021, a mere eight hundredths of a second faster than Petersburg, West Virginia's Brent Nelson and two-time pole winner in 2021 Bob Schacht. Lauren Butler matched Harvey Harrison, a past Shenandoah winner from Renick, West Virginia's fifth fastest qualifying time, and was only four thousandths of a second

quicker than Jason Kitzmiller to put her No. 53 Edlin Automotive / Night & Day Sealcoating / HG Creations / 3C Signs / Roof Repair Experts / Hillsview Landscaping / Pink Zebra / Motive Parts / Cornwell Tools Chevrolet within the redraw. She then drew the first starting position for the first race.
The West Mifflin, Pennsylvania racer fought hard to lead her first lap in SCSCS competition; however, it was the outside front row starter Schacht led at the conclusion of the opening circuit. Lurking almost from the get go and making his way to second was Ebeling.
Throughout the remaining distance, the North Carolina drivers stayed within range of each other. On lap
42, the single file formation would change as Ebeling worked under Schacht. Schacht led at the line the first time by in which they were side by side;

however, it was then Ebeling who cleared his way to the lead onward toward his third victory at Shenandoah and of 2021.
"This racetrack is very temperamental as far as overdriving, so it was just about hitting my marks and being smooth, concentrating on running my line and not trying to follow in his tire tracks," the driver of the No. 44 Startown Carpet & Floor Coverings / Swanny's Auto Sales / Wrenn's Lawn Service / L & C Truck Repair / Battery Specialist of Hickory / RE Suspension / Williams Ebeling Enterprises, LLC Ford said. "When we did that we kind of came back to him slowly. He had one little bobble there and we were able to capitalize on it."
Schacht, who related the facility's characteristics to Grundy County Speedway where he grew up racing outside Chicago, survived for second while home state driver JJ Pack finished third in his No. 61 David Lucash Racing Engines / IceBoxx Customs / JP Racing Pontiac. Early frontrunner Butler was fourth and taking Hard Charger honors by advancing to fifth was Atwater, California's Doug George, a former NASCAR West Series champion and current NASCAR Truck Series crew chief for Codie Rohrbaugh, who filled in with the early driving duties in the No. 9 Grant County Mulch / CR7 Motorsports Garage Chevrolet.
The fortune for the second feature of the night partially came down to family when Ebeling's youngest daughter Lilly drew the pole position for her father. The Hickory resident was able to clear outside starter Butler at the wave of the green flag.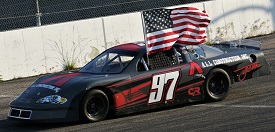 Much like the first race, track position was important as not a single yellow flag flew the entire evening. Kitzmiller, who finished sixth earlier in the No. 97 A.L.L. Construction / CR7 Motorsports Garage Chevrolet, took advantage of the initial start from the inside of row two and immediately powered into the runner-up spot.
Despite the series rookie's best efforts, Ebeling maintained the lead and went on for his fourth win of 2021, sweeping the collection of custom-made trophies courtesy of Dragonslayer Industries.
"My spotter was telling me that we had somebody coming from behind and I didn't know who it was at the time," Ebeling noted about Kitzmiller staying within striking distance. "Again, it was really about concentrating on being smooth and making sure I didn't burn my stuff up trying to stay out front and that I had something if we needed it there."
For Kitzmiller, it was his best performance to date and it came at the track in which he started his SCSCS career in August 2019.
"We caught him once there early and then he kind of got away," the Maysville, West Virginia driver, who added that the team made some changes including the track bar so he could get off the turn better than the first race, remarked. "We kind of burnt the front tires up a little bit and had to let them cool down. We were reeling him in the end, but he doesn't make too many mistakes so it's tough to catch him when he gets six or eight car (lengths) on you. But it's a lot of fun and that's what we're doing."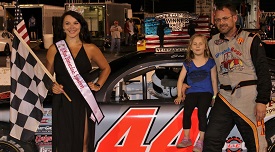 Midland, Virginia's Pack brought home another third place result, the fourth occurrence in as many starts in 2021. 2019 champion Kevin Kromer switched cars between races after running into overheating and ill-handling problems that sidelined the other No. 77 High Voltage AC/DC Tribute Band / Lehigh Valley Cancer Institute / Mission R.A.C.E.R. / Versalift East / Leindecker Racing Engines / K2 Motorsports Toyota midway through the first feature. The Walnutport, Pennsylvania driver recovered to a fourth place finish.
Petersburg, West Virginia's Larry Berg actually made a pass for fourth on the final lap, but was relegated to fifth in the final order due to taking all four tires under the white line that outlines the inside portion of the 3/8-mile oval. It was stated in the drivers meeting that only two tires could be below when advancing position, a rule that has been in place since the track opened approximately 15 years ago.
Climbing to sixth and grabbing the Hard Charger award was Nelson. The No. 80 Precision Auto Collision / Airtek Inc. / RAM Trucking / Snap-On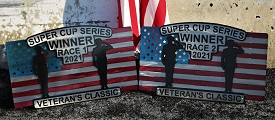 Tools / Atkinson Welding / QH Design / Nelson Motorsports Chevrolet exited early from the first race with a transmission seal issue. Fellow competitor Bill Ashton had the necessary spare part, which allowed the eight-time series winner to take the second green flag near the back of the field.
Schacht was not running at the end of an event for the first time in 2021, slowing from the top five and bringing the No. 75 Engineered Components Co. / Bob Schacht Motorsports Chevrolet to pit road early on in part because of severe handling troubles. This has allowed Ebeling to take a slim 21 point lead over the Mooresville resident after the completion of six races.
"We've been very blessed this year so far just trying to put together wins, lead laps, do what we can, and the rest will shake out where it may," Ebeling commented. There's still a whole lot of racing to do this year."
In less than two weeks, the Super Cup Stock Car Series holds their first Dual Weekend of the year with the running of the Keystone 150. On Friday, June 18th the cars and stars will run 75 laps at UMI Motorsports Park in Clearfield, Pennsylvania followed by another 75-lap feature at Jennerstown Speedway Complex the next day.
None of the top two finishers this past Saturday night have ever been to UMI and their collective experience at Jennerstown is fairly limited as well.
"We haven't been to Clearfield before so we'll be in the same boat Bob was where he had never been here before until today," Ebeling indicated. "We'll figure it out with those back-to-back races and we'll have to be good in both of them."
Each event will feature a unique format with a pair of brief qualifying races contributing toward setting the field rather than the standard single-car time trials.
"I've never been to either one of those tracks," Kitzmiller added. "It'll be an experience I'm sure, but we're looking forward to it."
More details and continued updates throughout the season will be available at the official web site at supercupstockcarseries.com as well as the Super Cup Stock Car Series Facebook, Twitter, and Instagram pages.
_________________________________________________________