_________________________________________________________
2021 Super Cup Stock Car Series Opener at Dominion is a Long Time Coming for Many
Statesville, North Carolina (April 29, 2021) – Close to 19 months have passed since a Super Cup Stock Car Series field last took the green flag. That most recent instance occurred at the same location in which the drivers and teams have been eagerly looking forward to traveling this weekend. Dominion Raceway in Thornburg, Virginia will host twin 60-lap features, kicking off a 20-race 2021 campaign at eight unique facilities.
Both main event winners on that October 2019 night will be in contention for the first checkered flags of the season. 2018 champion Bob Schacht returns to full-time competition this year and is statistically the most successful driver in the short history of the series running at the 4/10-mile oval. The Mooresville, North Carolina resident has won races and pole awards on four occasions each and holds the current SCSCS track record with a time of 15.801 seconds set in September 2018.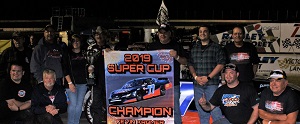 Walnutport, Pennsylvania's Kevin Kromer is one of only a few participating on Saturday that was able to sit in the driver seat over the 2020 months. The most recent series champion ran a Street Stock and a Sportsman Modified closer to home various times and last visited victory lane during the opening race of 2019's season-ending weekend. That win capped off his best year to-date in a SCSCS career that has spanned more than a decade, winning a record-breaking seven instances, claiming three poles, and leading a total of 325 laps.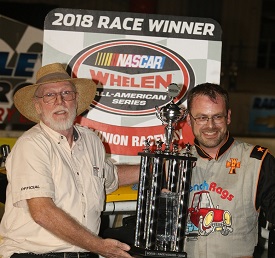 One additional former checkered flag recipient at Dominion will join Schacht and Kromer in the hunt for the 2021 title. Ben Ebeling has earned the Southern Division accolades for three consecutive years, but has committed to run every race on the schedule for the first time in his career. The Hickory, North Carolina driver swept the September 2018 twin 60s at the track and will look to recapture such fortune with a different car from what he had piloted that year.
There are two other drivers who have posed in winner's circle at the multi-purpose complex that will be on hand. Ron Langdon, 2019's championship runner-up, was the top finishing driver in 2018's finale who had yet to win a series race at that point and picked up some hardware for that accomplishment. The Freeport, New York racer has since captured victory at Ohio's Midvale Speedway and will certainly be a threat once again, given his record of three past Dominion third place finishes.
Jason Kitzmiller was victorious in a 15-lap "first-time winners" dash to conclude the 2019 season and will search to achieve for more on Saturday. The Maysville, West Virginia driver has spent much of the last year competing on the ARCA circuit at renowned speedways, but is one of a pair that plans to make a bid at the SCSCS Rookie of the Year award in 2021. The second is Elizabethton, Tennessee's Dusty Silvers, whose family team acquired a winning car from veteran competitor Mike Potter and shook it down for a few test sessions in 2020.

In addition to Silvers making his series debut, Jan Markowski will do the same at Dominion. The Seven Hills, Ohio driver has decades of racing experience at short tracks mostly throughout the Buckeye State. He served as crew chief for past SCSCS race winner Mike Kurkowski during his years in the ASA Series and served as a crew member for competitors such as Mardy Lindley in Pro Cup during the early 2000s as well as the venerable Dick Trickle when he won ASA championships in the 1980s.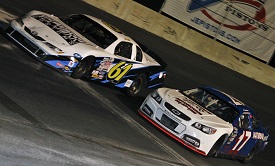 West Virginia's Samatha Rohrbaugh, Larry Berg, and Brent Nelson as well as home state racer JJ Pack are drivers that have formerly gained a top five result at the track that has hosted the series on a half dozen previous occasions for a total of nine feature races. Pack, the 2014 champion, earned his first win at Dominion's predecessor Old Dominion Speedway in 2011 and has been knocking on the door to get one at the new track built less than a decade ago.
Nelson is anxious to put 2019 far into the rear view mirror and get back to a repeat or better of his second place performance in 2017. As for his neighbors across town in Petersburg, Rohrbaugh led her first lap in SCSCS competition at Dominion in 2019 en route to a finish of fifth and Berg, her grandfather, set fast time the same weekend.
A handful of talented racers would like to work their way into the top five in the final finishing order after being not too far outside in the past. Leading that contingent is 2019's Rookie of the Year award winner Lauren Butler. The West Mifflin, Pennsylvania resident has shown speed at Dominion with seventh place finishes twice, but could use that ever important ounce of luck on her side. Same goes with four additional Keystone State residents: Bill Ashton, Jason Schue, Hayden Brothers, and Landon Brothers. Ashton currently holds the longest active streak of consecutive starts, Schue made some major changes between seasons including a switch to a Toyota body, and the twin teenage brothers continue to show improvement heading into 2021.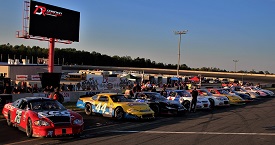 Rounding out the list of expected entrants, Larry Wilcox from Denver, North Carolina and Rob Hindt from Elkton, Maryland have each finished top five in their SCSCS career; however, they are seeking their first Dominion top 10.
Grandstand gates open at 5:00 p.m. on Saturday with qualifying taking place shortly after. Racing, including the SCSCS Season Opening Twin 60s, is slated to begin at 7:00 p.m.
More information can be found on the Super Cup Stock Car Series official web site supercupstockcarseries.com with interactive updates throughout race day available on Facebook (search Super Cup Stock Car Series), Twitter (@SCSCSRacing), and Instagram (SCSCS_Racing).
_________________________________________________________