_________________________________________________________
Recent Contenders for SCSCS Wins and Championships Hunting for More Trophies in 2021
Statesville, North Carolina (April 9, 2021) – One certainty fans can look forward to about the upcoming Super Cup Stock Car Series season, which kicks off in less than a month at Virginia's Dominion Raceway, is the caliber of talent that not only races for wins but battles for a season-long title. The accumulation of experience among many has built up quite the contingent for 2021, in which recent success altogether could result in one of the closest contests between multiple committed racers.
2019 was finally Kevin Kromer's moment. The Walnutport, Pennsylvania driver overcame a handful of obstacles to win a series record seven times and,

after 10 years of trying, captured the biggest trophy of them all. With the championship winning No. 77 mainly intact leading into the offseason, eyes turned to doubling the K2 Motorsports fleet, and the team has been ready to go for several months now.
Nevertheless, Kromer, aware of who he will continue to be up against, knows that the homework never stops and has to be completed before taking the green flag.
"We have to be just as prepared as we were (in 2019)," the all-time leader in career starts, top five and top 10 finishes remarked. "I think we're going to have to be a little more because I know Ron (Langdon) is going to step his game up, Bob Schacht is coming back, and I hear (multi-time Southern Division champion) Ben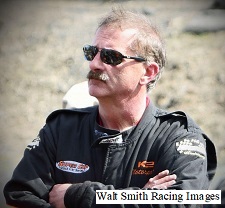 Ebeling is going to be back. Those guys are tough competitors. This series here is not easy to win and it's not easy to do what I did by any means. Regardless of whether you're running first or fifth or seventh, it's competitive and there's probably a dozen cars that can win on any given night."
While the time in the shop has consisted of some serious effort, Kromer has found some instances to enjoy the lighter side of racing with his grandson Kamron starting to make laps in quarter midgets last spring and already winning races. That initially included a little practice duel in their yard.
"I was giving him some lessons but he actually gave me a lesson and kept running into me," Kromer laughed. "He had a faster kart than me, and if I would have had a good one I would've spun him out."
Kromer has a new car to debut at some point in the year, but can go with the trusty championship ride from before as well. It will be nice for him to have a backup at particular events in case something unexpected occurs on race day. The cars were named Thunderstruck and Back In Black after a partner of theirs which came aboard late in 2019 and will be a key part of a second annual benefit event on April 24th, the weekend before the series gets going at Dominion, that has personal meaning to him and his family as a cancer survivor.
"The sponsor we got is High Voltage, and it's an AC/DC tribute band," Kromer, who is attempting to become the first repeat champion since 2012, noted. "They do a lot of special deals for good causes so they are going to come and perform. We already have close to six or seven thousand dollars raised with donations and ticket sales, which all comes to my Mission R.A.C.E.R. (foundation) and that gets donated to the Lehigh Valley Cancer Institute."
The aforementioned Ron Langdon was a mere 33 points behind Kromer at 2019 season's end and is more than ready to get off "the island" he resides following

one of the most consistent records ever seen in SCSCS history. As it happens, despite a year without finishing off the lead lap or outside the top 10, the Freeport, New York driver had some more duties to perform over the months that followed.
"Actually pulling into the pits after the (final) race, a screw had come out of the carburetor and went down inside the motor and caused some pretty significant damage," Langdon indicated, adding that the motor took longer than usual to be analyzed due to his engine builder being stuck in New Zealand at the onset of the pandemic.
Supplemental tasks are being fulfilled to find that ever important extra speed to continue an active record streak currently at 21 consecutive top 10 finishes.
"We have done a lot of work to the car," Langdon continued. "It was an Xfinity car so it's a steel body and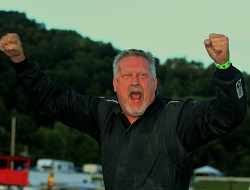 is heavy and we're just trying to cut weight out of it any way we could. I was very uncomfortable because I don't like to sit high in the car, so we did a lot of work to try and lower the seat for me and that worked out well. Moved a few things around, found some things wrong with the front which I don't know how I missed, so I'm going to try stepping it up a little more."
The longtime racer formerly back home at Riverhead Raceway has also acquired a second car to have available, but the primary No. 17 will 'pop' a little more in 2021 thanks to a surprise from his crew last year.
"They painted the car and put some pearl into the blue and changed a few things around," Langdon described. "It's an old school look and I want to keep it that way, so we just tried to make the car look a little nicer. We try and show up every race with the car looking as best as we can make it. I have the best group of guys out there. Nobody gets paid and everybody does it just for the fun of it, but I have things going on all the time so I have to give them a lot of credit. They know exactly what to do and they get it done."
While it's going to be difficult to repeat such a steady performance from beginning to end again, the goals remain the same, to be competitive, try to improve, and perhaps win a championship against a group of drivers who have demonstrated they can run up front and win.
"I have championships as a car owner and a crew chief and a setup guy, you name it, but I've never had one myself as a driver because I've never run many full seasons," Langdon, who picked up his first win at Midvale Speedway in 2019, said. "My family always came first and I taught baseball for so many years so that was priority."
Following his achievement of the 2018 championship, his first since the defunct International Racing Association more than 30 years prior, Bob Schacht took some time off from the SCSCS. He won in his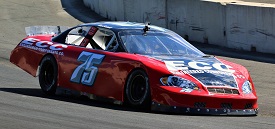 return in October 2019 at Dominion, but with the stoppage across the world in 2020 the Mooresville, North Carolina resident had to sit on the sidelines like everyone else once again for numerous months.
"We've been, like everybody else, kind of just hanging out," Schacht, who has received opportunities to travel to Aruba, coached a friend at Daytona International Speedway in a couple ARCA Series races, and went down to Florida for bike week with his wife and spotter Patty Simko-Schacht to pass the time, updated. "I'm fortunate where I'm close enough to the shop so I get to go there every day and I escape for a little while anyway."
Schacht, a winner of 19 ARCA races, will be back to run for a championship in 2021. A pair of events at Indiana's Salem Speedway in 2021 surely will be ones he is looking forward to. He won a grueling 500-lap event there in the late 1980s.
"It was really kind of a neat race because back then we could run the V6 and running that there was like wide open all day long," Schacht explained. "At one time we went down two or three laps because we had a flat tire and we just kept working our way back around, but up there in (turns) three and four I put the rear bumper against the wall and just stood on the gas pedal and let the bumper ride around the wall. I had ground off about six inches of the bumper by the time the race was over."
Most of all, after some time away, Schacht is thrilled to be part of a family atmosphere filled with camaraderie on race day again.
"The competitors, we're all friends," Schacht added. "This is a pretty neat deal how everybody gets along."
The opposition also makes participating in the sport exciting as well for the driver with decades of experience.
"You get out there running by yourself, it gets boring after a while, but when you've got to race somebody door handle to door handle like we've done before, that's what I'm doing it for is to have fun," Schacht mentioned.
JJ Pack most recently competed in February 2020, making his third start at the renowned Daytona International Speedway in an ARCA car. Now it's time to switch focus and perhaps a return to glory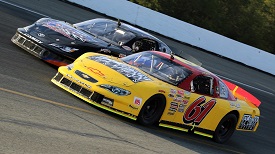 from a few years back, in which there was a glimmer of it with a win at Jennerstown Speedway Complex in September 2019. In fact, he'll be wheeling that same car from that day once again to start off the 2021 campaign.
"It came up as kind of a last minute deal," Pack commented about the continued partnership he has with Cal Richardson, in which together they captured the 2014 SCSCS championship. "I'll run it as my primary, which we've run up front with a lot in the past, and pull mine, which hasn't really been on track before, out if necessary. We'll likely take two cars to almost everything."
Pack is not solely searching for his own success. He will be doing his part to get more challengers up to speed and potentially running side by side with him when the green flag flies much like in previous years.
"I've been helping some guys out," the 2019 Sportsman of the Year said. "Right now, (series regular since 2016) Jason Schue is one of them and a couple others as well. I'd rather see a big group of us run up front than scattered out so much. It makes for much better racing."
Dates in which the six-time SCSCS race winner has highlighted on the calendar perhaps a little bit more are the dual weekends that have been planned for June and September. The first of those races will take place at UMI Motorsports Park in Clearfield, Pennsylvania, a track where he won twice during his championship season and includes some fond and humorous memories.
"Kevin (Kromer) and I have a standing joke where I was holding him down near the water when we were racing side by side for the lead," Pack quipped about his most recent visit to the 5/8-mile facility in which a barrage of rainfall in the days leading up to the race resulted in some interesting track conditions. I really like that place though because there are several different grooves you can run there."
"I'm looking forward to the doubleheader weekends (in which a 75-lap race at Jennerstown follows the next day and then Salem and Kentucky Motor Speedway make up the September two-day docket). More laps will show up more in the setups we run over speed, as far as longevity goes."
While Pack has done an assortment of racing over his career, the Midland, Virginia driver keeps gravitating back to the SCSCS machines.
"The horsepower of the cars mixed with a really hard tire tends to make you have to be able to finesse with it and pay attention a little bit to your driving skill plus learning setup," Pack clarified. "I enjoy big spring cars like these over Late Models or anything any day. I've run the same set of tires for three races before and it's been competitive all three times. It makes you drive the car, which is great."
Competitors intending to race at the season opener at Dominion on Saturday, May 1 are required to call series director Joe Schmaling to pre-enter by the Wednesday preceding the event in order to receive appropriate check-in procedures.
More information can be found on the Super Cup Stock Car Series official web site supercupstockcarseries.com, Facebook (search Super Cup Stock Car Series), Twitter (@SCSCSRacing), and Instagram (SCSCS_Racing).
_________________________________________________________