_________________________________________________________
Annual Pilgrimage to Midvale Sets the Pivotal Stage for Remainder of 2019 SCSCS Campaign
Statesville, North Carolina (August 6, 2019) – Improvement and momentum are two strategies that are likely to be overheard in the pit area on Saturday at Midvale Speedway. The 3/10-mile oval located a half hour south of the Pro Football Hall of Fame will host the Super Cup Stock Car Series for the ninth straight season and returns to their familiar original August date.
Arriving to Ohio, two drivers have set the bar so far in 2019, but even with this year's point structure allowing for a couple races with worse than expected results to be disregarded, they will be looking to increase their season total as much as possible going into the final stretch of events.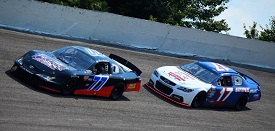 Kevin Kromer currently leads both the Overall and Northern Division standings and is a two-time Midvale winner. The Walnutport, Pennsylvania series veteran is experiencing his best year to date and enters with utmost confidence to increase what could become a new record of wins in a single season if he were to sweep the My Water Doctor "Night at the Races" presented by Racing Radios twin 50-lap features.
Ron Langdon made his Midvale debut a season ago, achieving optimal outcomes, but has exceeded those performances with an impressive nine podium finishes in 2019. Despite that, the Long Island, New York native continues his search for SCSCS career win number one and thinks the shortest track the series visits all year could be the place to make it happen. Langdon currently trails Kromer by 45 in the overall points race and 90 in the north.
Including Kromer and Langdon, five drivers have already accumulated a 12-race point total that will ultimately set the stage starting at the event that follows at Shenandoah Speedway. Nevertheless, drivers such as Mike Potter, Lauren Butler, and Bill Ashton are locked in a tight battle for third and have

room for improvement if stellar results can be reached on Saturday.
Johnson City, Tennessee's Potter and Uniontown, Pennsylvania's Ashton both have the strength of multiple previous appearances at Midvale, but neither have a top five to their credit at the tricky facility which contains eight-degree banked sweeping turns and four-degree banked short straightaways. Butler will be making her first ever visit to the speedway, but has accomplished top five finishes at a couple other track debuts including most recently at Salem Speedway.
Nine drivers have already met the minimum eligibility for the Northern Division title, but several of them will certainly want to gain ground in that respect. The best six finishes in denoted races from the season opening race in April through this Saturday will be carried over as part of a three event schedule to determine the 2019 champions.
The aforementioned Kromer, Langdon, Butler, and Ashton are amidst that pursuit, but a few more drivers will be on hand as well to gain always important momentum into the next couple months. Jerod Brougher, who resides in Stahlstown, Pennsylvania, has turned heads in his recent appearances, scoring a runner-up finish at the season-opening event at Dominion Raceway and leading numerous laps his most recent time out at Jennerstown Speedway. The 2017 Top Performing Rookie competed once before at Midvale, which occurred during that season as his series debut.
Twin brothers Hayden and Landon Brothers continue to learn and will add to that knowledge with their first time on the Midvale surface this weekend. The York, Pennsylvania teenagers will be splitting driving duties in their primary ride on Saturday night and each currently sit solidly in the top 10 in both overall and north standings.
Then there is a group of drivers that have nothing to lose points-wise and will be going out there to find the best possible outcome by the time each checkered flag waves. Two of these racers will be making their first start of the 2019 season, one of which is a former Midvale fast qualifier and winner.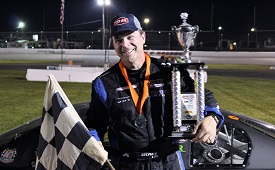 Indianapolis driver Stephen Cox could easily consider the first-class facility one of his best or perhaps his favorite. As one of the Twin 50 winners in 2017, he will additionally have a new but quite accomplished supporting cast.
Cox will take the wheel of one of the Potter Racing rides and will have Ben Ebeling, someone who has gone to victory lane on three occasions as a driver in 2019, as crew chief for this event.
Brandon Harrison makes his first SCSCS start in almost two years, but has six prior Midvale starts including a fourth place finish in 2015. The Renick, West Virginia driver will also have guidance from his father Harvey Harrison, a seven-time starter at Midvale and 2016 series champion.
Among other expected drivers are Pennsylvania's Jason Schue, Florida's John Miller, and North Carolina's Larry Wilcox. Schue will make his first start behind the wheel since Dominion in April, but has raced at Midvale on five previous occasions. Miller missed the most recent event and has been immersed in a project assembling a home-built motor for its eventual debut, but will have a ride secured for his first start on the track surface. Wilcox will come with refreshed commitment after taking the month of July off and will be looking to rebound from disappointment after a frightening engine expiration and impact into the third turn wall, escaping safely but abruptly ending his night at the track last year.
For those looking forward to being at the track on race day, SCSCS practice begins at 3:30 p.m. with qualifying taking place at 5:00 p.m. after the local divisions partake in their sessions. An autograph session tentatively will be offered at approximately 5:45 p.m. with the first of the My Water Doctor "Night at the Races" presented by Racing Radios twin 50-lap races set to go shortly after racing begins at 6:30 p.m.
A four hour optional open practice session will be given to early arriving teams Friday from 4:00 until 8:00 p.m. as well.
The Sopwith Motorsports Television Productions crew returns to begin filming the first pair of a total six Super Cup Stock Car Series shows that will premiere on MAVTV starting in mid-September (Sopwith / MAVTV Back on Board with SCSCS for 2019 Season-Ending Stretch).
For a complete weekend schedule and more information please visit the official web site at www.supercupstockcarseries.com. Interactive updates throughout race day will be available on the Super Cup Stock Car Series Facebook and Twitter as well as the new Instagram page.
_________________________________________________________