_________________________________________________________
Sopwith / MAVTV Back on Board with SCSCS for 2019 Season-Ending Stretch
Statesville, North Carolina (August 1, 2019) – The Super Cup Stock Car Series (SCSCS) has started off 2019 showcasing a great assortment of action for fans in attendance at venues across five different states. Likewise, viewers at home have been following along with social media content as well as recollecting past events on a frequent basis via shows from previous seasons on national television and in the archives.
Beginning with the next SCSCS event, the Sopwith Motorsports Television Productions team is ready to once again bring the roar of 3,300 lb. 600hp stock cars to MAVTV, a television network owned and operated by Lucas Oil Products with its roots deep in the automotive world. A new half hour long show highlighting the first of the upcoming twin 50-lap races on Saturday, August 10 at Ohio's Midvale Speedway is slated to premiere on Thursday, September 19 at 12:30 and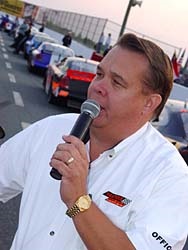 3:30 p.m. Eastern Time.
"The whole Sopwith Motorsports crew is incredibly excited to bring the Super Cup Stock Car Series back to MAVTV for its fourth consecutive season," Sopwith Producer Stephen Dale remarked. "And we're also excited to welcome new blood to the production crew, behind the camera and in front of it, with our new pit reporter, Nathan Burk, as well as the return of our long time host, Gene Crane."
The grassroots racing series formed in 2007 as an affordable alternative for drivers looking to compete on various short tracks east of the Mississippi River. Leading into the races to be televised from Midvale, the championship battles down the stretch have taken shape. The shows will catch viewers up on what has occurred so far in 2019, set the stage on what might be expected, and capture much of the intense racing drama as the final events are reached and Northern Division, Southern Division, and Overall titles ultimately get named.
Following Midvale, the final couple championship-deciding events, Saturday, September 14 at Pennsylvania's Jennerstown Speedway Complex and Saturday, October 5 at Dominion Raceway in Virginia, will additionally be filmed. These are t

wo first-class facilities that have coordinated with the SCSCS over multiple seasons and are ongoing favorites among teams, fans, and viewers.
"We are honored to have Jennerstown and Dominion on our premier track list," SCSCS Director of Competition Joe Schmaling stated. "Our MAVTV programs would not be possible without their participation as well as Grant County Mulch, who have been supporters of the Super Cup Stock Car Series for many years."
Any potential businesses that would be interested in the opportunity to feature their product in front of a national audience are encouraged to contact Schmaling at JoeSCSCS@gmail.com as soon as possible to discuss possible options.
For more information and to learn more about the Super Cup Stock Car Series and MAVTV please visit www.supercupstockcarseries.com and www.mavtv.com.
_________________________________________________________