_________________________________________________________
Series Regulars Taking Varied Approaches toward Inaugural "Super Cup 100" at Salem Speedway
Statesville, North Carolina (July 23, 2019) – Months of anticipation have culminated into this upcoming weekend, the first ever appearance of the Super Cup Stock Car Series on the 33-degree banked corners of Indiana's Salem Speedway. Being dubbed the Inaugural Super Cup 100, the Eddie Gilstrap Motors 50 and Ford Dealers 50 will feature the traditional Twin 50-lap format for the series with each race counting toward the Overall, North, and South championships.
With the incredibly storied facility being a new one for a majority of the series competitors, the wildcard aspect has some with mixed emotions and goals leading into Saturday, especially among those who are amidst a season-long points battle.
Walnutport, Pennsylvania's Kevin Kromer is having the most successful season of his SCSCS career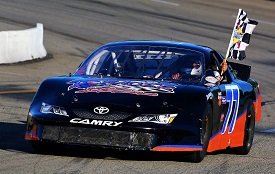 that spans more than a decade, winning already on five occasions and launching him to a tie for second all-time in career victories. Kromer is entering the Hoosier State with confidence but also has realistic expectations.
"We're going to go out there with a mindset to run well," Kromer mentioned following a sweep of the most recent event at Jennerstown Speedway. "It's been a long time since I've seen that racetrack. I just want to survive, come home in one piece, and move on to the next."
Long Island, New York's Ron Langdon has been consistent all of 2019, completing one hundred percent of the laps to be completed so far. He remains second in the overall and north standings, and was rather short and to the point about his game plan going into uncharted territory.
"I'm expecting the unexpected," Langdon answered, additionally remarking that he continues to study what setup the team will be putting in the car. "There are going to be a bunch of people there that haven't run with us and some that have. We're just going to go and give it our best shot."
The new SCSCS competitors that Langdon alluded to include home state residents Will Kimmel and Josh Clemons as well as neighboring Illinois drivers Dale Shearer and Joe Cooksey (A Touch of Midwest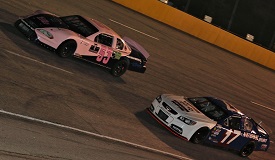 Flavor Adds to SCSCS Tradition for Inaugural Salem Visit). Each bring a good amount of knowledge regarding the 0.555-mile oval and have been providing advice and baseline information in advance for those making their debut at Salem.
Series rookie Lauren Butler most recently impressed many at her home track of Jennerstown with a pair of runner-up results, but will be taking to the Salem track surface for the first time.
"I'm optimistic," Butler remarked. "Obviously we always want to finish in one piece, but I'm going to go big this time so a top five would be ideal. I hear really great things about (Salem) so I'm super excited."
Despite this being her first Salem start, the Pennsylvania-based Edlin Motorsports team has actually competed once before in a Street Stock on the similarly high-banked Winchester Speedway with another name behind the wheel that is also expected to compete. Andrew Kostelnik was the driver on that day and pilots the Minjock Racing machine in hopes of translating some of that prior experience toward a positive outcome.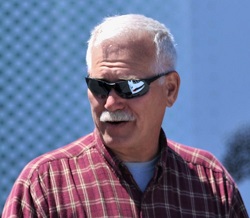 One top five series driver that has a past SCSCS win has multiple prior starts at Salem. Bill Ashton had this date circled on his calendar since it was announced.
"I am certainly looking forward to Salem because I've raced my Street Stock there several times and I also raced at Winchester in Indiana and several times at Bristol, so I have a little bit of experience on the high banks," the Uniontown, Pennsylvania racer confidently noted, all the while admitting it can be a tough time to muster up enough nerve to get around the track properly. "I think I'm going to have a good day even with the little (CT 525) engine."
Throwing their hats into the ring are two additional winners on the 2019 SCSCS campaign. Allen Purkhiser came out on a mission to begin the year, taking home a pair of trophies at Dominion Raceway in April. Nevertheless, the Simpsonville, South Carolina driver has been away from the racetrack ever since, but returns to a facility in which he finished second on one occasion in the Pro Cup Series in 2008.
Kingsport Speedway winner Ben Ebeling returns to gain some points in an effort for his third consecutive south title. The North Carolina driver trails Mike Potter by a large margin, but has yet to complete the six race minimum to make himself eligible until now. Potter has raced on dozens of tracks in the decades he has been competing, but the Tennessee native will be visiting Salem for the first time.
Teenage Pennsylvanians Hayden and Landon Brothers will additionally be Salem newcomers and will be celebrating their birthdays on race day. In all, at least eight different states will be represented with a couple more possible.
The Super Cup Stock Car Series will be joined by the local and entertaining Great American Stock Cars, a street rod and classic car "Cruise-In," music, and a burnout competition. Saturday, July 27 will also offer dollar beers and dollar hot dogs.
Spectator gates will open at 3:30 p.m. with practice slated to begin at 4:00 p.m. and qualifying at 6:00 p.m. The first race is scheduled to take the green flag shortly after 7:00 p.m. Advance general admission tickets for adults and teens are available at www.salemspeedway.com/tickets.html and are only $15. Ages 7-12 are just $3. Kids, ages 6 and under, are admitted free with a paying adult.
For more information about the Super Cup Stock Car Series please visit the official web site at www.supercupstockcarseries.com. Interactive updates throughout race day will be available on the Super Cup Stock Car Series Facebook as well as Twitter and Instagram.
_________________________________________________________