_________________________________________________________
A Touch of Midwest Flavor Adds to SCSCS Tradition for Inaugural Salem Visit
Statesville, North Carolina (July 21, 2019) – When it was announced in December that the Super Cup Stock Car Series would be branching out to the Crossroads of America, it not only developed a feeling of excitement for the established competitors but gained the attention of some who may previously have not been familiar with the touring division which holds events across five other states.
Now inching closer to the inaugural series event to be held at Indiana's Salem Speedway, a few rather experienced drivers have announced their intention to join the regulars as part of the festivities.
One of the Hoosier State racers who will be returning after quite a few years away from the track located approximately 30 miles from where he resides in New Albany, Indiana is Josh Clemons.
"This is my home," Clemons, who made the major jump to Super Late Models on the high banks straight from go karts as a teenager in the 1990s, expressed. "It is my favorite place in the world. I grew up running here."
Clemons went on to tour around with the former NASCAR All Pro Series and later the ARCA Racing Series. In recent years, he has been staying active close to home at the nearby Sportsdrome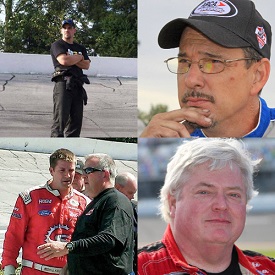 Speedway in their Oval Xtreme division, which is basically a Street Stock frame with an Outlaw body, and is fresh off a win only a few weeks back.
Next Saturday night, the car he will be utilizing is the same from his last ARCA start, which came at Salem in 2011.
"It sat and had not been touched since until about three weeks ago," Clemons indicated. "I kept this one complete and it fired right up eight years later. We did some work with the wheel bearings and a few other things, but we didn't even have to take pressure off the valve springs."
Clemons has one particular memory that stands out from his endeavors on the track surface's historic humps and bumps nearly 15 years ago.
"The one year in 2004 we were ungodly fast," Clemons noted regarding an ARCA race in the same former Roush Ford as previously mentioned. "We went from three laps down to fifth and were passing cars on the outside."
Referring to a track as home and the distance in which one resides can often be a relative comparison. Joe Cooksey lives in Centralia, Illinois, about 60 miles due east of St. Louis, Missouri, but has considered Salem his home away from home, racing there off and on since the mid-1990s. Upon finding out about the SCSCS event, he jumped at the chance to go back.
"It's a race at Salem so I'm all in," Cooksey commented. "It's a special place to me, and anything I can do to help promote this kind of racing I'm all about it."
The weeks and months leading up have been a glorified restoration project for the racer with 56 top 10 finishes in 144 ARCA starts.
"I drug out a car that I haven't raced since 2009 from a storage unit and placed in an 18-degree wet sump motor out of my CRA Sportsman car. It's a real time capsule."
Aside from a start or two in a Late Model, Cooksey has been mostly removed from competing at Salem since running a majority of the ARCA schedule in the 1990s and 2000s, but vividly pointed out some keys to navigating the 0.555-mile oval that the newcomers will have to get accustomed to rather quickly.
"One thing that is going to be so different is the way we get through turns three and four," Cooksey, who has primarily been playing around in a Dirt Late Model on a hit and miss basis as of late, explained.
"You have to use the momentum and let the car have its way, carrying itself up toward the wall, then stand on the gas. It's one of the more terrifying corners in racing."
Going back toward southern Indiana is a name synonymous with stock car racing in the Midwest – Kimmel. Frank Kimmel was a 10-time champion in the ARCA Racing Series and his crew chief for much of that success was his brother Bill. Bill, a champion driver himself at the former Louisville Motor Speedway, later formed his own team and has fielded some impressive entries in the years that followed, many in coordination with his son Will.
The duo has been heavily supportive in promoting the efforts of Salem Speedway's short track program and wanted to be involved the moment the SCSCS event was announced.
"The big thing is it's a little different from what has been at Salem for a while," Bill Kimmel remarked. "We had some old steel cars left over and now we don't have a lot to do with them, so it's a neat opportunity for us to run close to home and some more races."
The team will be rolling out an older Yates Ford for Will Kimmel, a knowledgeable driver with 291 career laps led in an ARCA car and even two starts in the NASCAR Cup Series, to wheel on race day.
"Will's going to have to adjust from running radials in the past to the bias ply tire, but I think it's going to be a fun time to worry about stagger and things like that again," Bill Kimmel mentioned.
Will Kimmel has been honing his skills in the Great American Stock Car division, in which he will be pulling double duty in between the SCSCS Twin 50s for their 75-lap feature.
"I definitely think being at Salem and running ARCA in the past helps," the 2007 Super Late Model track champion at age 19 and admittedly barely hanging on at the time said. "Running both classes will be an adjustment, but I'll be fine. The biggest thing is to get in the top six redraw in qualifying which is the same deal as the Great American Stocks."
Both father and son look forward to the event and sharing the experiences they grew up learning with the competition that is expected. They have consistently answered calls in the months leading up from some of the drivers that will be seeing the facility for the first time, helping them as much as they can to get acclimated.
"Turns one and two are not bad, pretty straightforward," Will Kimmel described. "Three and four are like Bristol and Darlington mixed. You've got to be careful and can't get complacent or it will reach out and bite you."
One racer that the Kimmel family has assisted in acquiring stock car racing knowledge is Dale Shearer. The soon to be 60-year-old driver began his racing career in 1981 at a 3/8-mile dirt track north of Jefferson City, Missouri. After more than a decade of limited starts from superspeedways to short tracks, he wanted to return to more of a Saturday night at the races approach.
"I got to talking with Bill Kimmel and heard about the Super Cup Stock Car Series and thought I'd give it a shot," Shearer explained. "It's a place I can come to and be a part of; a different format, shorter program where I can go have some fun."
Utilizing a steel-bodied car previously from the Kimmel Racing stable, Shearer will be racing the same machine in which he competed at Madison and Elko speedways on the ARCA schedule this year. Despite having a full time job and being a part time racer with the funding coming out of his own pocket, he has run at Salem on seven different occasions.
"It is a fast little track," Shearer added. "To me, I do like it and have a good time there."
One item that SCSCS fans young and old will appreciate is something that he has become known for at the racetrack.
"I had a chance to get a bunch of Hot Wheels and die casts, and at autograph sessions the fans began to flock to me," Shearer described regarding the small mementos he hands out.
The Super Cup Stock Car Series strives to make a good impression for anyone debuting in the series for the first time and potentially become an ongoing part of the family for those looking for a place to race.
These competitors and many more will be ready for the inaugural Twin 50s, which will additionally feature the local Great American Stock Cars, a street rod and classic car "Cruise-In," live music, and a burnout competition. Saturday, July 27 will also offer dollar beers and hot dogs.
Spectator gates will open at 3:30 p.m. with practice slated to begin at 4:00 p.m. and qualifying at 6:00 p.m. The first race is scheduled to take the green flag shortly after 7:00 p.m. Advance general admission tickets for adults and teens are available at www.salemspeedway.com/tickets.html and are only $15. Ages 7-12 are just $3. Kids, ages 6 and under, are admitted free with a paying adult.
For more information about the Super Cup Stock Car Series please visit the official web site at www.supercupstockcarseries.com. Interactive updates throughout race day will be available on the Super Cup Stock Car Series Facebook as well as Twitter and Instagram.
_________________________________________________________