_________________________________________________________
Brent Nelson Rebounds for July Jennerstown SCSCS Sweep
Jennerstown, Pennsylvania (July 9, 2017) – Brent Nelson entered the 2017 Super Cup Stock Car Series season poised to improve one more position from his 2016 runner-up championship effort. Unfortunately, that quest derailed right off the bat at Midvale Speedway due to a mechanical failure early in the first Twin 50 at the Ohio track.
The Petersburg, West Virginia driver would not let the dismal results get his team down as they rallied back to claim the pole award and both victories in Saturday's American Racer "Night at the Races" presented by United Tire at Jennerstown Speedway Complex in Pennsylvania.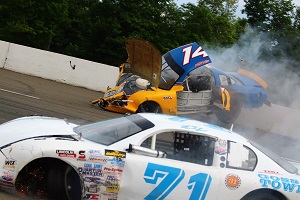 The first 50-lap event was a flag-to-flag fourth career victory for Nelson, but involved numerous restarts after on track altercations bunched the field. The scariest accident of the evening involved Midvale winner Trent Gossar and veteran racer Mike Potter. Gossar lost the steering to his car entering turn one sending the Potter machine outside of him into the outside wall with an incredible impact that caught some air. Thankfully, both drivers were okay despite their demolished stock cars.
Nelson easily gained the lead from the start navigating by most recent race winner Stephen Cox, whose night was cut short only seven laps in after his motor let go. Nelson later cruised to the checkered flag in the closing laps followed by Jim Crabtree Jr. with his third consecutive second place finish and Kevin Kromer rounding out the podium.
During the second Twin 50, Nelson's competitors would not make it easy on him to advance to the front. After redrawing the fourth starting position, the No. 80 Airtek Inc. / Precision Auto Collision / Berg Construction Chevrolet maneuvered to second, but was thwarted during a number of attempts to get around Brian Harrison, who continues to search for his first career SCSCS victory.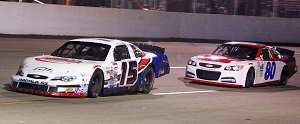 "The second one I really had to work my butt off," Nelson commented. "Brian ran a heck of a race and I had to wait for him to make a mistake. When he did I had to jump in and capitalize."
That moment came with 10 laps to go when Nelson dove under Harrison on the backstretch and had the top spot coming back to the line. The next time around, Crabtree and Harrison got together battling hard for the second position.
From there, Nelson held off Kevin Kromer and Freeport, New York SCSCS first-timer Ron Langdon to sweep the night.
It was definitely a turn in the right direction for Nelson, who has now won at four different SCSCS tracks. Despite the flag-to-flag effort in the first race, he knew there were changes to be made in preparation for later in the evening.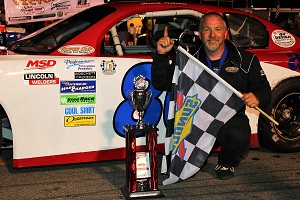 "It was fun and, hey, we've got two in a row," Nelson remarked. "This is a huge rebound for us. We made the right changes and had to loosen the car up. The car was tight in the first race and I knew as the night went on it was going to get colder. All I can say is we made the lucky guess and it was right."
Crabtree recovered to a fourth place finish in his No. 63 Jim's Automotive / Judy's Apartments Chevrolet, which gives the Muncie, Indiana driver a comfortable point lead heading into the next event.
"First race the car was real tight," Crabtree explained. "We did free it up a little bit, but then we freed it up too much off. If we wouldn't have had that little altercation there with Brian near the end of the race I think we maybe could have gotten another second or maybe could have snuck in there and won."
After a couple disappointing seasons, Kevin Kromer has fortune changing back toward his side. At times, it appeared the No. 77 Nobody Fights Alone / Racing for a Cure Chevrolet had the fastest car on the 1/2-mile surface, but a charge from 14th starting position in Twin 50 No. 1 used some of the car up which was still not entirely to his liking. Nevertheless, the Walnutport, Pennsylvania driver was pleased and leaves Jennerstown with possession of second place in the standings and momentum when the series comes back in late August to decide the 10th Anniversary champion.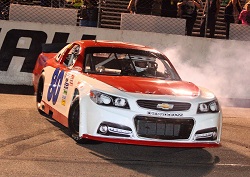 "Brent was rotating real good through the center of the corner, but this is the best run I've ever had here," Kromer indicated. "I tried a new setup and worked with a couple guys – (2014 champion) JJ Pack, (2015 champion) Dan Bainey, (2013 champion crew chief) Keith Wolfe. All those guys helped me the past two or three weeks and we put something totally different in that I never ever drove before and I sort of like it, but it needs a little tweaking."
Next up for the Super Cup Stock Car Series will be a rescheduled 50-lap event at Kingsport Speedway in Tennessee on Friday, August 4. The day after, the teams will cross less than an hour into Virginia for the regularly scheduled Lonesome Pine Raceway event on Saturday, August 5. Both races will kick off the start of the Southern Division championship in addition to the continued search for an overall series champion.
American Racer "Night at the Races" presented by United Tire will air at a future date on MAVTV and LucasOilRacing.TV.
Please visit the official web site at www.supercupstockcarseries.com, the Super Cup Stock Car Series Facebook or Twitter for more information on the 10th Anniversary season.
Click here for Current Points...
_________________________________________________________