_________________________________________________________
Hard Work, Consistency, and Focus On One Race at a Time Pays off for Harvey Harrison and Team's Second Championship
Statesville, North Carolina (September 21, 2023) – Entering the 2023 Super Cup Stock Car Series season, the strategy for the Harrison's Motorsports team was simply racing at one of their home tracks that was first on the schedule. One consistent result after another and 2016 champion Harvey Harrison was in the driver seat for claiming another title when Veterans Classic weekend arrived at Shenandoah Speedway in September.
"It feels more like it does now than it did before," the Renick, West Virginia driver replied when asked if the accomplishment has sunk in. "We started out this season not really knowing, what for sure, whether we were going after a championship. All the cards seemed to fall in place for us. Top three finishes (every race) is I guess how we did it and pulled it off. I've got a pretty good crew that worked hard. Sometimes hard work pays off, and that's where we're at."
In all, Harrison was short of completing only one lap of competition the entire season and it was the first time in his 15-year span with the series in which he went to victory lane more than once in a season, twice during the mid-August weekend at Lonesome Pine Motorsports Park.
"It takes a lot of work to do this, and we've got a lot of good cars and good drivers that could've won the championship," Harvey, who joins his nephew Jody Harrison as the only multiple-time champion in the SCSCS, continued. "I guess people say it takes a lot of luck, and you've got to be pretty good to do it, too. Everything just worked out really well. It's been a good year."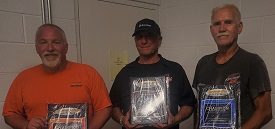 Harrison was also one of three recipients for the annual Division titles that are handed out to drivers from respective regions for their top performance. Joining the overall champion as the best in the South was second place points finisher and Mid-Atlantic Division winner for the second time, Brent Nelson.
"We had a stellar year," Nelson, who finished runner-up in the standings for the fourth time in his SCSCS career, said. "We were able to run really well this year with five wins and two in second place."
Although the Petersburg, West Virginia veteran competitor led the series in wins and laps led with a total 149 times out front at the stripe, the difference potentially was a slight setback at the start of the 2023 campaign.
"We did have misfortune the first race of the season when we grenaded the motor," Nelson indicated. "But what else can you ask for. All in all, the way the season turned out, we're just happy being able to finish where we did."
Much like previous years, the now 20-time winner in the series gave a usual itinerary for the months ahead.
"We're going to go back and completely tear everything apart, disassemble and see if there's any damage to anything," Nelson added. "I'm certainly hoping there's not, but we'll freshen everything up and be ready for next year."
The North Division champion, Uniontown, Pennsylvania's Bill Ashton, was next in the overall points.
"We had a couple bad races at the beginning of the year but came back from that and ended up in third which is still the best finish I've had since I started in Super Cup," Ashton, whose career high 10 top five finishes was six more than ever before in a single season since being crowned Rookie of the Year in 2014, commented.
Much of Ashton's success, returning to a full schedule after only driving in a select few races in 2022, was thanks to advice and assistance from the 2021 series champion.
"Ben (Ebeling), real good guy, has helped me out a bunch, especially with this new car and getting it set up," Ashton noted regarding the No. 35 that he debuted at Franklin County Speedway in early June.
Fourth in the standings additionally received a special award, one of which his father and brother each earned previously.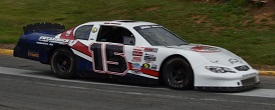 "That's really neat," Brian Harrison mentioned about the Hard Charger of the Year Award named in memory of one of the early SCSCS racers Charlie Canterbury. "He was a good friend of ours."
Brian Harrison kicked off the year matching his best career effort with two runner-up finishes and was in position as a threat for the championship. Unfortunately, some not as great destiny followed.
"It was really good, but we had some bad luck at Jennerstown and that kind of just spiraled," Brian Harrison, who did capture his first Pole Award ever at Pulaski County Motorsports Park, explained. "Of course we broke (at Pulaski County), then we went to Dominion and were terrible. There was some stuff wrong with the car and rear end still, and then we were in the same position at Lonesome Pine.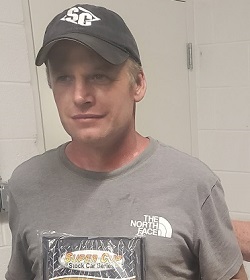 (Shenandoah) we had it fixed and the car was back like it was. We just broke the belt in the first race when we felt like we had at least a second-place car (which set up a rally to receiving Hard Charger in the second race)."
Overall though, a return to full-time competition and his first top five in points since 2017 provides positive momentum for next year.
"All in all, it was really satisfying," Brian Harrison noted. "Satisfied to have the car kind of back in the hunt, as they say, and had fun racing with dad (Harvey Harrison). It was coming down to points (for him) and that was very enjoyable. Can't wait (for 2024)."
Rounding out the top five was a participant in the series since 2016 that had a banner year both as a driver and car owner.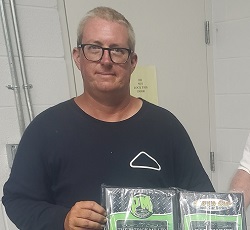 "I really have to thank JJ Pack for setting up the car for me," Jason Schue, who turned over the driving duties for a race to the 2014 champion which netted him a first career victory as a team owner at Dominion Raceway, remarked. "It was a new car and we started from scratch this year. Definitely drives better than my old one."
The Littlestown, Pennsylvania resident claimed five fifth place finishes behind the wheel himself in 2023, a feat he had only accomplished once before in all the prior years. For his efforts in bringing the car to the track to compete and working with others throughout the pit area, Schue was awarded both Car Owner of the Year to go with his 2019 honors and Sportsman of the Year named in memory of past series photographer Patrick Miller.
"That means a lot to me," Schue, now a three-time Sportsman of the Year recipient, added. "He was a really good guy. I miss Patrick."
Schue may leave the driver seat following two strong performances at Shenandoah Speedway but will be back in at least some capacity next year.
"We'll think about it, but I think I'm going to let JJ drive it," Schue repeated from what he hinted at Dominion in early August. "I always wanted (a win) whether I was driving or being car owner."
Starting off the second half of the top 10 was the first of three drivers being recognized during the season-ending trophy presentation, held immediately following Veterans Classic festivities earlier in the month, for the first time. Richard Hauck made the tow from Howell, Michigan for several events in 2023, finishing a career best inside the top five on three occasions which was good enough for sixth in points. Gloucester, Virginia's Jeff Thomas had an assortment of gremlins sideline him early from multiple races but still ended up eighth in the standings. Rounding out the top 10 was guest driver on a couple of occasions, Jeff Roark, who has intentions to remain involved with the series both with serving as track president for Lonesome Pine and possibly fielding a car.
Seventh in the standings, despite being absent from several races, was the aforementioned Ebeling from Hickory, North Carolina on the strength of three victories. Warrington, Pennsylvania's Mike Senica was one of four drivers who piloted cars for third place points finisher Ashton and concluded the year in ninth, his second consecutive top 10 points finish.
Back to Harvey Harrison, his appreciation as reigning champion will move right into the upcoming season.
"We love it and we'll be wherever we go first. Looking forward to it."
Details will be announced regarding 2024 as they are confirmed. The theme for next year will align with the annual event that is held at Shenandoah, the Super Cup "Classic" championship. With lessons learned regarding scheduling and the availability of a majority of racers this past season, the intention is to hold events in the late spring and early fall with only a rain date or two, if needed, scheduled during the heart of summer.
More information can be found on the Super Cup Stock Car Series official website supercupstockcarseries.com, on Facebook (search Super Cup Stock Car Series), Twitter (@SCSCSRacing), and Instagram (SCSCS_Racing).
_________________________________________________________