_________________________________________________________
Perfect Saturday Evening Earns Brent Nelson the Veterans Classic Hardware; Consistency Secures Harvey Harrison the Championship Trophy at Shenandoah Speedway
Shenandoah, Virginia (September 11, 2023) – Despite a forecast filled with threatening skies, the fourth running of the Veterans Classic was completed in its entirety with a familiar face in Super Cup Stock Car Series victory lane as well as a familiar champion crowned at the conclusion of the evening.
Brent Nelson needed to have as close to a perfect night as possible and score maximum points in order to simply have a shot at the 2023 title. He began it by accomplishing his second consecutive Pole Award with a time of 16.631 seconds, already tying him with Brian Harrison for third in the standings with the five bonus points earned.
With a straight up starting order, Nelson jumped out to the lead right away in the No. 80 Precision Auto Collision / Airtek Inc. / Atkinson Welding / QH Design / JEBCO Chevrolet. Nevertheless, it was not a cruise to victory all the way.

Coming out of turn two on lap 20 of 30, the Petersburg, West Virginia driver's ride suddenly slowed and then immediately picked up the pace once again, but in second position at this point. JJ Pack, a winner at Dominion last month, was driving a ride prepared by himself and owned by fellow racer Rob Hindt. The No. 42 Drive 2 Thrive / Hindt Racing Pontiac accelerated to the lead, but Nelson muscled the top spot back with seven laps remaining.
"The ignition cut off and thank goodness I've got two ignition boxes in the car," Nelson, who went on for his first Shenandoah Speedway victory, explained. "Once I realized what was going on I flipped over to the auxiliary and had to battle my way back around JJ."
Perhaps the fact he celebrated another anniversary of his 29th birthday the day before or maybe some added luck on board contributed to or led him to claiming the special trophy.
"You can ask my crew members; they've been picking on me pretty much all season and tonight they brought the turtle out and put it in the car and it's got turtle power; turbo," Nelson joked.
Pack had a similar fate with a brief mechanical issue and was passed by current point leader Harvey Harrison and Bill Ashton in the final finishing order.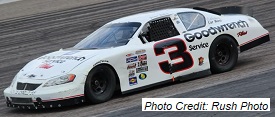 The most impressive drive of the evening might have been by Jason Schue, who started eighth but the Littlestown, Pennsylvania driver passed competitors such as Howell, Michigan's Richard Hauck in the No. 31 Hauck Enterprises Inc Dodge and Warrington, Pennsylvania's Mike Senica in the No. 57 ASAP Energy Drink / UpFlyte / Ashton Racing Chevrolet on his way to match a best career fifth behind the wheel and Hard Charger of the race honors.
Schue would start his No. 3 Firehouse Grill / 1st Choice Computer Solutions / Littlestown Car Wash / Peckie's Auto Body / Larry's Lawn Mower Repair / Jason Schue Racing Chevrolet on the pole for the second main event when the lead lap finishers were inverted and was two turns away from leading his first lap in SCSCS competition.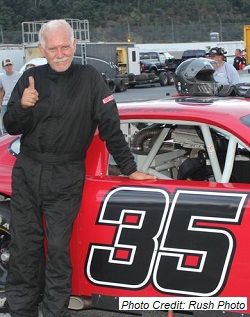 It was Ashton though breaking out to the early lead in the No. 35 Bill's Wood Stoves – Hopwood, Pennsylvania / Ashton Racing Ford. Once again Nelson was on the hunt and was in the runner-up spot by the second lap. By the fifth circuit he worked his way under the Uniontown, Pennsylvania racer for the lead.
Although the race remained under green for the distance, Ashton kept Nelson in sight, but it was not enough as the now five-time winner in 2023 swept the night. Ashton held on for second, but with yet another podium result in the end for Harvey Harrison it was 53 points too short of the championship for Nelson.
"It's bittersweet, coming here knowing that we were behind with one goal getting as many points as we could get, and we did that," Nelson indicated. "Accomplished everything we could, but all in all we've had a great weekend. We've had a great season if you look at the wins and second place finishes."
While Ashton came up shy of his first win since 2016 this year, there was no disappointment felt.
"The finishing places are good, but they don't really matter when it comes to how much fun I had as I've ever had driving a racecar, especially here," the 2014 series rookie of the year commented. "This has not typically been one of my best tracks, but now it is. It may become one of my favorites. What is my favorite thing is the guys I'm racing with. Brent, Harvey, JJ, all of them are just such good clean racers. It's a pleasure to drive with them."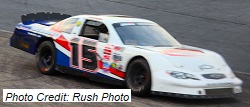 Renick, West Virginia's Brian Harrison suffered a broken belt under the hood of the No. 15 Harrison's Welding / Swearingen Bat Company / Kovach Drywall Services / Harrison's Motorsports Chevrolet seven laps into the first race, but quickly maneuvered his way to fourth and challenged his father for third over the closing laps. The result gained him both Hard Charger of the race as well as ultimately the Hard Charger of the Year award.
Schue made another late race rally and caught both the Harrisons as the laps wound down. The fifth-place performance was his fifth top five of 2023. Elkton, Maryland's Rob Hindt took over driving duties of the No. 42 in his first start since 2021 and finished sixth, his best result since a fifth at UMI Motorsports Park in 2015.
The driver that showcased the most stability and steadiness this season was Harvey Harrison, capturing his second career series championship.
"We had a pretty consistent year as far as; I don't think I finished out of the top three," the Renick, West Virginia driver of the No. 51 John 3:16 / Southern Coal Corporation Chevrolet said. "But it's been tough, a lot of times the car wasn't quite where we needed and tonight it really wasn't either. It all worked out here in the end."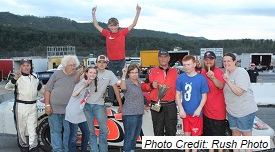 It was a year that did not start with any concrete plans for the Harrison's Motorsports team.
"It's been tough for a few years for us and we weren't planning on running all the races, but each time we would run we'd say okay, we'll do another one," only the second repeat champion in series history, his nephew Jody Harrison being the other, continued. "We took it one race at a time and that's kind of why I didn't want to talk about points because I have chased this points championship back when we had a lot of different drivers and worked real hard and come up short. This year we kept points out of our mind, but it all worked out."
A future release will go more into detail regarding the recipients of the hardware and honors that were recognized as part of the season-ending trophy presentation that took place at the end of Saturday night.
More information can be found on the Super Cup Stock Car Series official website supercupstockcarseries.com, on Facebook (search Super Cup Stock Car Series), Twitter (@SCSCSRacing), and Instagram (SCSCS_Racing).
_________________________________________________________