_________________________________________________________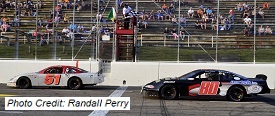 Harvey Harrison Earns Both Victories after Fierce Battles at Lonesome Pine
Coeburn, Virginia (August 21, 2023) – The year 2018 played an interesting role of significance throughout Saturday. It was the first in recent time in which Lonesome Pine Motorsports Park was not on the Super Cup Stock Car Series schedule, leaving the competitors who made the trip for the 2023 edition anxious to return and see what may have changed or stayed the same upon navigating the 3/8-mile oval.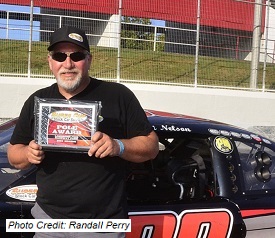 Brent Nelson earned his first Pole Award since September 2018 at Jennerstown Speedway, turning a best lap of 17.319 seconds in the No. 80 Precision Auto Collision / Airtek Inc. / Atkinson Welding / QH Design / JEBCO Chevrolet.
It was decided to invert the top five, putting track president and local favorite Jeff Roark from Abingdon, Virginia out front for the green flag. The No. 57 Ashton Racing Chevrolet would set the pace for the initial circuit before being passed by Renick, West Virginia's Brian Harrison. Unfortunately, it would be the highlight of the night for Harrison, as the temperamental No. 15 Harrison's Welding / Swearingen Bat Company / Kovach Drywall Services / Harrison's Motorsports Chevrolet snapped around in turn two, the same area in which he looped it in final practice / qualifying twice.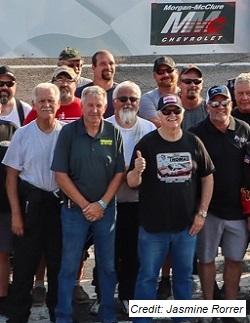 This gave Roark the lead back when the first 30-lap main event restarted, but not without a challenge immediately. Points leader Harvey Harrison, who raced Late Models in the early 1990s with the track's guest of honor for the evening, 1978 NASCAR Cup Series rookie of the year Ronnie Thomas, emerged to second and made a bid for the lead as the two ran door to door multiple times around the track built in 1972. Finally on lap seven, the lead belonged to the No. 51 John 3:16 / Southern Coal Corporation / Harrison's Motorsports Chevrolet.
The race was far from over. Nelson had advanced to third and watched determinedly as the two leaders battled, potentially looking for a third groove to join the fray. Once Harrison ultimately cleared Roark, Nelson worked his way by Roark and hunted down Harrison.
Nelson at times was able to peek his front nose and fender under Harrison, who was utilizing a unique line around the track, and both drag raced down the straightaways in the closing laps. During this time, Roark and his teammate and car owner Bill Ashton caught the frontrunners as well.
Nevertheless, Harvey Harrison held off any remaining challenges for his first win of 2023. The most recent victory of his SCSCS career came in September 2018, the same evening when Nelson last won a Pole Award.
"About thought that he was going to get me there for a little while," Harrison indicated regarding Nelson.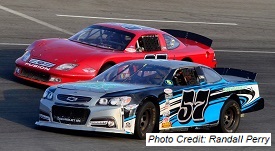 "He was right there. I had to hold him off, but we did a little bit of racing there. (Before that) we raced with (Roark) side by side, and that's what we all like. It's something when you trust guys and do that and not worry about tearing your car all to pieces."
For Nelson, the Petersburg, West Virginia racer had to settle for second and set sights on the next one this time.
"We had a really good car and, man, we were held up," the three-time winner in 2023 noted. "I played with him trying to make it look like I was going to go three wide, hoping their spotter would make him make a mistake, but that didn't happen. I was finally able to get by Jeff and then the battle was on between Harvey and I, and we had a pretty fierce battle."

Ashton finished third in the No. 35 Bill's Wood Stoves – Hopwood, Pennsylvania / Ashton Racing Ford followed by Roark and Brian Harrison.
The top four were inverted this time, giving Roark the pole once again but on this occasion providing Nelson track position on Harvey Harrison. Nelson found his way to second on the opening lap and by the next time around charged his way under Roark for the top spot.
Nelson appeared poised to check out from there, but Harrison had other intentions. He advanced to second a lap after Nelson took the lead and consistently reeled him in as the field neared the halfway point.
Following the crossed flags, Harrison began to increase the pressure and on lap 19 crossed over to the inside of Nelson to take the position away. Nelson would continue to dive his car deep into the corners to try and gain the lead back as both would exit the fourth turn side by side during many of the concluding laps.
Harvey Harrison held on though to achieve another victory, but there was something else that did not happen back in 2018, or ever for that matter. It was the first time in his career to sweep both races in one night.
"My car had been a little bit tight during the night and we kept working on adjusting on it and got it to where it could loosen up a little bit, but I noticed that Brent was really using a lot of brake," the 2016 series champion explained. "I could see his wheels glowing, but we just kept tugging along and kept pushing a little bit and finally I got under him. It was our night after that."
Harrison, who dedicated the win in victory lane to the late Mike Potter, a past SCSCS Lonesome Pine race-winning car owner, previously had a win at Lonesome Pine in 2009 but on that night was primarily the beneficiary after the cars in front of him were involved in an altercation. This time his performance had to be free of error in order to come away with both trophies, as the second-place finisher once again expanded upon as well.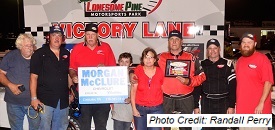 "I've raced with Harvey for years and we've run side by side to where you couldn't put a sheet of paper between us, and I think we raced that way tonight," Nelson indicated. "You can't win them all, but I think we made a pretty good show for the fans. The second race we did make a couple little changes and the car was good. Then it just started giving up and that's when Harvey got under me coming out of turn two and I tried and tried. I think I gave him all he can handle."
In addition to the fight for the lead, the battle was on behind them for third. Ashton maneuvered under Roark for the third spot in the closing stages. Roark, in only his second appearance driving with the series, was quite complimentary despite losing a spot late in the going.
"These Super Cup cars are absolutely a ball to drive," Roark, who previously competed at the touring level in the Hooters Pro Cup and NASCAR Dash Series, commented. "Lots of horsepower and you can trust everybody out there and run side by side as we showed tonight. I strongly suggest if you want to go racing economically this is the place to be. They put on a good program, a good bunch of people, fun atmosphere, all about family and all that, and just so much fun."
As a bonus for the local spectators attending all the festivities, a deal was made where if Roark did not finish on the podium in either race they would receive five dollars off admission for the next event at Lonesome Pine Motorsports Park on September 2nd. With the late race pass, that offer was realized, but once again Roark had kind remarks after stepping out of the car and saying it was the most fun he's had in a long while.
"Respect those guys, they race hard but they race clean," Roark, who last raced on a semi-regular basis in the mid-2000s, continued. "Bill raced me hard and I was looking in my mirror and I said 'I can't hold him up' and when people are faster than you like that they're going to get by you so it's best to let them go and try to race them hard. After 17 years it's a lot tougher than I remember."
After fans enjoy some local entertainment at Lonesome Pine in a couple weeks, they are encouraged to travel a few hours north to Shenandoah Speedway the following weekend. Saturday, September 9th will be the Veterans Classic at the northern Virginia facility, which will now be the site where the Super Cup Stock Car Series will crown the 2023 champion. Renovations continue at North Carolina's Little Rockingham Speedway that will result in the series not being able to close out the season as originally planned on October 14th.
Winning both races certainly puts Harvey Harrison in the driver seat for the title, but with a larger turnout already expected for the season finale weekend, the focus continues to be on each of the remaining races.
"That's all we want to do," Harrison said. "We want to get a good run and that's all we've tried to do all year. It's been our goal is to take it one race at a time. We'll have to see how it goes and how it all shakes out."
More information can be found on the Super Cup Stock Car Series official website supercupstockcarseries.com, on Facebook (search Super Cup Stock Car Series), Twitter (@SCSCSRacing), and Instagram (SCSCS_Racing).
_________________________________________________________