_________________________________________________________
Ebeling and Pack Duel for Victory and Split the Night in Absolute Thriller at Dominion Raceway
Thornburg, Virginia (August 6, 2023) – Saturday night at Dominion Raceway turned out to be one to remember for quite a few racers and those in the 3/8-mile oval's audience. With a tight schedule consisting of 10 feature races, including the twin main events for the Super Cup Stock Car Series, some adjustments were made to ensure that everyone's time invested would pay off.
The second SCSCS practice session doubled as qualifying, and it was Ben Ebeling becoming the first repeat Pole Award winner of 2023 with a time of 16.153 seconds. Surprisingly recording the second fastest time was another former series champion JJ Pack. The driver who resides 45 minutes up the road in Midland, Virginia was shaking down Jason Schue's No. 3 to provide feedback. However, the decision was made for the Littlestown, Pennsylvania driver to take the first green flag, thus relegating Schue to the rear of the starting order.
Richard Hauck from Howell, Michigan started second following a fifth place qualifying run and ensuing redraw and kept the No. 31 Hauck Enterprises Inc Dodge in that spot for the first couple laps, but it was Ebeling out front and appearing to have the car to beat. Nevertheless, his car owner Bill Ashton moved up to second and the decided upon 30-lap distance was far from a walk in the park for the 2021 series champion.
Ashton worked within a car length of Ebeling numerous times but was not able to mount a successful bid for the lead.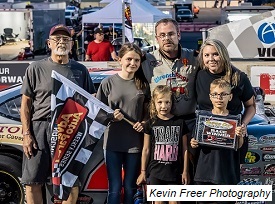 "All three of my kids are my good luck charm, but Lilly pulled the '1' pill so that helped us out a bunch," the flag-to-flag winner said. "It was fun racing with Bill, having the car owner right behind you."
It was the sixth win at Dominion and third of 2023 for the No. 44 Startown Carpet & Floor Coverings / Swanny's Auto Sales / Wrenn's Lawn Service / L & C Truck Repair / Battery Specialist of Hickory / Good Frames, LLC / Williams Ebeling Enterprises Ford, but certainly could have been a different outcome if there was a single misstep.
"He's been threatening me to put that red bumper to the back of our car a few times," the Hickory, North Carolina driver laughed. "He was pushing it for everything it was worth. Trying to help Bill and trying to get him on the line. He was asking me questions earlier, so a lot of times if you've got a rabbit to chase it helps out."
For Uniontown, Pennsylvania's Ashton, it was his best performance since his victory in 2016 at Jennerstown Speedway.
"It was really exciting to be able to run with (Ebeling) and I thought about rattling his cage a little bit, but then I thought better of it," the driver of the No. 35 Bill's Wood Stoves – Hopwood, Pennsylvania / Ashton Racing Ford remarked. "I could catch him, but I couldn't pass him. He's just that good."
Harvey Harrison, Brian Harrison, and Schue unofficially finished third, fourth, and fifth in that order. Warrington, Pennsylvania's Mike Senica had a top five run going with the No. 57 ASAP Energy Drink / Ashton Racing Chevrolet but unfortunately spun on the front straightaway, bringing out the only caution of the evening coming to the white flag.
In a unique format to keep the evening's program moving along, cars came down pit road for a very quick service, lead lap finishers from the first race were inverted, and returned back onto the track to immediately take the next green flag.
Brian Harrison from Renick, West Virginia led from the get-go. On lap five, Ebeling found his way to second and a lap later worked under the No. 15 Harrison's Welding / Swearingen Bat Company / Kovach Drywall Services / Harrison's Motorsports Chevrolet for the lead.
Charging fast though was another car in which the earlier mentioned practice provided some foreshadowing. During the approximately five-minute break between races, a driver change took place with Pack climbing onboard the No. 3 Firehouse Grill / 1st Choice Computer Solutions / Littlestown Car Wash / Peckie's Auto Body / Larry's Lawn Mower Repair / Jason Schue Racing Chevrolet in place of Schue.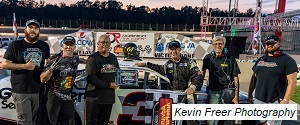 Starting from the back, Pack was up to second the next time by after Ebeling took the top spot and was hounding the winner of the first race lap after lap. Closing in on 10 circuits left, Pack drove to the outside as they encountered early leader Brian Harrison and successfully made the pass. Slower traffic made for an additional obstacle over the final set of laps, but Pack was successful in holding off Ebeling for the victory.
"Honestly, I was questioning if I still had it because it's been so long," Pack, who was making his first SCSCS start since August 2021, stated. "I love racing with Ben and I saw an opportunity there and took advantage of it and just came out on top. It was great racing. I was hoping we would go side by side for a while there because for a moment I thought it was going to happen."
It was the seventh victory of Pack's SCSCS career, the first at his home track to go with a win that was his first in the series in 2011 at the former Old Dominion Speedway in Manassas, Virginia that closed at the end of 2012. All of it could not have been possible without the opportunity to compete in a car that he helped bring to life for a fellow racer that has also been a staple of the series for quite a few years now.
"If it wasn't for Jason (Schue) letting me drive it and set it up for him I would have never gotten the win for him tonight," Pack indicated. "I saw Ben was riding it out and I said 'as soon as he sees it's me he's going to step it up' and that's exactly what he did."
Interestingly, it was Pack's second win in a GM Goodwrench decorated No. 3, previously driving a car for team owner Cal Richardson at Motordome Speedway in 2013. Ebeling echoed being somewhat caught by surprise, given the latest No. 3 not normally coming through the field at the pace it did.
"I have to admit I wasn't sure what that white nose was sticking on the outside quarter, but I learned really quick what it was," Ebeling, who crossed the line in second, noted. "(My spotter and wife) Michelle came on the radio and she said, 'JJ's on your outside quarter' and I'm like oh, yeah, it's time to go.
"I honestly had more fun in the second race than I did in the first race. That's what we got into this for and what we live for, racing side by side and having that competition. When you've got good guys you're racing against like JJ and know they are going to give you the respect and whatnot, man, that's it. That's what we're out here doing. It's a ton of fun to come out here and get that adrenaline rush. We were close but just not quite enough."
Renick, West Virginia's Harvey Harrison continued his string of second and third place results, this particular night being the first time the No. 51 John 3:16 / Southern Coal Corporation / Harrison's Motorsports Chevrolet was running at the end of a race at Dominion. Ashton and Brian Harrison closed out the top five.
The continued consistency regained first in the standings for Harvey Harrison with an unofficial 30-point lead over Ashton and Brian Harrison only 13 back from second. Three-time winner in 2023 Brent Nelson was absent due to a planned family vacation, but with two races being able to be dropped factored in still remains less than 100 points out in fourth.
On the strength of three best career fifth place finishes behind the wheel in 2023, Schue is fifth in the standings. Now being able to call himself a Super Cup Stock Car Series race-winning team owner, the typically mild-mannered racer was perhaps the most elated at the end of Dominion Raceway's Saturday night festivities and hinted toward what the future could look like.
"It was a fun race to watch," Schue commented. "It was a good one. Once (Pack) got the lead with that pick over (in turn 2) I figured we had it then. We talked about it over the winter. I was going to run the first race and let him run the second race. I think next year I'm going to let him run full time."
Lonesome Pine Motorsports Park in Coeburn, Virginia is next on the schedule on Saturday, August 19th. It will mark the first visit for the series to the 3/8-mile oval since 2017.
More information can be found on the Super Cup Stock Car Series official website supercupstockcarseries.com, on Facebook (search Super Cup Stock Car Series), Twitter (@SCSCSRacing), and Instagram (SCSCS_Racing).
_________________________________________________________