_________________________________________________________
SCSCS Defeats the Storms and Nelson Defeats the Competition at Pulaski County Motorsports Park
Fairlawn, Virginia (July 30, 2023) – Mother Nature tried with all her might to rain on Saturday evening's party at Pulaski County Motorsports Park, but the short track racing program featuring the Super Cup Stock Car Series prevailed with a familiar face in victory lane when all was said and done.
Starting festivities in the hot and humid environment it was someone new hoisting the Pole Award plaque.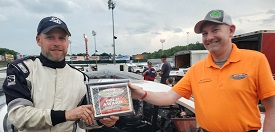 Renick, West Virginia's Brian Harrison set fast time (17.387 seconds) for the first time in his longstanding SCSCS career. Unfortunately, this would be the highlight of the day for the No. 15 Harrison's Welding / Swearingen Bat Company / Kovach Drywall Services / Harrison's Motorsports Chevrolet.
Harrison would lead the opening seven laps of the first of twin races as raindrops began to increase. A yellow was displayed at that point to evaluate whether track conditions were favorable to continue. Heading toward one lap to green, Harrison suddenly pulled off the track and toward his pit stall. A failure with the pinion in the rear end, the original rear end in which his cars have utilized since joining the series in late 2008, was the culprit and concluded his night.

As a result, 16-time SCSCS winner Brent Nelson inherited the top spot when the green flag waved. The race resumed for only two more laps when at this point guest driver in the No. 57 Ashton Racing Chevrolet, the facility's General Manager Jeff Roark, went for a spin in turn two. The Abingdon, Virginia driver's evening would also ultimately be cut short with related issues to the car's rear end.
During this second caution period, the precipitation's pace would pick up and the red flag was displayed. Luckily, only approximately 30 minutes of track drying was necessary, and racers were quickly called back to their cars.
The remainder of the night's weather improved, although to keep the show moving along it was decided the first main event would be shortened from 50 to 40 laps. Nelson maintained a relatively comfortable advantage and went on for his first win at the Fairlawn, Virginia facility.
"Following Brian, the track was extremely slick and of course I'm screaming on the radio 'they need to red flag it' and Brian's leading and wanting to go and I understand that," the Petersburg, West Virginia competitor indicated about the challenging conditions from the first race. "I was fortunate that he broke, but glad he got the pole and was looking forward to running with him."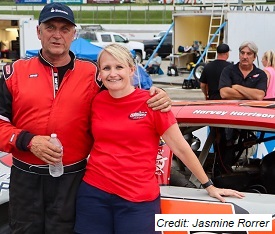 Brian's father Harvey Harrison continued his season of consistency with a runner-up finish, a recovery from a spin on his qualifying lap earlier in the day. Followed at the line was Uniontown, Pennsylvania's Bill Ashton with Howell, Michigan's Richard Hauck bettering his result from Jennerstown last month by one with a fourth-place finish. Jason Schue from Littlestown, Pennsylvania matched a career best fifth, his second top five run in 46 starts.
For the second feature the top three finishers were inverted in the starting order and, due to a few cars being unable to start, a race length of 30 laps was agreed upon.
Excitement was the keyword at the start of this one, as Ashton and Harvey Harrison dueled side by side for each of the first few laps. Harrison's No. 51 John 3:16 / Southern Coal Corporation / Harrison's Motorsports Chevrolet barely edged its way ahead on the high side at the line for the top spot during the first two circuits, while Ashton's No. 35 Bill's Wood Stoves – Hopwood, Pennsylvania / Ashton Racing Ford led lap three by inches and then became clear out front a couple laps later.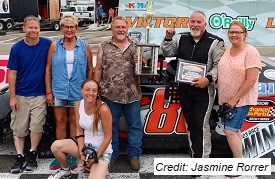 Amidst all this battling, Nelson was right there in the mix, overtaking Harrison for second on lap seven. The next time around, he passed under Ashton for the lead. Harrison then found his way by for second.
Although Nelson had track position, this event was far from over. Harrison kept his car within a car length and started peeking to the outside on a few occasions in the corners.
Nevertheless, Nelson held on to sweep the night.
"Very exciting for us," the driver of the No. 80 Precision Auto Collision / Airtek Inc. / Atkinson Welding / QH Design / JEBCO Chevrolet commented. "Coming off a win at Jennerstown and then to come down here and get, not only one but, two wins it finishes off a perfectly good weekend."
Down the stretch with the evening temperatures cooling, adapting to ever-changing track conditions and handling of their cars certainly presented a challenge for competitors.
"The second race I didn't free it up enough," Nelson continued. "The car was getting tight and fortunately Harvey was getting tight pretty much in the same spot. We both were washing up the track, but we were able to hold onto it and bring it home. We'll get it fixed and go on to the next one."
For Renick, West Virginia's Harvey Harrison, a pair of second place performances to go with his three finishes of third so far this year was satisfying for the most part.
"I'm okay with it," Harrison laughed. "I feel like we needed a few more laps because Brent was using his brakes pretty heavy, and I think it was going away from him. There's no guarantee but I believe we may have been able to get him."
Ashton's laps led and pair of podium results were some of the most fun he's had in racing, despite losing some ground in the closing stages.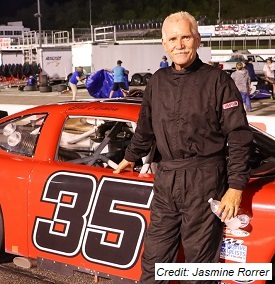 "That's why I come to race," Ashton stated. "There's nobody better to run side by side with than Harvey. To finish third to Brent and Harvey, I'll take that any day of the week. My car was fine, but I've got to talk to the driver because I think he was slacking a little bit."
"Me and Bill ran side by side and we loved it," Harrison added. "We've done that several times, running door to door and racing so close that you don't touch."
Hauck replicated a fourth-place finish in the No. 31 Hauck Enterprises, Inc. Dodge while Schue rounded out the top five again in the No. 3 Firehouse Grill / 1st Choice Computer Solutions / Littlestown Car Wash / Peckie's Auto Body / Larry's Lawn Mower Repair / Jason Schue Racing Chevrolet.
While the points race for the championship seems to be the furthest thing from the minds of many right now, the scorecard and precise calculations involved are extremely tight going into the next scheduled event only one week away at Dominion Raceway in Thornburg, Virginia on Saturday, August 5th.
Unofficially, Nelson holds a two-point margin on Harvey Harrison as the new leader in the standings. Meanwhile, Brian Harrison has an even slimmer one-point advantage over Ashton for third, both only a little over 50 points back from the top two.
With the quick turnarounds between events during this summer stretch, racers are definitely attempting to not look too far ahead.
"Been taking it one race at a time," Harvey Harrison commented. "I've tried so hard not to think about (points) because it puts a lot of pressure on you and you actually race different."
One thing is for certain, every lap counts and each competitor is working in the moment to achieve their best outcome possible when it comes to the 2023 Super Cup Stock Car Series season.
More information can be found on the Super Cup Stock Car Series official website supercupstockcarseries.com, on Facebook (search Super Cup Stock Car Series), Twitter (@SCSCSRacing), and Instagram (SCSCS_Racing).
_________________________________________________________