_________________________________________________________
2019's First-Time Top 10 Points Finishers Utilizing Extra Time to Up Their Game for 2020
Statesville, North Carolina (May 31, 2020) – At the conclusion of 2019, a half dozen drivers were celebrated for their inaugural entrance into the final top 10 in the Super Cup Stock Car Series standings. Five of them have already committed to the season-opening event at Jennerstown Speedway Complex and Campground on Saturday, July 11 and will for certain be set to improve upon those marks in 2020.
Lauren Butler not only captured Rookie of the Year honors last year, but also claimed fourth in the overall standings, a mere nine points shy of third. Adapting quickly to venues and the traits they offer was a regular occurrence in 2019 aside from the aforementioned in which she is a former weekly champion and had a pair of career best runner-up results. Her past knowledge from driving and winning in Street Stocks is a style that has evolved into a rather seamless transition to a 600 horsepower, 3,300 pound machine.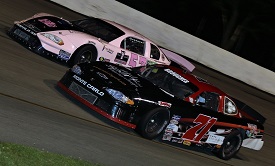 "I like that it takes a lot of skill," the West Mifflin, Pennsylvania driver remarked. "You can have a fast car all you want, but this division truly allows the drivers to shine in what they do and allow them to hone in on their driving skills and that's really what I enjoy."
Nevertheless, the challenging continuation of exploring facilities she has never raced will now occur later in the new season as part of the Indy Revolution event at Lucas Oil Raceway on Saturday, October 24.
"If going to pick up our transmission counts, we did get to actually see the track once but that's about it," Butler recently shared about the 0.686-mile oval. "It looks fast, we've heard it is fast, and one of the gentlemen that works up there kind of gave us some pointers here and there."
The Edlin Motorsports team has spent the couple months of unexpected downtime cleaning up their shop and going over the car as far as they can, with the installation of a "heartbeat" under the hood the final step in the process. In regard to the health sector in everyday life, Butler also accomplished an exciting goal of being a Surgical Technologist.
"I've waited two years to finally graduate college and get into my actual career that I'd like to be doing," Butler explained. "Everything I've been learning so far in orientation, I love everything about. I really like to help people and help their quality of life."
As for her expectations on the track for 2020, they are some pretty high ones to set for her second full season in the SCSCS.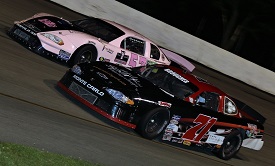 "My goals for this year are definitely to win at least two races," Butler indicated. "One of those wins I would definitely like to be at Jennerstown Speedway, my home track. I also would like to tackle the Northern (Division) championship."
Jerod Brougher was the Top Performing Rookie in 2017, but his steadiest season to date came last year with a seventh place points outcome. Finishing outside the top 10 not once and being a front-running contender during almost outing was a humbling feat for a family effort that works on their car only when the time allows between races.
"It felt good for our team," Brougher reflected. "If you look at what we started out with, it is a show of what our potential is. I'm thankful to the series for us to have a place to race and my family for giving me the chance."
Brougher, also a former feature winner at Jennerstown in a Street Stock, performed at his best at the track closest to his Stahlstown, Pennsylvania home. Despite leading 26 laps and three of his four top five finishes in 2019 coming there plus two runner-up finishes in his SCSCS career, he was quick to point out his practical approach.
"I have to give a straight out no," Brougher answered in response to the possibility of earning a first points victory. "There are too many good drivers, so I'd say I'm not looking for a win this season. We're blessed and fortunate that we can even do this."
The JKB Motorsports team will certainly be looking to do the best they can still. They were pleased to receive the extra time to get ready for 2020 in regard to picking up parts and putting the car back together.
"We did more work this offseason than previous years," Brougher, who will run a limited schedule this year which will include both Jennerstown events and perhaps a couple other races, explained. "We went over bushings, ball joints, and other pieces that wear. We'll go from there on what needs to be done. Some of it is up in the air but we take it day by day."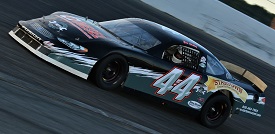 Ben Ebeling has been handling multiple tasks in North Carolina in the meantime while his children are home from school and his wife and spotter on many race weekends, Michelle, handles essential tasks as a hospital lab worker.
"It's a way different atmosphere for me at the shop right now, trying to get things done and have three kids around," The Hickory resident commented. "It's difficult to do both well, we'll say."
Ebeling had his best SCSCS year to date with his first career Pole Award, five of them altogether, and five victories. Despite earning three consecutive Southern Division titles, he has yet to make a run at the overall championship. That could change in 2020.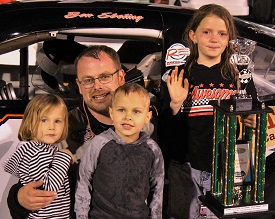 "We weren't really sure what we were going to be doing this coming year," Ebeling detailed regarding the offseason. "Had some things happen at the end of the year that we didn't get to quite finish out like we wanted to, but got a new situation. Trying to put together the rest of the pieces right now to make a competitive package so we can try and run a full season. This extra time definitely won't hurt us at all."
Ebeling came on the SCSCS scene in 2016, winning his first time out at Lonesome Pine Raceway driving for veteran racer Mike Potter. Ever since then, the general concept of what the series is all about has kept him coming back for more.
"I really like what (Director of Competition) Joe (Schmaling) has done with the tires and what he's got as far as rules with the cars," Ebeling mentioned. "I feel like he has put it in the driver's hands more than some of the other series that are out there. To me, it's a lot more about driving the cars and being smart and I enjoy that part of it."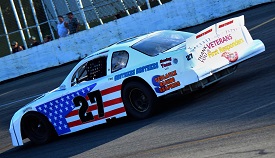 At the tail end of the top 10 were twin brothers who started off with a $100 go kart a few years back and completed their first full season in a stock car. Landon Brothers achieved six top 10 finishes on his way to ninth in the final standings. Although sometimes having to share one car, splitting the ride over twin races, the Brothers Brothers Racing Team was in attendance at every event during the 2019 campaign. The goals have advanced slightly further into 2020.
"We want to try and make it to every race, but then we want to finish the races because last year we had a lot of problems with the cars, engines blowing up and losing the brakes one time, and all that stuff," Landon Brothers noted. "So we want to try and finish the races."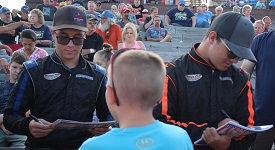 In preparation, the team has made a couple trips south from their York, Pennsylvania home in order to upgrade their effort.
"We went down to North Carolina and bought two engines and the one is ready to be put in the car so we should be good," Hayden Brothers, who had four top 10s and was 10th in points, said.
After soaking in advice from fellow drivers, most at least twice their age, both Landon and Hayden collected Most Improved Driver of the Year honors at the conclusion of 2019 and have become among the fan favorites at each track. They have also been active off the track, performing school work from home and organizing a golf tournament, which unfortunately had to be rescheduled from April to October 2020.
"So that was supposed to be in memory of Matt Clancy," Hayden Brothers began to describe regarding the proceeds they are raising. "He was a first responder and committed suicide, so it's for PTSD awareness."
Interested competitors are urged to respond to Joe Schmaling at JoeSCSCS@gmail.com or call (828) 768-3589) as soon as possible with intentions to participate, tire needs, or any questions involving the season-opening event in Jennerstown, Pennsylvania.
Further updates will be forthcoming on the Super Cup Stock Car Series official web site www.supercupstockcarseries.com, Facebook (search Super Cup Stock Car Series), Twitter (@SCSCSRacing), and Instagram (SCSCS_Racing).
_________________________________________________________