_________________________________________________________
Adjusted 2020 SCSCS Season Slated to Begin with Inaugural Indy Summer Nationals
Dominion Opener Canceled, Kingsport and Shenandoah Postponed Due to COVID-19 Pandemic
Statesville, North Carolina (April 27, 2020) – After multiple weeks of observation as a result of originally unforeseen circumstances, the Super Cup Stock Car Series has come to a decision regarding looking ahead at what remains a highly anticipated 2020 season.
In a previous bulletin posted on the series site and social media channels, competitors were already informed that it became evident the season opening event at Dominion Raceway on May 2nd would have to be canceled in accordance with CDC guidelines and travel-related recommendations in place and will not be rescheduled. A wait-and-see approach was agreed upon at that time as it relates to the remainder of upcoming scheduled events.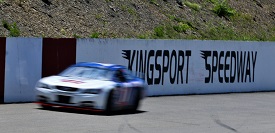 At this stage series officials have arrived at a conclusion for the near future. The SCSCS portion of May 15th's Friday night action at Kingsport Speedway has been postponed, possibly being rescheduled to a date later in the year. Fans in the Eastern Tennessee area are encouraged to follow track updates for when "The Concrete Jungle" resumes their local program.
In addition, the second annual Veterans Classic at Shenandoah Speedway has been placed on hold indefinitely due to the Virginia commonwealth's stay-at-home order expiring after the scheduled race date of June 6th.
A number of factors went into making such a determination ahead of time. Much has to do with both the overall health of the vast community the SCSCS represents as well as proper timing and preparation in order for a successful show to take place.
"We need three to four weeks to get our little series up and running," SCSCS Director of Competition Joe Schmaling indicated. "It would be hard to make events like Kingsport work from here even if they were to open now."
Nevertheless, the focus shifts to a full slate of remaining events at prestigious venues. On three prior occasions in series history, competitors had to wait until the month of June to go racing. In each of those instances a record turnout of SCSCS cars at the track they visited was witnessed.
The inaugural Indy Summer Nationals is scheduled to be the initial event to see the 3,300 pound, 600 horsepower machines on track. As of now the first series appearance at Lucas Oil Raceway (formerly Indianapolis Raceway Park) outside Indianapolis is all systems go with the ongoing potential of having to set particular precautions as needed. Teams are urged to utilize the month of May to consider forthcoming communications that will be made and to announce their commitment including tire needs to series officials in advance so that various details can be prearranged.
Currently planned for the Father's Day weekend are festivities at the drag strip adjacent from the 0.686-mile oval, a car show, swap meet, plus added entertainment for an extravaganza that is sure to thrill any automotive enthusiast. All of the short track action on Saturday, June 20, including the Must See Wingless Sprints, Midwest Supermodifieds, and Midwest Compacts which the SCSCS will be joining, will be streamed live on Speed Sport TV with further details to follow.
The first of two visits to the always popular Jennerstown Speedway in Western Pennsylvania on July 11th and a return to Southern Indiana's Salem Speedway for a second straight season closing out that month stay the same as both venues actively evaluate their operations on a week-to-week basis at the moment. The inaugural races on the high-banks in the Hoosier State last July were met with positive acclaim from the region's fans. Four racers made their series debut, competing alongside the series regulars for the first time.
A special anniversary will be happening on Saturday, August 8 in Eastern Ohio. It will mark the 10th consecutive year the SCSCS has made the trip to the first-class Midvale Speedway 3/10-mile oval, the longest tenured track on the schedule. The facility's management and officials have already been executing safety updates and enhancements in response to the pandemic.
The remaining two events will once again take place at a pair of premier partner tracks. Jennerstown will move back to its prior standard late August date with the first race on that day in the Laurel Highlands region celebrating a milestone 25th green flag the SCSCS has taken on the 1/2-mile.
Dominion, for the third consecutive year, is tentatively the site that will name the 2020 SCSCS champion during the final weekend of September. The Thornburg, Virginia entertainment complex is right off interstate 95 and features a bar and grill, road course, and drag strip among the amenities in addition to the 4/10-mile oval. Twin 60-lap features are planned for this date in which drivers and spectators are sure to be eager for since the opening date will no longer happen.
A twin feature format remains intact for each race day, in which teams will often be facing the challenges that come with competing once in daylight and once following sunset, all the while managing one set of American Racer tires through qualifying and both features.
A placeholder remains open on the weekend of September 12th for any pending changes or additions as it relates to rescheduling of events. Altogether, the 2020 schedule continues to be flexible and subject to change based on the current evolving situation, weather, or any other unexpected conditions.
As a result, no specific format has strictly been determined at this time regarding separate titles for divisions based on driver's geography that has been in place for the last three years or a Championship Series structure that was implemented in 2019. That said, since the lineup of drivers and teams has grown to represent four different areas of the country, the series will be looking to recognize each of their efforts and influence potential additional regional awards.
SCSCS drivers and teams have been showcased in front of a national audience on the MAVTV Motorsports Network on several occasions over recent years and that relationship will be no different into 2020. Jennerstown in August and Dominion in September have already been confirmed as film dates with one or two more events possible for a total of six to eight races to premiere later in the year. More information available regarding television and possible streaming is forthcoming.
Any further updates will be posted on the Super Cup Stock Car Series official web site www.supercupstockcarseries.com, Facebook (search Super Cup Stock Car Series), Twitter (@SCSCSRacing), and Instagram (SCSCS_Racing).
Super Cup Stock Car Series 2020 Schedule (as of 4/27/2020)
CANCELED - Saturday, May 2 - Dominion Raceway, Thornburg, VA
POSTPONED TBD - Friday, May 15 - Kingsport Speedway, Kingsport, TN
POSTPONED TBD - Saturday, June 6 - Shenandoah Speedway, Shenandoah, VA
Saturday, June 20 - Indy Summer Nationals at Lucas Oil Raceway, Clermont, IN (streamed live on Speed Sport TV)
Saturday, July 11 - Jennerstown Speedway, Jennerstown, PA
Saturday, July 25 - Salem Speedway, Salem, IN
Saturday, August 8 - Midvale Speedway, Midvale, OH
Saturday, August 22 - Jennerstown Speedway, Jennerstown, PA (filmed for MAVTV broadcast)
Saturday, September 12 - Pending/Open Reschedule Date
Saturday, September 26 - Dominion Raceway, Thornburg, VA (filmed for MAVTV broadcast)
· All events feature a twin race format and award points toward the overall championship
· Exact Division/Championship structure TBD
· Additional events to be filmed and/or streamed is pending
· Schedule subject to change without notice
_________________________________________________________