_________________________________________________________
Two Businesses Add Their Names to Growing List of SCSCS Partners
Statesville, North Carolina (February 3, 2020) – The Super Cup Stock Car Series has been making an effort over the offseason to partner with businesses that can continue to assist in benefitting the racer through diverse aspects.
One item that has been increasingly communicated in recent time to teams is a mandatory requirement for a dedicated crew member, primarily the spotter, to have access for monitoring race control during a given race. To ease the process for some, during last month's Performance Racing Industry show in Indianapolis the SCSCS has teamed up with RACEceiver in an endeavor for competitors to obtain products for the 2020 season and beyond.

Founded in 2001, the RACEceiver product was created in part by founder and current president Joe Vinson to further the concept of making a more compact radio scanner that would be user friendly for spectators and competitors alike. Over the years, the product has become the standard for one-way communications across all types of auto racing, and while headquartered in Georgia, has a network of more than 350 dealers worldwide.
It is the goal of the SCSCS to coordinate with RACEceiver as they continue to innovate and introduce technology, such as the LapCeiver audible lap timer and various accessories, which can keep competitors better informed and their long-term costs to a minimum. Teams can go to www.RACEceiver.com for more information as well as consult with additional series partner, Racing Radios, in order to acquire the necessary products.
On a related note, series officials will also be conveying additional details soon regarding and encouraging transponder ownership for the new racing season.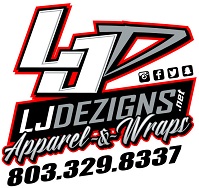 LJ Dezigns has also signed on as a partner for 2020, becoming the official apparel provider for the series. Based in Rock Hill, South Carolina and owned and operated by Lee Jordan, LJ Dezigns offers a wide range of services from screen printing to embroidery to decal graphics and wraps, signage, and banners for motorsports and other lines of business. Clients of theirs have included media partner PRNs at the Track, the Southeast Legends Tour, and numerous local and regional racing teams.
A new batch of SCSCS t-shirts and hats will be available in time for the season opening event at Dominion Raceway on Saturday, May 2 for fans and racers to purchase at a continued low cost. For those involved with teams in the series that are looking for their own personal solution, LJ Dezigns offers fair and affordable value for organizations of any size. A gallery of samples is available on their site at ljdezigns.net and can view pricing on their Facebook page.
Drivers and fans can keep up to date on Super Cup Stock Car Series happenings throughout 2020 at the official web site www.supercupstockcarseries.com, Facebook (search Super Cup Stock Car Series), Twitter (@SCSCSRacing), and Instagram (SCSCS_Racing).
_________________________________________________________