_________________________________________________________
Indy Bound:
Super Cup Stock Car Series to Debut at Lucas Oil Raceway in June 2020

Indianapolis, Indiana (December 15, 2019) – The Lucas Oil Raceway at Indianapolis bears a rich history when it comes to stock car racing. Previously known as Indianapolis Raceway Park, the 0.686-mile oval hosted the NASCAR Xfinity Series annually over a 30-year span, the Pro Cup Series visited on five occasions, the former USAC Stock Car Series made numerous appearances dating back to the 1960s, and the ARCA Racing Series still competes there to this day.

Now the Super Cup Stock Car Series will take its turn at adding a page to the record books on Saturday, June 20th, adding a second facility in the Hoosier State to the 13th season docket thanks to what is sure to be a second to none motorsports event promoted by Mike Moore of RevsRacing LLC.

"We have the opportunity to put our footprint in the Midwest and adding Lucas Oil Raceway to our schedule this year is just absolutely exciting to me," SCSCS Director of Competition Joe Schmaling remarked recently at the Performance Racing Industry show held in Indianapolis. "To bring our series to this part of the country is fabulous. We want to thank Mike for inviting us to the Indy Summer Nationals that we are going to be a part of with our friends at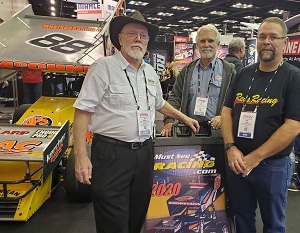 Must See and a few others. We're going to have a big day and thankful to be a part of it. The future starts right now and it's going to go right through the Crossroads of America here in Indy."
The Indy Summer Nationals will feature something for everyone either visiting from out of town or from the local area. Headlining the festivities on the oval will be the return of non-wing Sprint Cars for the first time since 2011 to LOR for a special show sanctioned by the Must See organization utilizing the same rules as the infamous Little 500 held annually at the Anderson Speedway the night before the Indianapolis 500. Hall of Fame racer Tom Bigelow will serve as the event's grand marshal.
Also accompanying the 3,300 pound, 600 horsepower SCSCS machines as part of the supporting cast will be the fiercely fast Midwest Supermodifieds and the economical Midwest Compacts. Meanwhile, the adjacent Lucas Oil Raceway drag strip will have all kinds of competition over a three-day period with a car show and swap meet also being planned.
"I kind of took my lemons and made lemonade and said okay I have a facility – a dragstrip, an oval site, a swap meet," event promoter Mike Moore mentioned. "We're going to put together a big mega-event, as I'm calling it an auto enthusiast kid in a candy store event. We're doing anything from Hot Wheels to racecars. Every kid that comes out is going to walk away with a Hot Wheel (die-cast), and it's just going to be everything from one aspect to the other. Basically, we're having four 'A' series come in."
For additional entertainment when not taking in the drag racing action or Saturday evening at the short track, there's always the neighboring town of Speedway and bustling downtown Indianapolis to show dad and family around on Father's Day weekend. If that's not enough, fans of motorsports also have the option down the road to enjoy the informative IMS Museum and daytime ambiance taking place at the infamous Indianapolis Motor Speedway as the nationally touring Trans Am Series and Sportscar Vintage Racing Association will be tackling their road course layout.
SCSCS veteran Bill Ashton will be one of many that will not be seeing the Brownsburg, Indiana multipurpose facility for the first time. The current leader in consecutive points race starts from Uniontown, Pennsylvania echoed Schmaling's thoughts on thanking Moore for the opportunity and taking the initiative to organize such an event.
"It's going to be something else," Ashton commented. "I drove my Street Stock at Lucas Oil Raceway a couple years ago and I love the track. It's a very classy facility and I can't wait to drive there."
In addition to Ashton, numerous drivers that competed in a SCSCS race in 2019 have been to LOR before. Mike Potter and Joe Cooksey participated in the same Xfinity race in 2001, Josh Clemons and Will Kimmel have both been on the track in Super Late Models, Dale Shearer in an ARCA car, Doug George in the Truck Series, while JJ Pack and Allen Purkhiser each made Pro Cup starts and even Tim Richardson has been there in an open-wheel F2000 car. 2018 series champion Bob Schacht had perhaps the most success, scoring two ARCA victories to his name there in the 1980s, outrunning the late NASCAR Cup Series star Davey Allison among other competitors.
Link to a full video interview from the Indiana Convention Center with Moore, Schmaling, and Ashton can be viewed here with more details becoming available about this cannot miss event to kickoff summer 2020 in the near future.
More information regarding each event and a full schedule will be available as the start of the new season approaches. Fans are encouraged to visit www.supercupstockcarseries.com and be sure to stop by Facebook, Twitter, and Instagram for continued updates and announcements that become available.
_________________________________________________________