_________________________________________________________
SCSCS Carries On With Midwest Presence in 2020:
Midvale and Salem Dates Announced

Statesville, North Carolina (November 15, 2019) – Since its onset 12 years ago, the Super Cup Stock Car Series has steadily taken residence in a portion of the Midwest area of the United States at one point or another. The Buckeye State has the distinction of being the only state that has hosted at least one event every season. In 2019, the drivers and teams took the show a little further on the road, making their inaugural appearance in the Hoosier State.

The same intentions will continue into 2020, as SCSCS officials have worked with facility staff to confirm a date on the schedule to visit Indiana's Salem Speedway once again.

"The Super Cup Stock Car Series event in 2019 was a huge success and a great fit for Salem Speedway fueled by the Hoosier Lottery," track PR/Media Director Don Radebaugh stated. "Salem has been running the steel-bodied cars for decades, and they've always been a fan-favorite. With the availability of so many of these types of race cars in this area, it makes perfect sense to showcase them at Salem...and what a great show on the high-banks. We're looking forward to the return of the Super Cup Stock Car Series in 2020."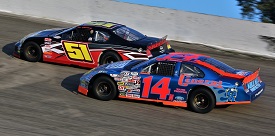 The popular mid-summer event returns on the same weekend, Saturday, July 25th, one in which virtually no major racing series are competing. Last year's races resulted in a balance of veteran racers who never saw the daunting .555-mile oval in-person until the day of the race and some prior favorites at the track battle all the way to the checkered flag.
North Carolina's Ben Ebeling was the big winner in 2019, barely outrunning a charging Allen Purkhiser from South Carolina. He mentioned afterward both the enjoyment and workout wheeling his 3,330 pound stock car around the 33-degree banked corners gave him, having to focus every split second.
Championship contenders Kevin Kromer and Ron Langdon remarked about the learning experience and overall blast they had, each promising they will have something to match the frontrunners next time.
Four drivers attempted their SCSCS debut, some of the highest marks the series has witnessed upon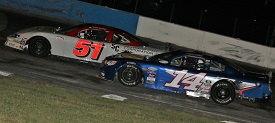 entering a different region. Josh Clemons, Joe Cooksey, Will Kimmel, and Dale Shearer each brought their racecars out of garages to make an appearance, momentum the series hopes to repeatedly promote.
"Our schedule is flexible enough to hold a race in new markets with an open date in September during our championship races between our already confirmed events at Jennerstown Speedway and Dominion Raceway," series Director of Competition, Joe Schmaling, referenced. "Location is to be determined and will be dependent upon interest and intention from that part of the country to race with us."
Teams with cars in their possession which are similar in style that have been or are being phased out by other racing series potentially can race with approval on a case-by-case basis. The SCSCS will make every attempt to be inclusive, maintaining fair and level competition as well as the integrity of the existing rules platform. Interested parties are encouraged to contact Schmaling with inquiries at JoeSCSCS@gmail.com heading into the 2020 campaign.
Two weeks after visiting one of the biggest tracks on the schedule, the journey moves on to the smallest circuit that hosts the cars and stars. Although on the eastern end of Ohio, Midvale Speedway remains within a reasonable distance for those stationed near the Crossroads of America to make the trip on Saturday, August 8th.
The 3/10-mile oval holds a great amount of history spanning over six decades, in which track owner since 2017, John Chapman, has considered himself fortunate to be a part of for a majority of that time.
"In 1968 I was five years old and fell in love with this place," Chapman noted during the August 2019 series visit. "Being in this rural area and still being supported by these people that love racing around here; you go down the street and you'll see a racecar. It's just the passion of this area. 65 years; I'm just carrying on the legacy that my forefathers have luckily brought on."
The most recent running saw an unprecedented second occurrence where two first-time winners, Ron Langdon and Mike Potter, were named in one night. 2020 will mark a complete decade that the Super Cup Stock Car Series has held an event at the first-class facility.
"They have always welcomed us and it's great to have a welcoming crowd too," SCSCS PR Coordinator Aaron Creed mentioned. "Some fans save up all year to come to Midvale Speedway on Super Cup night and it's humbling to us to have that. To have tracks that have been supporting us for several years now, we're fortunate to have facilities like these that we can come back to year after year."
Families can also take full advantage of the warm weather to incorporate a road trip or weekend getaway to complement their time at the racetrack. Midvale Speedway actually lies at the boundary of the larger city of New Philadelphia, less than 90 miles from Pittsburgh, Pennsylvania, a short trip from a handful of state and national parks, and a quick half hour drive south of the Pro Football Hall of Fame in Canton.
Meanwhile, Salem Speedway is within a stone's throw of downtown Indianapolis to the north and Louisville, Kentucky to the south, and for those searching solitude following an adventurous race day, a multitude of recreation awaits throughout the Hoosier National Forest less than an hour west.
As aforementioned, the Super Cup Stock Car Series is currently in talks to potentially add a third date in the general geography as well.
More information regarding each event and a full schedule will be available as the start of the new season approaches. Fans are encouraged to visit www.supercupstockcarseries.com and be sure to stop by Facebook, Twitter, and Instagram for continued updates and announcements that become available.
_________________________________________________________