_________________________________________________________
Commitment, Racing Spirit, and Camaraderie the Main Takeaways from Annual SCSCS Trophy Presentation
Thornburg, Virginia (October 10, 2019) – The final top 10 in the Super Cup Stock Car Series standings featured eight drivers who bettered their previous best points result. All 10 members, including six for the first time, were in attendance and recognized during the season-ending trophy presentation held in the Championship Room at Dominion Raceway the morning after racing festivities wrapped up.
The most prestigious piece of hardware given out that concluded the ceremonies was for the overall champion across a season which saw many records, one being the longest schedule in series history of 19 races across 10 events.
Kevin Kromer has displayed steady perseverance for numerous years and from the get go at Dominion in April had to capitalize whenever needed, not only to escape with his first touring series championship by a narrow 33 points, but also capture the regional Northern Division title once again.
"The commitment I made to the series; I don't know what to say about it," a still speechless Kromer remarked the morning after officially capturing the highest honor of on track performance. "I won the Northern Division two years in a row, which is hard to do and then win the overall all at one time, especially with a few of the bad races we had."
Despite leading laps and being in contention for the win early on, the Walnutport, Pennsylvania based team was left questioning their chances and playing catch-up after a motor issue during the season-opening event. Well outside the top 10 in the standings, Kromer rebounded with a pair of victories his first time seeing Southern National Motorsports Park in Kenly, North Carolina, coming the day after a close call in optional practice that sent the car around and barely missing the outside wall.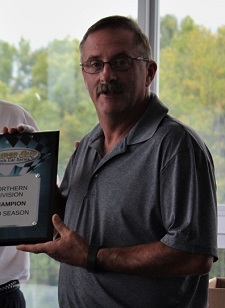 Shenandoah Speedway netted another win, but right when it seemed like they were hitting their stride, a dose of reality came back at Kingsport Speedway. During qualifying on that first day of summer, the No. 77 car began billowing smoke. The problem was terminal and was not repairable for the remainder of the night. Entering the picture was Rookie of the Year contender Lauren Butler, who graciously offered for him to take the wheel of her No. 53 and salvage some points. The same happened after a lap two crash in the first race at Midvale Speedway when Jason Schue stepped aside from his No. 3 machine for the second Twin 50. If these developments had not happened, the outcome could have been much different.
"A couple teams stepped up and a lot of people were behind me in this deal," Kromer noted. "There's a whole lot more behind the working than just everyday racing. I owe a lot to them. They gave me the rides when I needed them. There's just a lot of people to thank."
There were many in the form of past series champions off the track that additionally assisted in his quest to gain the top rung in the standings after a decade of coming up short, only by small margins some years.
"JJ Pack and Bob Schacht, they all had a doing in this in one way shape or form," Kromer mentioned.
"Somewhere along the line I needed their advice or help or something to make it a little better and they came through. That's the way the series is. Everybody helps everybody. We race more for the fun and the prestige of everything than putting dollars and cents in the pocket."
Pack and Schue received special awards during the trophy presentation to be delivered to them in their absence. Pack was awarded Sportsman of the Year for his countless efforts in assisting his fellow racers at and between races to help further their knowledge and performance. Schue was named Car Owner of the Year. The Littlestown, Pennsylvania regular in previous seasons only drove a partial schedule in 2019, but his car was still taking the green flag on a majority of occasions, often keeping other drivers in need in the points race.
Although the amount of help was often short at the shop with crew member Francis, his wife Kelly, and children Kyle and Aaron available to help at times locally, the supporting cast at the track grew as the season carried on. One deciding factor occurred when damage was sustained during the first race of the penultimate event.
"Rick Wellek and his family come from Pittsburgh and help at the racetrack," Kromer explained. "Then when (weekly Modified competitor) Chris Brink got sidelined at Jennerstown I said to Rick, hey do you think we could get Chris and his brother Dan to come help because we're right there ready to win a championship and I need all the help I can get. That first race at Jennerstown (in September) we got put in the wall and they worked to get it back and they couldn't believe we won the second one."
In addition to the championship, some career and record marks were set. Kromer's seven wins broke a single-season record that stood since 2009. A total of 11 races led was also a new record while 325 laps led in 2019 was a series best and more than doubled his career sum from a year before.
Kromer was not the only champion to be acknowledged on Sunday morning. Ben Ebeling ran a partial season, but again was nearly flawless when showing up at the track. The Hickory, North Carolina driver's limited starts were enough to earn his third consecutive Southern Division title.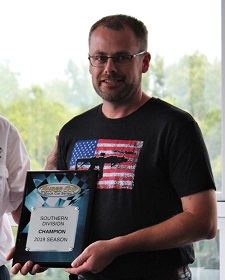 "Thanks to the guys that have stuck with me and anybody that has helped us do that for three years in a row," Ebeling said. "I really enjoy running with the series and competing with these guys each week when we get to run. Maybe one of these years we'll get to put together a full schedule."
Despite visiting victory lane at the moment of his series debut in 2016 and doing so each year since then, driving in 2019 for ShoTime Motorsports took the performance to another level. Not only did he win his first career Pole Award at Shenandoah in June, but followed it up to claim those honors in every ensuing event he entered, paired with a career high number of checkered flags in one season.
"I think any of us will tell you we go to the racetrack and we intend to win the race, but to come away with five wins definitely wasn't expected," Ebeling indicated. "I've never been a great qualifier so to come away with that is pretty cool. Very pleased with that and couldn't have anticipated that kind of success, so I'm very blessed."
The South title was clinched even though he did not compete in the finale at Dominion, an impressive record that Ebeling has been known for since setting foot as a driver within the series. 2020 remains up in the air and likely with him searching for a ride.
"We'll see what happens there," Ebeling added. "Right now we're a driver without a car so we'll see what comes around for next year."
By far having the most consistent accomplishments throughout 2019 was runner-up overall and in the Northern Division, Ron Langdon. Taking part in his first full season from start to finish, every single one of the 990 laps of competition was successfully completed by the driver whose previous best in the standings was seventh a year back. His active consecutive streak of top 10s dates back to late in the previous season with the ability to extend what is now a series record in that category into 2020.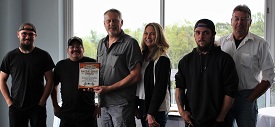 The dedication and camaraderie that Langdon and team bring with them to every race, often making the longest haul of anyone from Long Island, New York, the decision was made to honor them with the Racing Spirit Award. The recipient of this particular custom plaque complete with quote from the legendary Janet Guthrie "Racing is a matter of spirit not strength" is hand-chosen by series Director of Competition, Joe Schmaling, and is presented to those individuals who exemplify the racing spirit in their daily lives both on and off the track.
"I know what it means to Joe, and I know what Joe means to the series, so it has a special meaning for me too now," Langdon commented, also mentioning Schmaling's signature hat that is illustrated on the plaque as well. "Racing has been my whole life. My earliest memories I've always wanted to be involved in racing, so it does mean a lot."
It was only fitting that his fellow crew members were part of the recognition.
"My team is what gets me here," Langdon, also a first-time SCSCS winner in 2019, stated. "Without them, I don't get here. The award is for them, more than it is for me. They work so hard. It's all volunteer and they'll work through the night just to make sure my car is ready, looks pretty, and is well-prepared. How much more can you ask for?"
While coming up only a little short of two titles in 2019, Langdon added that they plan to continue the same strategy that has reached them to this moment, perhaps taking it up one little notch in 2020 with the goal of earning more bonus points for qualifying and running up front which turned out to be the main difference between first and second.
Third in the final standings for the second straight season was stock car racing veteran Mike Potter. The Johnson City, Tennessee driver did improve in one category, placing himself in the history books with a spot in the win column at Midvale in August during a year with some highs and lows.
"We were really happy after that," Potter recapped. "That was a big deal. It was up and down, part of it was good and part of it wasn't."
Potter's capacity for next year rides on whether funding can be gathered and how many cars remain in his possession. All of his rides are typically for sale on an ongoing basis, four of which have been proven winners of SCSCS races in the past.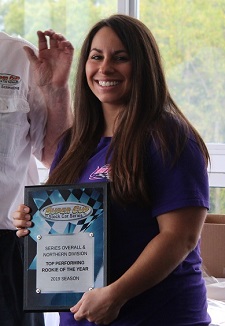 Capturing Rookie of the Year was the fourth place finisher in points. Lauren Butler came on the scene midway through 2018 and completed her first full year in 2019 with some impressive results.
"It has definitely been a success for our first rookie year," Butler, a top five finisher on 10 occasions include four times at her home track Jennerstown, expressed. "This season I knew was going to be tough, we have a lot of great drivers here. I had a really good year."
The West Mifflin, Pennsylvania driver's final outing of the year did not turn out as expected, but the move to the earlier mentioned Schue's ride and gradually moving up through the order locked up the Hard Charger of the Year award.
"It definitely didn't go as we planned considering as confident as we were Friday night in practice," Butler, who was also recognized as the Northern Division's Top Performing Rookie, explained. "That car was screaming it was so fast. Then the first practice (Saturday) it just kind of decided to give up on us. We will definitely be back next year because I have a few goals and some good drivers I want to beat. I wasn't expecting all the awards. I knew that I had rookie of the year for sure, but I didn't really know about the other two so that was pretty touching as well."
Hopwood, Pennsylvania active leader in consecutive SCSCS starts Bill Ashton notched his third career top five points finish in fifth.
The second half of the top 10 in overall standings was composed entirely of newcomers to that stage. John Miller scored a near perfect at track attendance and coupled with six top 10 finishes earned sixth in standings as well as the Southern Division Top Performing Rookie title.
Stahlstown, Pennsylvania's Jerod Brougher returned for a semi-regular schedule that included a runner-up finish at Dominion in April and the most laps led at Jennerstown in July. The 2017 Top Performing Rookie also finished fourth in the Northern Division standings.
Ebeling's dominance during his limited campaign surged him up to eighth overall as well, remarkably making less starts as several competitors he accumulated more points than.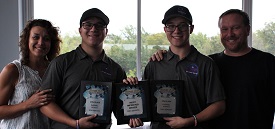 Landon and Hayden Brothers rounded out the top 10 in that order, both running the majority of the races for the first time in their career. The twin teenagers from York, Pennsylvania were additionally announced as the recipients of the Most Improved Drivers of the Year.
Photographer Patrick Miller, Graphic Designer Cheryl Fleming, and PR Coordinator Aaron Creed were awarded for their outstanding service to the series, while Schmaling was surprised with a birthday cake to celebrate his 70th birthday coming up later in the month.
The Super Cup Stock Car Series altogether featured some new marks to be set in future years to come. Eight different drivers went to victory lane, more than any other single season, while nearly 90 percent of the record 38 drivers that made an appearance at an event finished in the top 10. Kromer will make a bid in 2020 at becoming the first repeat champion since 2012.
Multiple of the 2019 races are actively airing or will premiere in the future nationally on MAVTV. Please visit mavtv.com for full listings of upcoming televised coverage.
In addition, for developments over the off-season detailing the evolvement of the series into 2020 and beyond please be sure to stay posted to the official series web site at www.supercupstockcarseries.com and Facebook, Twitter, or Instagram accounts for more information regarding all that is being planned.
_________________________________________________________