_________________________________________________________
Defending 2018 and Newly Named 2019 SCSCS Champions Conclude Season in a Big Way at Dominion
Thornburg, Virginia (October 6, 2019) – Two seasoned racers knew going in that there could be only one champion at the end of the night and taking advantage of perhaps the smallest opportunity could be the difference. With 16 additional competitors to face off with during Saturday's Big Mike's Smokin' BBQ & Grill presents the Night and Day Sealcoating Twin 60s at Dominion Raceway, it was not going to be the easiest task either.
The first chance to grab five bonus points for contenders Kevin Kromer and Ron Langdon was during qualifying. Both would come up short as Petersburg, West Virginia's Larry Berg, in only his second start of the year, set fast time navigating the 4/10-mile oval in 16.155 seconds. His first Pole Award since the beginning of 2017 was only five one-thousandths of a second faster than Jennerstown winner three weeks ago, nearby Midland, Virginia's JJ Pack. Langdon and Kromer qualified third and fifth, respectively.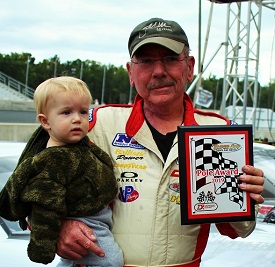 The redraw became Langdon's lucky day as he was able to start from the first starting position, but upon spinning the tires slightly on the initial green flag, the Freeport, New York driver relinquished the lead from Bob Schacht, the 2018 Super Cup Stock Car Series champion making his first appearance of the year. With the aid of a yellow on lap 13, Langdon was able to recover on the restart and gain the top spot and five ever important bonus points with a pass on the outside.
Lurking behind though was his championship rival, who had maneuvered into second as the laps ticked toward halfway. Langdon had hoped to hold on for another five points for leading at halfway, but could not any longer as Kromer worked his way by on lap 28 in the No. 77 High Voltage AC/DC Tribute Band / Lehigh Valley Cancer Institute / Mission R.A.C.E.R. / Sal's Pizza / Mahoning Valley Speedway / K2 Motorsports Toyota.
Kromer was able to stay the course and earn a record-setting seventh win of 2019, the Northern Division title, and a little more comfort when it came to the point margin heading into the final race.
"It was all about points tonight," the Walnutport, Pennsylvania driver noted. "(Langdon) started getting tight and I saw where he was weak and I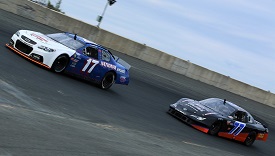 capitalized on it, but it was still a hard run. There were a couple cautions, I had Bob Schacht on my butt and JJ Pack was right there, and I knew I had to just hold the line and what was going to happen was going to happen."
Schacht and Pack each got by Langdon and the three drivers finished in that order behind Kromer.
Petersburg, West Virginia's Samatha Rohrbaugh came back from two spins to achieve a best career fifth place effort in her No. 7 Grant County Mulch / CR7 Motorsports Garage Chevrolet.
Rohrbaugh rode that good fortune into the second 60-lap race, drawing the pole position with veteran Schacht to her outside. She was able to lead lap one, another career first, before giving up the top spot to the Mooresville, North Carolina resident. Behind them, Langdon and Kromer had some nail-biting moments battling hard with Dominion first-timer Jason Kitzmiller, at one time going three wide trying to get to the front.
While Schacht checked out at times, the driver to watch that was advancing through the pack was making his SCSCS debut but is no stranger to short track racing success. Doug George, who serves as crew chief for team principal Codie Rohrbaugh in the NASCAR Truck Series, won a championship in the NASCAR West Series in 1995 and Southwest Tour in 1990 back when he called Atwater, California home.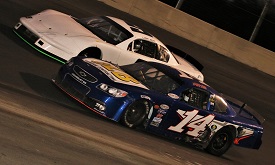 Driving Berg's No. 9 Grant County Mulch / CR7 Motorsports Garage Chevrolet from the first race, George utilized the outside in most instances to pick up positions, getting by Langdon for the runner-up spot with 10 laps to go. He made it to within a couple car lengths, but it was Schacht back in victory lane, becoming the eighth different winner in 2019, another series record.
"I probably should have won the first one, but Kevin was running for points so I kind of left him alone," Schacht, whose primary sponsor Engineered Components also won the same day in a Trans Am race in Texas, mentioned. "I didn't want to mess him up too bad. This is an awesome track. The people are nice here and the guy that owns the racetrack (Steve Britt) is awesome. Good racing up here."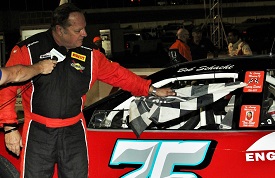 Schacht also did not want to forget to dedicate his win to a couple gentlemen that were close to him.
"We had some friends that passed away on us," the driver of the No. 75 continued. "Kenny Sword, who worked with us all last year, and then Tom Reet, my best friend for 50 years. All my ARCA races and IRA championships I won with him, so we miss them a lot."
A bizarre melee that occurred after the checkered flag involved contact between the top two finishers. The discussion became somewhat heated when George approached Schacht immediately after the race, but cooled down and talked it out.
"The clutch was slipping for a while so I would say if everything in the normal world wouldn't have been slipping and stuff I think I would have had a chance at getting him," George, competing behind the wheel for the first time in 19 years, explained. "Bob's a good racer. He's super smooth. I do have to say I apologize to him because I did run into the back of him after the race was over. I didn't see the flagman and I figured he got loose and tried to get underneath. I was just happy that Larry (Berg) and Codie Rohrbaugh gave me a shot to drive."
Schacht agreed afterward and admitted a similar occurrence at another time in his past.
"It's just part of racing," Schacht commented. "I've done it running Springfield (Illinois) one year on the dirt, the race was over and I ran all over Bob Strait because I thought the race was still green."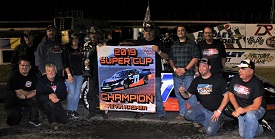 Although Langdon finished a spot ahead, Kromer's fourth place finish was good enough to secure his first overall Super Cup Stock Car Series championship in his 11th year of trying. It is an accomplish that only a short time ago he thought simply an opportunity of having was in jeopardy upon being diagnosed with esophageal cancer midway through 2016.
"What I went through the past three years; three years ago at this time I didn't even know if I was going to drive a racecar again," Kromer indicated. "My mind was made up to do it, but my body wasn't letting me. It means a lot and it was a long road."
Langdon's night featured glimmers of winning likelihood, but a championship was not to be in his first full-time run in the series from start to finish as the No. 17 National Appliance / Oval Speed Unlimited / Langdon's Automotive Chevrolet began to tighten up as time went on. He did have a Hickory, North Carolina driver who was unable to compete on this night but still locked up the Southern Division title to thank for much of the improvement since April.
"I have to give a lot of credit to Ben (Ebeling) for as well as the car ran," a still satisfied Langdon said. "He helped me out a ton. He's a great guy to lean on. We made some changes for the second race. Freed it up a little too much for the first 10 laps and then it actually started to run really well. If things were a little different, who knows, but we gave it everything we had and came up a little short."
Langdon continued on to remark about the incredibly consistent year that many can only dream about.
"It's not a bad season when you can go out and run 10 events, 19 races, and your worst finish is an eighth. I'm a happy man and I'm really happy for Kevin after all these years, that he got to win. I'm in a great mood."
A more detailed release documenting the annual season-ending trophy presentation that followed on Sunday morning and official final standings will be available in the coming days.
Kitzmiller stayed with the leaders to round out the top five in the No. 10 A.L.L. Construction / CR7 Motorsports Garage Chevrolet. The Petersburg, West Virginia racer, competing in only his second SCSCS weekend, then went on to race in a special 15-lap First-Time Winners trophy dash for drivers who had yet to win in the series.
West Mifflin, Pennsylvania's Lauren Butler, driving in a borrowed ride normally piloted by Jason Schue after her own No. 53 Edlin Automotive Services / Roof Repair Experts / Night & Day Sealcoating / Hillsview Landscaping / Ligonier Trucking / Pink Zebra / Motive Parts of Homestead Chevrolet suffered mechanical gremlins, got to the front on the opening lap before Amelia Courthouse, Virginia's Tim Richardson, driving Pack's No. 61 IceBoxx Customs / Black Draft Distillery / JP Racing Chevrolet made a pass for the lead.
The race from there was between Richardson and Kitzmiller, in which at one point contact was made and both drivers went around. Each of them accelerated to the front once again with Richardson getting first position initially. With five laps remaining, Kitzmiller made a clean pass this time and took home the final checkered flag of the year, proceeding to celebrate with some donuts in turn one for the fans.
"I really enjoyed it," Kitzmiller, who made his series debut at Shenandoah in August, stated. "It was a good race with (Richardson) and we went at it for quite some time. In turn one, I thought I had cleared and I guess he didn't think I did. He came down and we got tangled up, but we restarted and I set him up where I could get underneath of him off of four."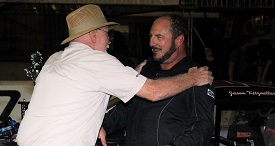 While the season is over, many have their sights set already on 2020. That includes not only the newly named 2019 champion, but also the 2018 champion who looks to come back for all the races after a successful outcome at Dominion.
"Yeah, I'm going to come back and defend my championship a year later or something like that," Schacht added. "Pretty sure we're going to come back and give Kevin a run for his money."
Multiple of the 2019 races, including both Night and Day Sealcoating Twin 60s presented by Big Mike's Smokin' BBQ & Grill, were filmed by the Sopwith Motorsports Television Productions crew and are actively airing or will premiere in the future nationally on MAVTV. Please visit mavtv.com for full listings of upcoming televised coverage.
In addition, for news and developments over the off-season heading into 2020 please be sure to consult the official series web site at www.supercupstockcarseries.com and Facebook, Twitter, or Instagram accounts for more information regarding all that is being planned.
Twin 60 No. 1:

1 77 Kevin Kromer
2 75 Bob Schacht
3 61 JJ Pack
4 17 Ron Langdon
5 7 Samatha Rohrbaugh
6 10 Jason Kitzmiller
7 71 Jerod Brougher
8 53 Lauren Butler
9 14 Mike Potter
10 6 Casey Meyer
11 9 Larry Berg
12 35 Bill Ashton
13 05 Rob Hindt

14 0 John Miller

15 3 Jason Schue

16 80 Brent Nelson

17 29 Landon Brothers

18 72 Mike Kurkowski

Pole - 9

Laps Led - 75, 17, 77

Most Laps - 77

Halfway - 77

Hard Charger - 10, 53

Twin 60 No. 2:

1 75 Bob Schacht
2 9 Doug George
3 17 Ron Langdon
4 77 Kevin Kromer
5 10 Jason Kitzmiller
6 71 Jerod Brougher
7 61 Tim Richardson
8 14 Mike Potter
9 35 Bill Ashton
10 6 Casey Meyer
11 53 Lauren Butler
12 7 Samatha Rohrbaugh

13 05 Rob Hindt

14 0 John Miller

15 3 Jason Schue

16 80 Brent Nelson

17 29 Hayden Brothers

18 72 Mike Kurkowski

Pole - N/A

Laps Led - 7, 75

Most Laps - 75

Halfway - 75

Hard Charger - 35
_________________________________________________________