_________________________________________________________
Contenders Up for the Task in 2019 Curtain-Closing Battle for the SCSCS Championship at Dominion
Statesville, North Carolina (October 1, 2019) – The longest season-long expedition in recent time comes to an end this Saturday with the closest Super Cup Stock Car Series championship battle in years. Big Mike's Smokin' BBQ & Grill presents the Night and Day Sealcoating Twin 60s at Dominion Raceway.
The margin separating Walnutport, Pennsylvania's Kevin Kromer and Freeport, New York's Ron Langdon is a mere four points. In a year almost entirely composed of podium finishes for Langdon, a second or even third career win could potentially be what is needed in order to seal the deal when it comes to grabbing the highest accolades.
Nevertheless, the driver who finished third twice at the Thornburg, Virginia facility in April is going in with the consistent approach his team has gone about their success throughout 2019.
"Kevin runs good there and I ran good there the last couple times," Langdon recently noted. "Guess it's all going to come down to who is better prepared and who has the best luck."
Kromer led laps and challenged for the win on the 4/10-mile surface earlier in the year, but his night rapidly came to a halt when the engine expired. In a season of ups and downs, he has constantly sought redemption with a single-season record-tying six victories in 2019. The championship lead has changed hands on four occasions thus far.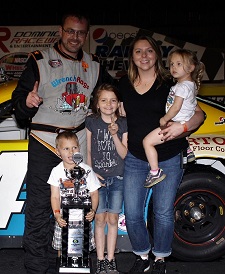 Although Kromer is aware that the main opponent to finish ahead of on this evening will be Langdon, he added one driver in particular that they will have to outrun in order to achieve the winning honors in each 60-lap race.
"Ben (Ebeling)'s a tough competitor, a terrific driver, a terrific guy all around," Kromer mentioned following his win at Jennerstown a few weeks back. "He's going to be tough along with Ron. We are all so close, the draw of the luck is what it's going to come down to, I think."
Ebeling is in command of the Southern Division title, which will be decided at the conclusion of the first race, and simply needs to take the green flag to lock up his third one in a row. The Hickory, North Carolina driver was not in attendance at Dominion in April, but won there twice last September. He looks to rebound from the most recent race in which he was uncharacteristically absent from grabbing a winning trophy.
"I feel like I need to redeem myself to my crew from (Jennerstown) at Dominion," Ebeling commented.
"We'll get it prepared and make sure we go over everything. Hopefully we can represent pretty good at Dominion."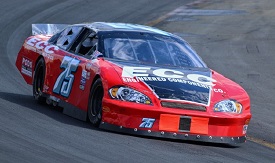 One more driver who only in recent days committed to competing is going to play a huge wildcard when the teams converge this weekend. Bob Schacht convincingly picked up the 2018 SCSCS championship, but Saturday will be his 2019 debut.
Altogether, the Mooresville, North Carolina resident has only been on track once this year, in a Trans Am TA2 class Camaro at the Indianapolis Motor Speedway road course in which engine gremlins thwarted his effort. As a three-time winner at Dominion, he has been following from afar all season long and figured it was a good time to come back out.
"I've been watching and (Kromer and Langdon) have been doing really good," Schacht indicated. "I'm coming to win, but I'm just looking to come and play, have some fun, and stay out of their way like they did for me last year."
Due to a couple vicious impacts with the wall in both his primary and backup car to close out 2018, the SCSCS track record holder at Dominion is bringing a different steel-bodied former ARCA car, but is optimistic that returning after an entire 12 months away will not be too much of a learning curve.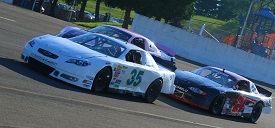 Not only is the battle for first in the standings tight, but the gap between third and fourth is currently at 11. On the strength of two third place outcomes last time out at Jennerstown, Lauren Butler holds the slight advantage over Johnson City, Tennessee's Mike Potter. The West Mifflin, Pennsylvania driver about to complete her first full season in the series has finished seventh twice at Dominion and is entering with a positive but realistic approach.
"I'm not going to go in over my head and saying I'm going to go out and win it," Butler explained. "I know we're not quite there yet, but I feel confident about maybe moving up into the top three or four this time. Consistency is the key so that's what we're aiming for. Next year we'll take everything we learned and hopefully be a lot better."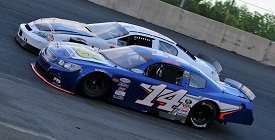 Potter has proved to be a little on the unpredictable side in 2019. A first-time winner at Midvale in August, the veteran racer has competed in four unalike cars throughout the year, often not to anyone's knowledge what piece he is bringing until the team unloads.
Uniontown, Pennsylvania's Bill Ashton sits fifth with an outside shot at moving up in the order, as he looks to overcome a bad break at Jennerstown and improve upon a best previous result of sixth at Dominion.
A trio of additional Keystone State drivers are looking to cement their place within the latter half of the final top 10 for the first time in their SCSCS career. Stahlstown's Jerod Brougher achieved his best finish of the year with a runner-up at Dominion back in April. He has an opportunity to move past Butler and Ashton to grab third in the Northern Division standings, which will also be decided at the conclusion of race one and features a familiar picture at the top but with Kromer leading Langdon by a more comfortable 65 points.
Landon and Hayden Brothers appear likely to remain within a spot where they have finished a combined 10 times in their rookie season. Dominion will be a little unique for them though. After an engine expired in their primary car at Jennerstown, the twin brothers from York County have been working diligently to split time in a second car in which they have never competed in before.
While Miami, Florida's John Miller is locked in sixth points position no matter what occurs, he will also sport a renewed look. He has been assembling a home-built motor for a ride that he has been in possession of since the middle of summer.
A bevy of competitors have nothing to gain when it comes to points, but nowhere to go except the front on the track. The Petersburg, West Virginia contingent will once again be a strong one for this event. Brent Nelson's season suddenly came to a crashing stop early in the year at Dominion and since his switch to a different ride has been plagued with troubles between respectable showings. The usual perennial championship contender is searching for his first win of 2019 at a track he has previously led laps and recorded top five finishes.
The CR7 Motorsports group plans to arrive with a three-car endeavor. Focusing lately on Codie Rohrbaugh's venture into the NASCAR Truck Series, the team will field cars for his grandfather Larry Berg, a one-time SCSCS winner looking for his first top 10 of 2019 as well as his sister Samatha Rohrbaugh, who is making her first start since Kingsport in June, and Jason Kitzmiller, who turned in an impressive debut at Shenandoah in August with results of fifth and sixth.
JJ Pack returned to the driver seat last month and immediately found his way to the winners circle. He will now look to get a first victory at the track nearest to his home in Midland, Virginia. Pennsylvania's Jason Schue and Maryland's Rob Hindt have also shown improvement in their latest starts and hope to continue that trend to conclude 2019. North Carolina's Casey Meyer makes his series debut driving for series veteran Larry Wilcox following a few years of experience in the Renegades division at Hickory Motor Speedway.
The Sopwith Motorsports Television Productions crew will be on hand to film and produce all the action leading up to the crowning of each Super Cup Stock Car Series champion for premiere on MAVTV. Details regarding dates and times for these nationally televised broadcasts will be announced in the near future.
With a busy agenda scheduled for Saturday, first SCSCS practice is slated to begin shortly after Noon with qualifying taking place at approximately 3:25 p.m. The first of the Night and Day Sealcoating Twin 60s presented by Big Mike's Smokin' BBQ & Grill will be taking the green flag at 5:00 p.m. Time permitting, at the conclusion of the evening's features a special race may take place for drivers who have yet to win in the series.
An optional open practice session will be offered to teams on Friday night from 5:00 to 8:00 p.m. as well. On Sunday at 10 a.m., the season-ending trophy presentation for top award recipients will be hosted by Dominion Raceway.
For a complete weekend schedule and more information please visit the official web site at www.supercupstockcarseries.com. Interactive updates throughout race day will be available on the Super Cup Stock Car Series Facebook, Twitter, and Instagram pages.
_________________________________________________________